Selfridges has courted controversy again after giving Tommy Robinson a free steak to apologise for an incident where a member of staff refused to serve him.
The menswear employee was temporarily suspended for violating company policy after refusing to serve Robinson's friend. Robinson, a convicted criminal who leads anti-Islam protests across the country in his role as the leader of the English Defence League, was in the Oxford Street store with his friend who was looking to purchase a pair of jeans.
Robinson, real name Stephen Yaxley-Lennon, filmed himself challenging the shop assistant who reportedly refused to help Robinson's friend, saying "f**k off, I am not serving you" after asking if he was with the EDL leader.
Robinson said he assumed the shop assistant was a Muslim as he "had Mo on his name tag".
A spokesman said anyone was welcome to shop in the store " regardless of political opinion".
To apologise, Selfridges gave Robinson and his friend a three course meal at the store's in-house Hix Restaurant, Champagne and Caviar Bar, which included a prawn cocktail starter, steak and chips, finished off by chocolate cake and ice cream.
The complimentary meal, which Robinson described as "decent" on Twitter, was worth £83.
Robinson took to Twitter and tweeted pictures of the food, writing "I can't lie, staff at Selfridges have been brilliant.
"Complimentary lunch, manager's a top lad, couldn't be more apologetic".
Robinson has insisted his friend is not associated with the far-right group.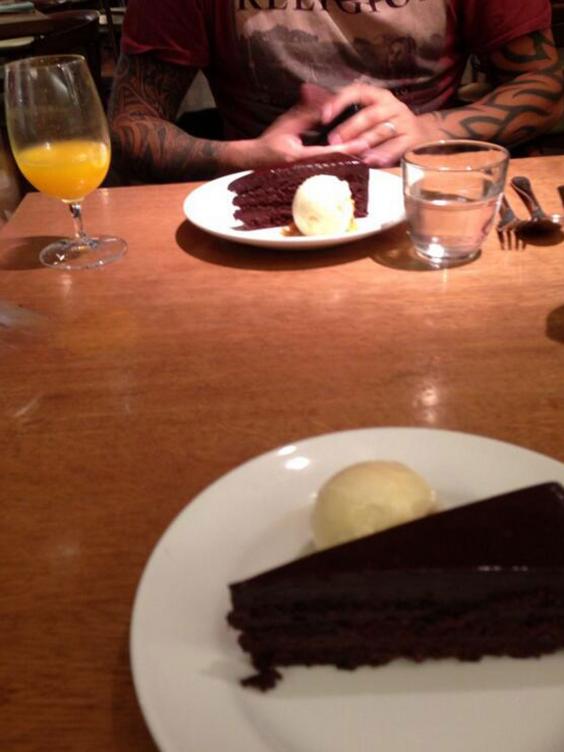 A spokesperson told The Evening Standard the employee was "not being irrational", adding: "The suspension has been lifted. Company policy is everyone is welcome, regardless of what people's political views are. [The staff member] is now aware of company policy."
The decision to give Robinson and his friend a free meal was met with wide spread criticism on Twitter, with many threatening to boycott the store. Scott Theobold tweeted "#selfridges gave EDL leader free meal WTF!!! Not going in there again on principle (I don't anyway but that's not the point!)"
Mark Gower praised the staff member, who the store said will return to work "today or tomorrow": "Only admiration for the Selfridges shop assistant who refused to serve a man with EDL leader. Shame on you Selfridges."