A sinkhole has opened up in County Durham that is so large that sheep could accidentally fall in — and it could get even bigger, as torrential rain sweeps the country.
When John Henby's partner found the sinkhole when she was shooting rabbits on Wednesday, it was only about five metres wide. But since then it has increased to 30 metres.
Henby worries that the torrential rain that is expected to hit the country this weekend could open up the sinkhole further, and that sheep could fall into it.
A path near the hole — which is in Cowshill near Bishop Auckland — has been closed for three weeks by Durham Country Council.
The hole has opened up over an ex-lead mining area, and it is likely that the hole opened up when mines beneath the ground collapsed, Henby told the BBC. He is not worried about his own house because it is not on top of the mine, he said.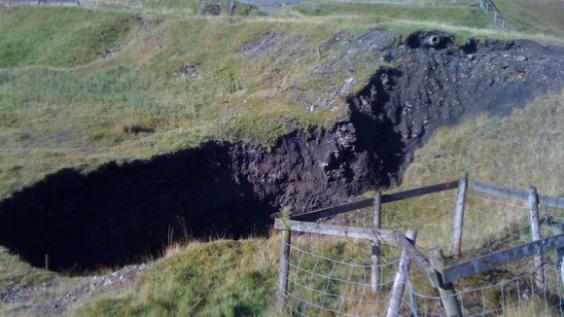 "We don't think our lives are in mortal danger or anything like that," he told the BBC. "But all the local farmers have been warned as we don't want any sheep wandering over and getting swallowed up."