The pilot of the aircraft that crashed into the A-27 on Saturday leaving 20 people feared dead is in a medically induced coma.
Andy Hill remains in critical condition, according to a family statement issued through Sussex Police. Mr Hill has multiple injuries and is now in a medically induced coma.
The family said they are "devastated and deeply saddened for the loss of life," and they "send their prayers and heartfelt condolences to the families of all those affected at this difficult time."
"His family pay tribute to the emergency services for their highly professional response following the accident and to the medical team at the Royal Sussex County Hospital for the care they are continuing to provide to Andrew," they said.
Tributes left to victims of Shoreham airshow crash pic.twitter.com/Wxv1yhkDZc

— Haroon Siddique (@Haroon_Siddique) August 24, 2015
The Hawker Hunter jet was flying at over 150mph when it failed to pull up from a loop-the-loop stunt and it impacted with the road on the A-27 motorway.
Mr Hill, 51, previously worked as a pilot for British Airways and as a Harrier pilot in the RAF.
The mother of one of the victims, Matthew Grimestone, told the Daily Telegraph: "It's such a waste... Air shows should be over the sea. It should never have been over that road."
"He's a very, very accomplished pilot. An expert at what he does and a very, very safe pilot," Neil McCarthy, a pilot who has flown Hawker Hunter aircraft, told Sky News about Mr Hill.
"It's not dangerous, it's a calculated risk. We're flying fast jets at low level but when you get to the kind of level Andy is at these are not issues," he said.
Eleven people are presumed dead with the number expected to rise to 20 as police enter the recovery stage and begin to remove the wreckage of the jet and vehicles from the crash site using a crane.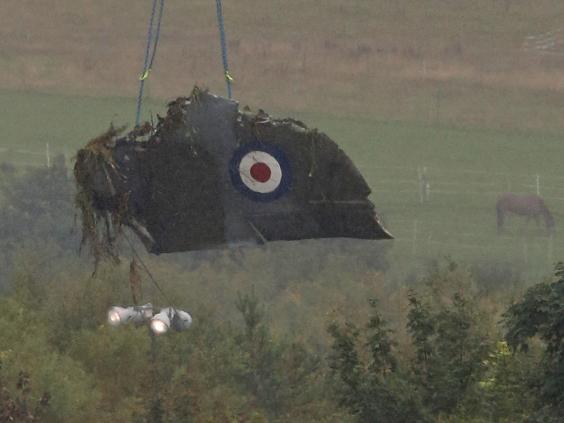 Steve Andrews, the clinical operations manager at the South East Coast Ambulance Service told BBC Breakfast he thinks the death toll will "undoubtedly" rise.
The victims include personal trainer Matt Jones, 24, and 23-year-old Worthing United footballers Matthew Grimestone and Jacob Schilt.
Daniele Polito, 23, was in the car with Matt Jones and is feared dead. Another man, Mark Trussler, was driving a motorcycle on the dual carriageway during the crash and is now missing. His motorbike was found at the scene.
Reuse content