Smoothies can only count as one of the recommended five portions of fruit and vegetables per day, according to newly released guidelines from Public Health England.
The new Eatwell Guide released by the agency warns members of the public should only be drinking one 150ml glass of smoothie per day due to the high sugar content of the drinks – and that this should count as only one portion of fruit and vegetables.
The new guidelines mean smoothie brands will be forced to halt claims that their products, often sold in 250ml portions, count as two or three of the recommended five portions of fruit or vegetables.
A typical 250ml bottle of smoothie contains around 30 grams of sugar - 100 per cent of the recommended daily amount the average adult should be consuming.
This is more than twice the sugar content of a banana, and six times that of a portion of carrot sticks.
Public Health England has also updated its 'Eatwell plate' – which serves as a visual guide to how much of each food group we should be eating.
The previous guide, released in 2014, had a small section on it containing pictures of soft drinks, cakes and chocolate – implying these foods should be eaten in moderation as part of a healthy diet.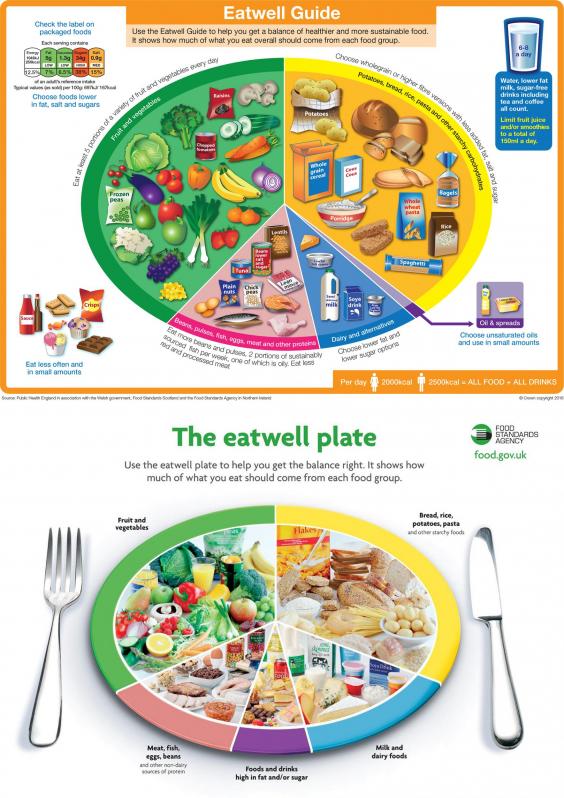 The newly released 2016 version of the Eatwell plate has eliminated this section altogether from the plate, with images of these foods only being present at the side of the plate alongside advice to "eat less often and in small amounts".
New guidelines come alongside the announcement of a sugar tax on soft drinks due to be introduced in the UK as part of the effort to combat childhood obesity. The new tax will mean cans of high sugar soft drinks will be around 8p more expensive. 
Reuse content