A diner has spoken of her shock after a restaurant appeared to respond to her complaint by telling her to "f*ck off" on Facebook.
Jennifer Bennett had booked an evening meal at Lusitano Restaurant in Chorlton. However, when she turned up on the night, she found the restaurant was closed without warning.
She says she emailed and telephoned the venue to complain and find out why the business had suddenly closed, but received no response.
She posted on the eatery's Facebook page about how her plans for the evening being ruined.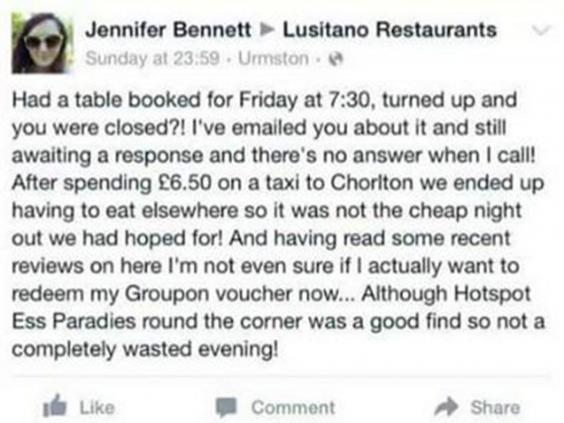 In response, the restaurant's Facebook account posted a succinct and sharp response: "just f*ck off lady".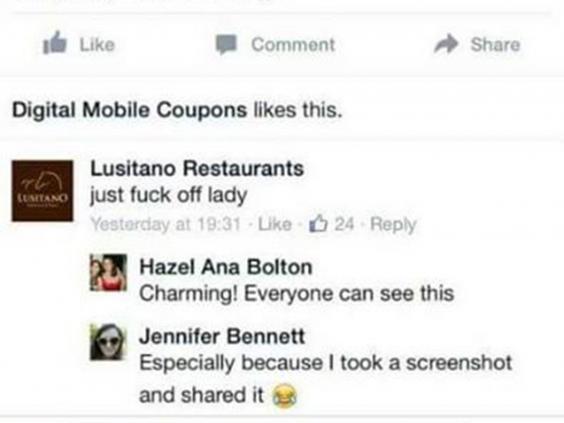 Ms Bennett told Manchester Evening News: "I was really shocked to be spoken to like that. You just don't expect it, especially when I was going to be a paying customer.
"I am not annoyed because they were closed. I'm sorry if they've gone out of business. If they had just replied to my original email asking when they were reopening it would have been fine.
"I don't expect an apology- I just can't tolerate bad customer service."
Speaking yesterday, the restaurant owner claimed the message was posted by a disgruntled former employee who no longer works for the company.
A spokesperson for the company said: "Several members of staff have left over the last month and they knew the Facebook password. Someone did this behind our backs. We didn't know about this. We will investigate this."