Supermarket employees do not get paid enough to live on and national minimum wage earnings are topped up by in-work benefits that total £11billion a year, a charity said.
According to the Citizens UK, supermarket bosses who employ five million people are being "subsidised" by the taxpayer as wages they pay do not make ends meet – the BBC reports.
The national minimum wage currently stands at £6.50 per hour for people over the age of 21.
Citizens UK set up the Living Wage Foundation and campaigners have called for the living wage to be used as the minimum instead. It is paid at £7.85 per hour, £9.15 for those employed in London, by companies who agree to do so.
Policies: Where the Greens stand on the major issues
Policies: Where the Greens stand on the major issues
1/13 Taxes

Wealth tax of up to 2 per cent on the assets of 300,000 people who are worth more than £3m, the country's richest 1 per cent

Corbis

2/13 Wages

National minimum wage to be lifted to living-wage levels and to reach £10 an hour by 2020. Would also "curb boardroom excesses" by linking salaries at the top of companies to pay at the bottom

Getty

3/13 Pensions

End pensioner poverty by introducing a weekly "citizen's pension" of £170 for a single person and £300 for a couple

Getty

4/13 Energy

Targets and timetables for improving efficiency and reducing greenhouse-gas emissions across all sectors. Wants electricity use to be reduced by a third by 2020, by half by 2030 and two-thirds by 2050

REX FEATURES

5/13 Health

Accuses Labour and Tory governments of introducing privatisation by stealth into the NHS. Pledges to "maintain a publicly funded, publicly provided health service"

Getty Images

6/13 Education

Money would be allocated to schools according to their needs rather than their status. Schools which remain in the private sector would be classed as businesses, have all charitable status removed and pay taxes

Getty

7/13 Railways

Bring railway network back into public hands as franchises expire or if companies break the terms of their agreements

Getty

8/13 Immigration

Rules would be "based on the principle of fair and prompt treatment of applicants rather than on excluding dishonest applicants whatever the cost to the honest ones"

Getty Images

9/13 Food

Minimise transport of food and other agricultural products by supporting local food distribution and pressing for transport costs, especially air freight, to fully reflect environmental impact

Creative Commons

10/13 Farming

Phase out all "factory farming" and support a transition to small, free-range units, mixed rotational farming and extensive grazing. Would ban battery farming of poultry

Getty

11/13 Genetic engineering

Moratorium on the release of genetically modified organisms (GMOs) into the environment and on the importation of food and feed containing GMOs, pending comprehensive assessment of the technology's safety

Getty

12/13 Cannabis

Possession, trade and cultivation of cannabis would be immediately decriminalised. Trade in cannabis would be examined by a Royal Commission, with a view to establishing a fully legalised and regulated trade

Reuters

13/13 Housing

Reform housing benefit to give greater help to poorer tenants and to prevent eviction or repossession of either private tenants or homeowners

Getty
Most people who earn less than the living wage work in the retail sector, the charity also claimed, however the British Retail Consortium said that most supermarkets paid around £8.40 per hour on average when "extra earnings" are factored in.
Retailers have come under fire after investigations by The Independent revealed that not a single high street retail chain has guaranteed staff the living wage.
Nearly 80 per cent of 1,813 retail staff polled by the Union of Shop, Distributive and Allied Workers say that they are financially worse off than they were five years ago. Only 5 per cent said they are better off in comparison.
This is despite the tax threshold being raised to £10,600 per year before the lowest-paid have to start paying to the Treasury. But in-work benefits remain stagnant. The rising cost of living is also a big strain on consumers.
A supermarket worker interviewed by the Mirror said that although she was paid a wage for working at a supermarket check-out, she had to use a food bank more than once as she has been struggling financially, and often goes without.
She cannot even afford to buy the food stocked at her workplace, even with staff discount.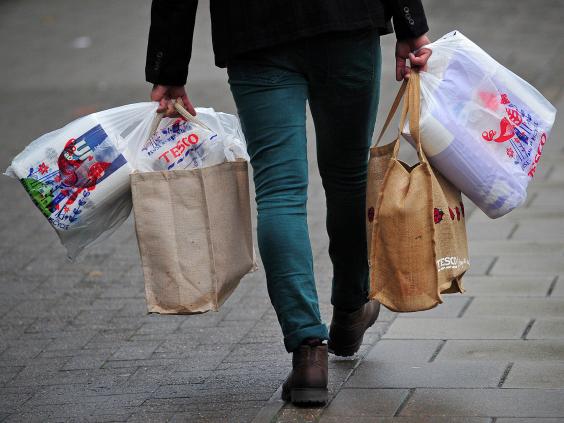 "I was totally ­embarrassed," she said about her food bank experiences. "And angry. My wages should be enough to feed me."
John Hannett, Usdaw General Secretary, criticised the government after the Budget announcement last month for freezing in-work benefits.
He had said: "With the economy growing and unemployment falling, it is time for workers to feel the benefit in their pay packets."
"Working people and their families are still suffering. The Government claims to have helped the lowest-paid by increasing the income tax threshold. That simply isn't true, because the lowest-paid were already under the tax threshold and rely on tax credits to provide for their family.
"Under this Government, Working Tax Credit is worth around £500 a year less because it has been frozen for three years and capped at a 1% increase this year," he added.
Reuse content