A young swan brought Europe's busiest airport to a standstill after deciding to take a nap on Heathrow's runway.
Flights had to be stopped taking off for almost 10 minutes while the juvenile bird took a leisurely wander around the tarmac on 3 November.
The airport's expert "bird hazard management team" was brought in to deal with the bird but it stubbornly resisted efforts to shoo it away.
An aviation enthusiast who happened to be filming runway 27L caught the saga on video, calling it "too funny"
Footage posted by Dantorp Aviation shows fluorescent-jacketed officials walk at the swan, clap, wave their arms and even almost run it over in efforts to make it fly away.
But the intruder seemed unperturbed, casually waddling away and flapping its wings to stop just a few feet further on each time.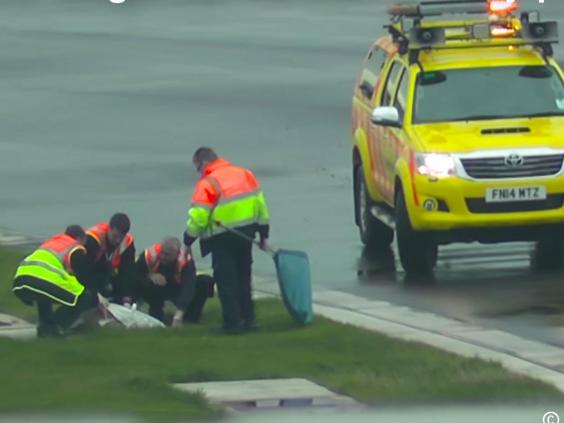 The increasingly frustrated officials had to call for back-up to deal with the menace as jumbo jets stood queued around the runway.
Police even temporarily joined efforts but the swan's resistance was eventually overcome by a specialist who bagged it up and drove it away.
A spokesperson for London Heathrow Airport told The Independent the runway  was unavailable for nine minutes but the closure did not result in any flight delays
"Once rescued, the swan was taken to our animal reception centre to be properly looked after by the on-site team," she added.
Heathrow sees around 1,300 planes landing and taking off every day and has teams to ensure no animals or debris on the runway endanger flights.
Birds can present a safety risk if they become caught in aircraft engines and the airport has been made as "unappealing as possible" to deter them.
The incident came days before a Boeing 737 crashed into a water buffalo in India.
The animal, which had wandered onto the runway through a gap in a fence, did not survive the collision in the western Indian city of Surat and the plane was grounded.
Animal runway invasions in India tend to be a little more extreme than in the UK – in 2008, almost 100 flights out of Delhi's Indira Gandhi International Airport were delayed after a family of metre-long monitor lizards crawled onto the warm runway.