World leaders have hailed a landmark package of aid and economic support for Middle Eastern countries overwhelmed by refugees fleeing the devastating conflict in Syria.
Close to $11bn (£7.5bn) in aid was pledged by donors at an international conference in London on 4 February, along with around $40bn (£27bn) in loans to support the creation of jobs and stimulate the economies of Turkey, Lebanon and Jordan, who between them have taken in more than three million refugees.
David Cameron, who hosted the conference along with the leaders of Kuwait, Norway Germany, and the United Nations, said the sum was "the largest amount of money ever raised in one day in response to a humanitarian crisis".
Up to $6bn has been pledged for 2016, and a further $5bn in pledged support up to 2020. The figure for 2016 is still well short of the target for $9bn set by the UN and the countries most affected by the refugee crisis. Aid organisations including Oxfam and Save the Children welcomed the new pledges but said humanitarian organisations would still be short of what was "urgently needed".
In previous years, international humanitarian efforts to protect people in Syria and refugees in neighbouring have been woefully underfunded. Mr Cameron said the new pledges would help address the shortfall, "bolster stability in the region" and also help to stem the flow of refugees to Europe.
He said that funding would see 1 million children currently not in school gaining access to education, while one million jobs could be created by economic stimulus packages. The bold promises came after former Prime Minister Gordon Brown said that only "an initiative as ambitious as the postwar Marshall plan" would be enough to address a crisis that has seen 12m people displaced.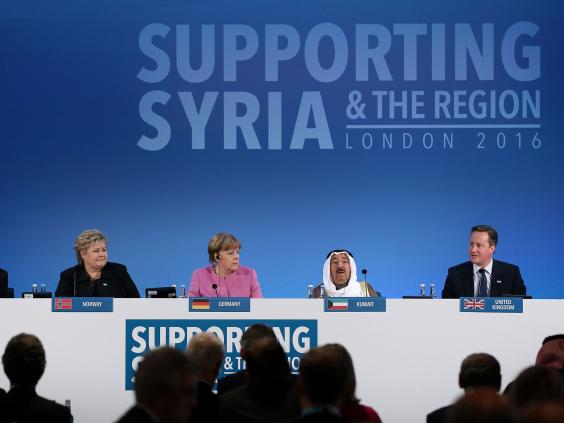 The new measures also indicate growing recognition within the international community that the devastation of Syrian society, and the bleak prospects for peace and reconstruction, mean refugees require long-term opportunities for education and work in their host countries, as well short-term aid.
The leaders of Jordan, Turkey and Lebanon all warned of the extreme pressures that the refugee crisis had placed upon their economies and societies. Lebanese Prime Minister Tammam Salam praised the aid pledges but emphasised the importance of the international community delivering on its promises. He warned his country, which has a population of less than 6m but has taken more than 1m refugees, would no longer be able to contain "an eruption" of refugees from its borders "that could involve further migration to distant shores, destabilisation and…security threats."
King Abdullah of Jordan, which has taken in more than 600,000 refugees, said the country had "reached its limit".
The conference was also overshadowed by the suspension of peace talks aimed at finding a political solution to Syria's civil war, and by a steep escalation in hostilities around the northern city of Aleppo.
The $11bn pledged includes a new £1.2bn package of support from the UK. German Chancellor Angela Merkel announced that Germany would contribute 2.3bn euros (£1.75bn) up to 2018, including 570m euros (£440m) for the World Food Programme – enough to provide half of its needs for Syria this year. 
The USA pledged $925m (£635m) for 2016, while EU Council president Donald Tusk committed EU member states to a total of 3bn euros (£2.3bn) in 2016. He also set out plans for the EU investment bank to lend 12.5bn euros (£9.6bn) to Turkey, Jordan, Lebanon and Egypt over next five years, in a programme which he said could be increased up to 23bn euros (£17.7bn) to the whole of Middle East and North Africa.
Reuse content