Tesco is running out of several leading household brands following a row over prices with its major supplier Unilever.
The food, toiletries and household goods firm have refused to supply the supermarket giant after it refused to raise prices by 10 per cent on their products. 
Unilever, which is based in the Netherlands, claimed that due to the dramatic fall in the value of the pound compared to the euro and the dollar they had to put up prices. 
Sterling dropped even further on Tuesday to $1.23 with some Bureau de change in UK airports offering exchange rates of less than one euro to the pound.
The move is the result of the fall in value of the pound following speculation that Britain would have a "hard Brexit" - meaning the country will leave the single market when it leaves the EU and revert to using World Trade Organisation terms for trade.
It was the biggest fall since Britain voted to leave on 23 June.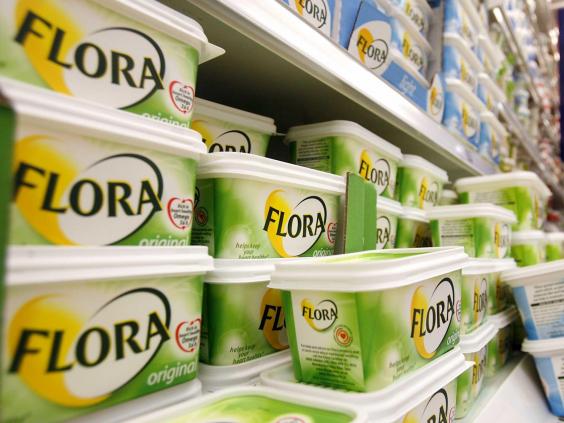 Unilever, which controls brands such as Marmite, Dove, Comfort, Flora, Pot Noodle and Ben & Jerrys, has reportedly approached several retailers asking them to raise prices in response. 
One anonymous source told the Guardian:  "Unilever is using Brexit as an excuse to raise prices, even on products that are made in the UK".
Brexit Concerns
Brexit Concerns
1/22

British Prime Minister Theresa May

Getty

2/22

Lead campaigner Gina Miller and her team outside the High Court

Getty

3/22

Raymond McCord holds up his newly issued Irish passport alongside his British passport outside the High Court in Belfast following a judges dismissal of the UK's first legal challenges to Brexit

PA wire

4/22

SDLP leader Colum Eastwood leaving the High Court in Belfast following a judges dismissal of the UK's first legal challenges to Brexit

PA wire

5/22

Migrants with luggage walk past a graffiti on a wall as they leave the 'Jungle' migrant camp, as part of a major three-day operation planned to clear the camp in Calais

Getty

6/22

Migrants leave messages on their tents in the Jungle migrant camp

Getty

7/22

The Adventist Development and Relief Agency (Adra) which distributes approximately 700 meals daily in the northern Paris camp states that it is noticing a spike in new migrant arrivals this week, potentially linked the the Calais 'jungle' camp closure - with around 1000 meals distributed today

EPA

8/22

Migrant workers pick apples at Stocks Farm in Suckley, Britain

Reuters

9/22

Many farmers across the country are voicing concerns that Brexit could be a dangerous step into the unknown for the farming industry

Getty

10/22

Bank of England governor Mark Carney who said the long-term outlook for the UK economy is positive, but growth was slowing in the wake of the Brexit vote

PA

11/22

The Dow Jones industrial average closed down over 600 points on the news with markets around the globe pluninging

Getty

12/22

Immigration officers deal with each member of the public seeking entry into the United Kingdom but on average, 10 a day are refused entry at this London airport and between 2008 and 2009, 33,100 people were detained at the airport for mainly passport irregularities

Getty

13/22

A number of global investment giants have threatened to move their European operations out of London if Brexit proves to have a negative impact on their businesses

Getty

14/22

Following the possibility of a Brexit the UK would be released from its renewable energy targets under the EU Renewable Energy Directive and from EU state aid restrictions, potentially giving the government more freedom both in the design and phasing out of renewable energy support regimes

Getty

15/22

A woman looking at a chart showing the drop in the pound (Sterling) against the US Dollar in London after Britain voted to leave the EU

Getty

16/22

Young protesters outside the Houses of Parliament in Westminster, to protest against the United Kingdom's decision to leave the EU following the referendum

Getty

17/22

Applications from Northern Ireland citizens for Irish Passports has soared to a record high after the UK Voted in favour of Leaving the EU

Getty

18/22

NFU Vice President Minette Batters with Secretary of State, Andrea Leadsome at the National Farmers Union (NFU) took machinery, produce, farmers and staff to Westminster to encourage Members of Parliament to back British farming, post Brexit

Getty

19/22

The latest reports released by the UK Cabinet Office warn that expats would lose a range of specific rights to live, to work and to access pensions, healthcare and public services. The same reports added that UK citizens abroad would not be able to assume that these rights will be guaranteed in the future

Getty

20/22

A British resident living in Spain asks questions during an informative Brexit talk by the "Brexpats in Spain" group, about Spanish legal issues to become Spanish citizens, at the town hall in Benalmadena, Spain

Reuters

21/22

The collapse of Great Britain appears to have been greatly exaggerated given the late summer crowds visiting city museums, hotels, and other important tourist attractions

Getty

22/22

The U.K. should maintain European Union regulations covering everything from working hours to chemicals until after the government sets out its plans for Brexit, said British manufacturers anxious to avoid a policy vacuum and safeguard access to their biggest export market

Getty
It comes just hours after former Sainsbury's boss, Justin King, warned that it would be impossible for shops to absorb the rising costs caused by the weak pound.
He said: "Retailers' margins are already squeezed. So there is no room to absorb input price pressures, and costs will need to be passed on.
"But no one wants to be the first to break cover. No business wants to be the first to blame Brexit for a rise in prices. But once someone does, there will be a flood of companies because they will all be suffering."
The Treasury has warned that "Hard Brexit" could cost up to £66bn and slash the UK's GDP by almost 10 per cent. 
A leaked document said: "The Treasury estimates that UK GDP would be between 5.4 per cent and 9.5 per cent of GDP lower after 15 years if we left the EU with no successor arrangement, with a central estimate of 7.5 per cent."
"The net impact on public sector receipts - assuming no contributions to the EU and current receipts from the EU are replicated in full - would be a loss of between £38 billion and £66 billion per year after 15 years, driven by the smaller size of the economy."
A Tesco spokeswoman told The Independent: "We are currently experiencing availability issues on a number of Unilever products. We hope to have this issue resolved soon."
Unilever refused to comment.
Reuse content