When Oliver Cameron made the difficult phone call to his family in Jamaica, to explain that he needed a donor for a life-changing kidney transplant, his elder sister Keisha Rushton did not hesitate. She told him: "You are the only brother I have got. I love you. Let me do this for you."
The benefits of a new kidney are huge for recipients. But for the donor the procedure requires a major operation and a recovery period of up to three months. There can be complications and, in very rare cases (one in 3,000), the donor dies.
It is an arrangement that few would enter into lightly.
Despite the risks, Ms Rushton, a mother of seven, decided to sacrifice one of her two healthy kidneys for her younger brother living on the other side of the world, and applied for a visa to come to London to undergo the NHS operation.
Mr Cameron, a plumber who has been unable to work since suffering near-fatal renal failure in 2012, borrowed £700 he could ill afford to fund her visa application, excited at the prospect of a future without the gruelling order of daily dialysis and being able to once more earn a living.
While most people would have seen Ms Rushton's request to visit Britain as the fruit of filial love and an admirable self-sacrifice, that was not how it was seen by those at the Home Office in charge of applying Britain's draconian immigration rules.
When Ms Rushton, 40, attended the British High Commission in Kingston in expectation of receiving a visa for her and her baby son, she was handed an envelope and told not to open it until she had left the building.
Inside was a letter bluntly telling her that she had been refused entry to Britain because she could not be trusted to return home. She had been unable to provide evidence to officials of her income in Jamaica and thus prove she would return home after the operation, the refusal notice said.
Her explanation that she was self-employed as a hairdresser and therefore did not receive payslips or similar documentation, and also had six remaining children and a sick mother to whom she had to return, fell on stony ground.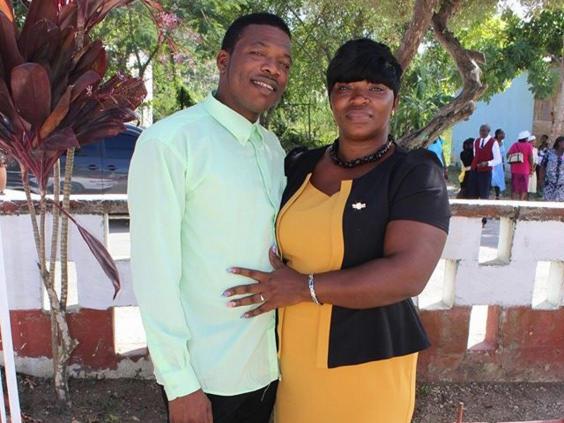 In the letter she received from UK Visas & Immigration, signed anonymously by "Entry Clearance Officer 5", Ms Rushton was told "close consideration" had been given to the "compassionate aspects" of her reasons to travel.
But it concluded: "I am not satisfied as to your intentions in wishing to travel to the UK now. I am not satisfied that you genuinely intend a short visit only to the UK and that you will leave the UK at the end of the visit."
For Mr Cameron, 38, a British citizen, the decision has been a crushing – and incomprehensible – blow.
It also once more casts a spotlight on the unyielding way in which immigration rules are being applied, following the expulsion last week of the Mauritian teenager Yashika Bageerhati despite a petition signed by 175,000 people calling for her to be allowed to stay.
Labour called for Mr Cameron's case to be reviewed by the Home Office.  The shadow Immigration Minister, David Hanson, said: "Given the sacrifice that Keisha is to make to help her brother live, I would hope the Home Office could review this again and be sympathetic to the application."
Diane Abbott, who is Mr Cameron's MP, said: "This was an exceptionally cruel decision by the Home Office. I tried to argue Mr Cameron's case but officials were not interested. I believe that officials could have exercised more compassion. But the current climate of political debate on immigration means that we are seeing more of these harsh decisions."
Mr Cameron came to Britain in 1999 after marrying his British-born wife, Sheryl, and spent more than a decade working in north London, helping to raise the couple's four children, before he suffered near-fatal renal failure in  December 2012.
After spending more than a week in intensive care, he was told by doctors the drug he had been taking to control his diabetes had catastrophically damaged his kidneys and without a transplant he would need dialysis to keep him alive.
He currently treats himself three times a day, changing large bags of fluid to prevent renal failure – a process that leaves him exhausted and in discomfort. The operation to receive his sister's kidney had been due to take place last October after tests confirmed she was compatible.
Speaking at his home in Stoke Newington, north London, Mr Cameron told The Independent: "I just find it incredibly hard to understand. I don't want to be on dialysis, I want to be useful to society, to pay my dues and raise my family. My sister has made this incredible, loving offer to me and I don't know why they have denied her the chance to help me.
"We provided the guarantees from relatives and friends that she would be financially supported here during her stay. And yet the Home Office said 'no, you can't come and help your brother, we don't believe you'. It's inhumane."
Speaking from the family home in Lucea Hanover, a quiet seaside town on the north-western tip of Jamaica, Ms Rushton said: "I remember opening the envelope and bursting into tears. I have no desire to stay in Britain – I have seven children and an elderly mother to look after here."
Mr Cameron, a softly-spoken grandfather who says he feels keenly the indignity of not being able to work because of his condition, said his upset had been deepened by factual errors in the letter sent to his sister.
The Home Office response stated she was coming to Britain to "undergo private medical treatment" and, while acknowledging there were "compassionate aspects" of her application, said she was "to undergo surgery to donate your liver".
Mr Cameron, who first raised his case on the broadcaster Julia Hartley-Brewer's LBC radio show, said: "If they can't get the basic details right, it makes me wonder how much seriousness was given to their considerations."
About 1,300 kidney transplants are performed in Britain every year but there are no reliable figures for the number of operations involving foreign donors. The success rate for the procedure is high and it can dramatically improve the quality of life of kidney failure sufferers such as Mr Cameron, who is receiving treatment at the Royal Free Hospital in north London.
Mr Cameron is also on the NHS waiting list for a donor organ.
But the father-of-four, who took out a loan with a credit union to fund his sister's visa, in anticipation of being able to pay back the money by gaining employment after his operation, points out that his family are seeking to lessen the burden on the NHS.
He said: "By taking a donor from within my family, we're ensuring that another organ could go to someone else. But the system is not built to take these things into consideration. From what I have seen, it's built to keep people who want to do good things out."
A Home Office spokesperson said: "All applications are considered on their individual merits, including any compelling and compassionate circumstances, and in line with the immigration rules.

"The onus is on the individual to ensure they provide all necessary evidence when submitting an application."
The rules: How Keisha Rushton failed to qualify
The latest edition of Britain's Immigration Rules stretches to 19 separate volumes. Once those have been digested, there are 27 explanatory appendices running to several hundred pages.
The case of Keisha Rushton was examined under Volume Two of these regulations, which cover people seeking to come to Britain for private medical treatment – despite the fact that the operation she was to undergo on her brother's behalf was to have been at an NHS hospital.
Under the provisions of paragraph 51 (iv), applicants must prove they intend to leave Britain after undergoing treatment. It was decided that the self-employed hairdresser failed to meet that criteria.
But the Immigration Rules also contain a provision for officials to consider exceptional grounds for allowing an individual to enter or remain in the United Kingdom. Such decisions are made by a Case Referral Unit inside the Home Office and are described as being "outside the Immigration Rules".
However, officials decided the case of a woman seeking to help her brother by surrendering one of her vital organs did not qualify as being sufficiently exceptional.
Cahal Milmo
Reuse content