The small classroom in Edinburgh's Southside Community Centre is hushed as lecturer Haidar Mahmoud explains the vagaries of the English language. The pupils sitting inside this converted church are all adults preparing for life in Britain. This is where Hassiba attends classes along with around a dozen others.
Aged 25, she is a newlywed who arrived from Algeria nine months ago and, despite her short stay in the country, already has some of the best English in the class.
She was not that enamoured with the idea of coming to Britain. She came to join her new husband but yearns for home. In Algeria, she left behind a burgeoning career as a geneticist, a luxurious life with her family in a pretty villa. In Edinburgh, she works in a kebab shop and lives in a tiny flat beneath heavy slate skies.
Learning English is her chance to win back at least part of that old life. She has a masters degree in genetics and had been working in laboratories in Algeria; to have a hope of doing the same here, she will need a diploma in English. Speaking after class, Hassiba says: "My husband came here to make his life better, but I only came because of him."
She knew her husband Rachid for two years before she married him. He had lived in Britain since 1999, when he came to London from Algeria on secondment from one of the big oil companies as a petroleum engineer. The placement was meant to be for six months, but at the time Algeria was in the midst of a civil war, with government forces clashing with Islamic extremists and terrorist attacks around the country. He is Algerian and proud of his country, but he was desperate for the safety of Britain. When the six months were up and the company asked him to return home, he decided to run away. He found work as a chef in London, then a job cooking for an Italian family at their takeaway shop in Edinburgh. After more than 10 years living underground in Britain, Rachid sorted out his immigration status. Hassiba currently has a two-and-a-half -year spousal visa with no recourse to public funds and she hopes for a permanent right of residence in the future. But the idea of British citizenship appals her. "No, I would never like to be British," she says. "My country was colonised by the French and independence came at an expensive price. So being British is out of the question."
10 things immigration has done for Britain
10 things immigration has done for Britain
1/10 The Mini

The 1959 classic, that is, perhaps our greatest piece of industrial design, a miracle of packaging and revolution in motoring. Its genius designer was Sir Alec Issigonis, who was an asylum seeker. His family, Greek, fled Smyrna when Turks invaded this borderland in around 1920, and he wound up studying engineering at Battersea Polytechnic. He went on to create that most English of motor cars, the Morris Minor, as well as the Austin-Morris 1100, all much loved products of his fertile imagination.

Getty Images

2/10 Marks and Spencer

Once upon a time there was no M&S in Britain, difficult as that may be to believe. We have one Michael Marks to thank for our most famous retailer, and he was a refugee from Belarus, arriving in England in about 1882, and soon after set off to flog stuff around Yorkshire. He eventually teamed with Thomas Spencer to create the vast business we know today.

Getty Images

3/10 Thunderbirds

And many other TV shows created, funded and otherwise produced by that largest of larger-than-life characters, Lew Grade (also a world class tap dancer). The man who dominated commercial television gave us memorable entertainment such as The Prisoner, the Saint and brought the Muppets to Britain (a sort of fuzzy felt wave of immigration), as well as puppet shows where you could see the strings. All this from a penniless Jew from Ukraine, born Lev Winogradsky, who escaped the pogroms in Ukraine with his family in the 1890s. His nephew Michael Grade has also done his bit for British television.

Rex Features

4/10 The House of Windsor

Or the House of Saxe-Coburg-Gotha until George V prudently rebranded the family during the First World War. Well, our royals are a pretty German bunch, as well as having various types of French and other alien blue blood coursing around their veins. 'Twas ever thus. There was William the Conqueror, Norman French, who certainly broke the immigration rules; William of Orange, a direct import from Holland; the Hanoverian King Georges, the first barely able to speak English; Queen Victoria, who married a German, Edward VII, who couldn't stay faithful to his wife, a Danish princess; George V wed another German princess; Edward VIII married an American (though she hardly visited England and prompted his emigration and exile); and the Queen is married to man born in Corfu. The embodiment of the British nation, to many, but one thinks of them as quite multicultural really.

Getty Images

5/10 I Vow To Thee My Country

Our most patriotic hymn was the product of a man named Gustav Holst (pictured), born in Cheltenham, but of varied Swedish, Latvian and German ancestry, who adapted part of his suite The Planets to put a particularly stirring and beautiful poem to music, just after the Great War. As the second verse has it, "there's another country/I've heard of long ago/Most dear to them that love her/most great to them that know". Imagine if the Holst family had been kept out because the quota on musical European types had been reached.

Creative Commons

6/10 Curry and Cobra

Chicken Tikka Masala is, so they say, a dish which not only the most popular in Britain but specifically designed to cater for European tastes. For that we probably have to thank an Indian migrant, Sake Dean Mahomed, who came from Bengal to open the first recognisable Indian restaurant, the magnificently named "Hindoostanee Coffee House". History does not record if a plate of poppadoms and accompanying selection of pickles and yoghurts were routinely placed on the table for new diners, but we do know that we had to wait until 1989 to taste the ideal lager for a curry - Cobra. That brew was brought to us by Karan (now Lord) Bilimoria, a Cambridge law graduate who hailed from Hyderabad.

Getty Images

7/10 That big red swirly sculpture at the Olympic Park

Or Orbit, to give it its proper name, the work of Anish Kapoor, who arrived in 1973 from India and had the artistic imagination to fill a power station.

Getty Images

8/10 The Sun

Love it or hate it, and many do both, this has been a symbol of much that is successful and a lot that is awful in British journalism since its inception in 1969. In its turn it spawned the Page 3 Girl and some nastily xenophobic headlines. All the stranger when you consider its creator was, of course, Rupert Murdoch, born 11 March 1931 in Melbourne, Australia.

Getty Images

9/10 Marxism

OK, Karl Marx's philosophy was not much of a gift to the world, but for a while it seemed like a good idea. Though we might not dare admit it, Marxism still has a few insights to offer to anyone wanting to understand the workings of capitalism, though too few to excuse everything that was done in its name. Born in Germany spent much time in the British museum and the British pub, buried Highgate Cemetery. Oddly, his ideas never really caught on in his adopted homeland.

Getty Images

10/10 The NHS

They came from many, many backgrounds, including Ireland, the Philippines, east Europe, the Indian subcontinent, and Africa, as they still do, but the contribution of the black nurses who came to the UK from the Caribbean to heal and care for is a debt of honour that must be recognised. It so sometimes forgotten that it was Enoch Powell, then Minister of Health (1960-62), who campaigned to recruit their skilled nurses to come and work over here. One abiding legacy we can thank Enoch for.

Getty Images
Hassiba first saw Rachid across the room at a birthday party organised by her sister in 2011. Hassiba thought instantly that he was a good man. "I felt something when I saw him," she recalls with a girlish grin. "I liked his smile. Sometimes, when people are immigrants living outside the country in France and places like that, you can feel it in the way they act when they come back. But you couldn't with him; he acts like he still lives in a village. He's a lovely man."
For three months, Hassiba daydreamed about the smiley man she met at the party. Then one day Rachid contacted her sister and asked for Hassiba's number. Soon, they were chatting with increasing regularity.
When he was in Algeria on visits, they would meet in secret. Under the country's Islamic tradition, men and women were not meant to meet alone before marriage but they wanted to get to know each other first.
Soon, they were meeting often. "We told each other about our lives and our families. Then he went back to Scotland and I thought it was going to be just like that; no marriage."
But once he was back in Edinburgh, the relationship intensified and they would talk for hours on the computer. "He told me about the weather and his life here. He didn't lie to me. He told me the reality that he hadn't got married because he didn't have his immigration papers. He told me he didn't want to get married to an Algerian woman and then not be able to bring them over."
When they finally had their wedding party in November 2013, Hassiba did not relax. Under Islamic custom you are not truly considered married until it is consummated and prayers have been said, but she did not want to risk losing her virginity before the immigration paperwork came through. Once, a marriage would have been a fait accompli for a visa, but the rules have got tighter. She had heard of too many people getting married and sleeping with their husbands only to discover they would not be able to join them in Britain. To get the visa, she had to prove their relationship, showing photos of the wedding, give evidence that Rachid had a secure job earning more than £18,000 a year and pass an English exam called A2. To take the exam costs £100 and it is not simple. Its cost and difficulty have marooned many spouses in their home countries.
"I met some women who failed the exam four times," Hassiba explains.
When it came to choosing where to live, Rachid had stood firm. He has been working at the Edinburgh takeaway shop for so long that the family who own it have expanded the company to several branches. He is a trusted employee and is about to take over the management of the branch he works in. As a chef in Algeria, he would earn a pittance, and he loves his life in Britain.
After cramming for days before, Hassiba passed the English exam first time and got a British visa shortly afterwards. She arrived in the UK in the bitter cold of February. She had never felt more alone. "Where my flat is, you can go three hours and not see any people. It's so cold, really freezing. I imagined it would be cold, but not like this."
Nine months later, Hassiba is sitting in the living room of the flat she shares with her husband. Her home is in a block in prime Old Town real estate, yet somehow architects and town planners have contrived to make an unpleasant ghettoised cul de sac of clustered concrete buildings. Intimidating groups walk between them, their musclebound dogs a few paces in front, off the lead.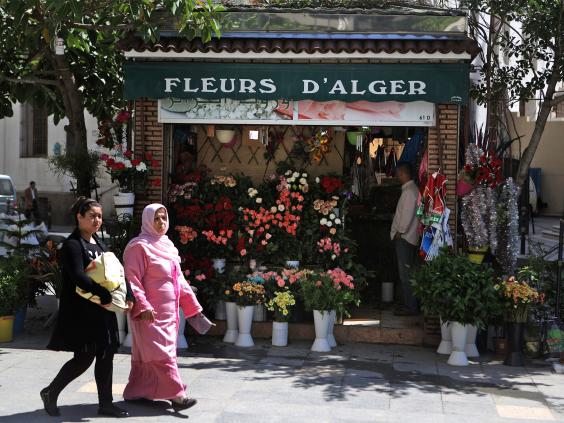 Hassiba has seen drug deals and fights on the estate and rarely ventures out alone. It is only mid-afternoon but she is already in her pyjamas. She makes a hot chocolate and gestures at the gathering gloom outside.
"This is my first November. In February it was OK; it was cold, but it wasn't like this. For me, it's depressing when it gets dark this early. If it's dark by 4pm, I don't like to go out."
She loves her husband but she often has doubts about her relocation. "Sometimes I tell myself: 'Why all this?' I just have to prepare my suitcase and come back."
When she was studying genetics in Algeria, her parents were very proud. They did everything to encourage her to keep at her books, making sure she never had to do menial work. Hassiba got a part-time job analysing blood in a laboratory, but never did anything unconnected to her studies. Her final project was an investigation into the genetics of obesity, which pinpointed a common gene present in 76 obese women.
"I haven't got this gene," she laughs, looking down at her tiny frame. She helped present it to scientists around the world, comparing findings with experts in the UK and China.
So it was with a bump that she found herself mopping the floor of a kebab house. For the first few weeks, she could not stop crying. Her husband was worried about her. He helped arrange a meeting with a genetics Professor at Edinburgh University who encouraged her to get an extra English qualification so she could apply for a PhD.
She has been working since the end of March at the same takeaway shop as Rachid. They travel there together – in fact they travel almost everywhere together. "I don't know the area and the people so my husband is scared a lot about me," she says. "I feel sometimes like a child. I need someone with me all the time. The first time I went to the hairdresser's he went with me to explain what I wanted. But now I can understand people."
She has also learnt about racism. "Last Saturday, I had a customer come back in who I had a feeling didn't like me to serve her. There's a girl working with me who's Scottish and she's lovely. She said, 'No, no, it's fine.' But every time I said to this customer, 'Hiya, can I help?' she didn't reply. She asked my colleague for a family meal. "I asked: 'Do you want salt and sauce on the pizza?' And she just blinked at me and made a face. My colleague understood and took the box from my hand. Earlier, I had tried to join in a conversation but she didn't speak to me. I left to do something in the back. When she left the shop, my colleague said "You were right, she is racist because while you were in the back she was speaking about Pakistani shops, saying "I don't like these people, Pakistanis, I don't like foreign people."
Hassiba daydreams about a better job. "When you change your country you find you're in another place in society, far from how you have been. Sometimes, I'm washing up and I remember being in a white coat in a laboratory, looking into a microscope and now look what I'm doing."
She is still hopeful that things will change. More than anything, though, Hassiba hopes to leave. "If we save, we can buy a house in Algeria. This isn't my country. Maybe in 10 or 15 years we can go back home, Inshallah."
'Finding Home: The Real Stories of Migrant Britain' by Emily Dugan (Icon Books, £12.99) is out now
Reuse content