The Sun has defended its decision to publish images of the Queen and her close family giving Nazi salutes in their garden over 80 years ago, despite a backlash from the Palace.
The footage from 1933, which comes from the Palace's private collection, shows a young Elizabeth playing in the gardens of Balmoral with her sister Margaret, their mother, and their uncle, Edward VIII.
In a leader column, The Sun defended its decision to publish the footage and images, which they have labelled as having "historical significance," claiming "the public has a right finally to see them."
The publication has been quick to defend the Queen, who is shown at a young age being taught the Nazi salute, arguing it does not "reflect badly on our Queen, her late sister or mother in any way."
But the significance of Edward, who went onto become King, teaching the Nazi greeting to his family, has become the justification for the release of the footage. The paper has called the video a "fascinating insight into the warped prejudices of Edward VIII."

Edward, who was approaching 40 at the time of recording, cannot be considered just an innocent child playing along like the current monarch. Edward VIII reigned for a short time in 1936, and is clearly displaying sympathy to the German fascist regime.

The paper describes how Edward was "already a fan of Hitler," in 1933, a time that whilst six years before the outbreak of World War Two, had already seen the opening of the Dachau concentration camp, that would be the place in which over 30,000 people would be murdered at the hands of the Reich. 
Edward was part of a "clique of anti-Semitic aristocrats," according to the Sun, and remained a fan of the Nazi regime "so as late as 1970, long after the Holocaust's horrors were laid bare."
The paper has been criticised by the Palace, stating that "it is disappointing that film, shot eight decades ago and apparently from her majesty's personal family archive, has been obtained and exploited in this manner."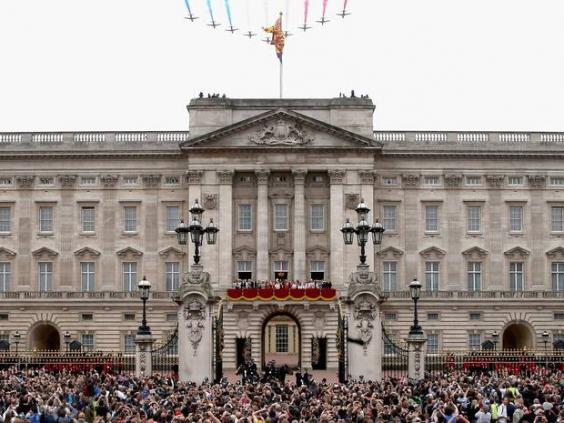 It is understood that the palace is considering taking legal action over the leaked footage, with an internal investigation already underway.
But Culture Secretary John Whittingdale has also defended the Sun, arguing "they decided clearly there was a public interest and the British public will judge whether or not they were right."
"Sometimes editors have difficult decisions. Sometimes people will think they are right, sometimes wrong."
The Sun is calling for the release of further footage from the Royal archives, given its value to the public, who continue to fund the monarchy.
"The rest of the Royal archive from that period, of similarly immense interest to historians and the public, is still hidden," says The Sun, and goes on to argue these archives "should be released."
Reuse content