Somewhere in the deep, dark ocean, a British submarine is always on patrol. Silent, secret, able to stay underwater for months at a time, it carries Trident nuclear missiles that can fly thousand miles to their targets and kill millions of people at once.
The captain has the key to a safe to be opened in the event of war, if all communication with Britain has been lost. Inside is a letter from the Prime Minister of the day, giving orders as to when the missiles should be fired. 
If Jeremy Corbyn ever gets to write that letter, the captain of the submarine may well find it contains just one word: "Never!"  
The Labour leader has campaigned for the abolition of nuclear weapons all his life and says he will never give the order to use them. He has been roasted by the Tories over the past week for appearing to suggest that the submarines could be sent to sea with ordinary weapons instead of Trident nuclear ones. The Sun says he is Off His War Head. But what is the truth about Trident?
Is there a realistic way to scale down or even scrap our nuclear force? Do we really have to replace it with a new system at a mind-blowing cost of £31bn, as the Government insists? It is preparing to push a vote through Parliament that will start the process of building four new Successor class submarines, even though some experts say the real cost will exceed £100bn. 
Labour is officially reviewing its policy, Mr Corbyn is trying to impose an anti-nuclear stance before the vote, but the majority of his MPs are still in favour of replacing Trident. If this is such a great idea, why is it being questioned by senior figures in the armed forces, the Conservative Party, and even in Downing Street?
"There are indications that George Osborne himself is not that keen on this big expenditure of money but he can't see a way out of it because it is such a killer when it comes to doing down Labour," says Paul Rogers, professor of peace studies at Bradford University. "So, they'll keep up with it for the next four years."
The vote will be carried. The next time anyone can intervene will be 2020, when there is a new prime minister. What could an anti-nuclear Corbyn or an anti-cost Osborne actually do at that point?
By then we will have begun building the core of the submarines, the four Rolls-Royce reactors and parts of the hulls. "They are ordering four of everything, so we are sort of committed to four or nothing," says Paul Ingram of the British American Security Information Council think tank (Basic), who expects we will have spent around £9bn. "You could junk the lot. That would take extraordinary political courage because £9bn is a lot of money."
It could also mean the loss of up to 15,000 jobs. But the longer the project goes on, the more the cost will bite. "Trident is likely to take up between a third and a half of the entire defence procurement budget for the 2020s."
All this is to prevent another state attacking us with nuclear weapons, a threat that has been downgraded to tier two. Tier one threats include terrorism and cyber attacks. Nukes at sea don't help with those.
The idea is that Vladimir Putin pauses for thought while his finger hovers over the button, and is put off destroying London because our secret submarine will send missiles to destroy Moscow. We need an independent deterrent at sea 24 hours a day, seven days a week, say those who point out that there has been nuclear peace for decades.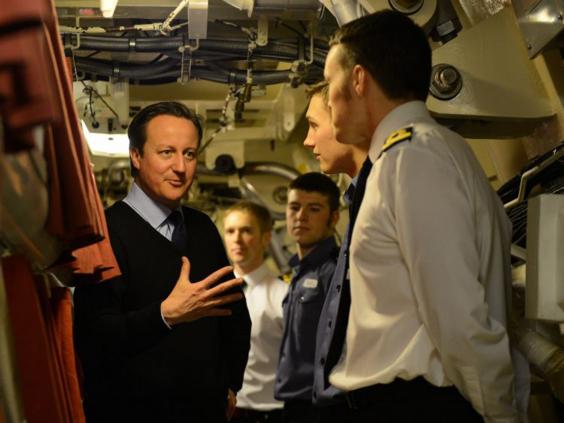 Never mind that it is inconceivable that we would ever face such a threat alone. We are bound to the Americans by Trident; its independence is a myth. The missiles are designed and mostly made by America. They are leased from America and stored in America when we're not using them. The weather data and global positioning systems that guide them are supplied by America and their use could be withdrawn. 
The US position is that we need to buy a new Trident to keep up; but they know we are struggling with the bills. A senior Washington figure told The New York Times: "Either they can be a nuclear power and nothing else, or a real military partner." 
That means concentrating on the things the US values most from us, including intelligence gathering, special forces and the ability to react fast to a crisis and be an active part of a coalition force. 
"I don't think the Americans are hugely bothered about nuclear weapons. They are more concerned to keep us onside because of our other functions," says Professor Rogers, who claims it is the British who have a hang up about losing them. 
"We believe it keeps us in with the Americans and we believe that to be one of the big boys we have to have nukes. That goes back 60 or 70 years and we cannot break out of it." 
However, he sees signs of change within the military. "The air force is still a little bit pissed off that it no longer has nuclear weapons. It wants its extremely expensive fast jets, and it will get fewer of those because of Trident. The Army never liked them, ever, because its soldiers would be the first to be nuked." 
UK news in pictures
UK news in pictures
1/30

A man carries a EU flag, after Britain voted to leave the European Union, outside Downing Street in London

REUTERS

2/30 23 June 2016

AFP/Getty Images

3/30 22 June 2016

British Prime Minister David Cameron poses for a photograph after addressing pro-EU "Vote Remain" supporters at rally in Bristol, whilst campaigning to avoid a Brexit, ahead of the 23 June EU referendum

AFP/Getty Images

4/30 21 June 2016

Scottish Conservative leader Ruth Davidson (left) and Mayor of London Sadiq Khan speak during the EU debate at Wembley Arena in London

Getty Images

5/30 20 June 2016

A full moon rises behind Glastonbury Tor as people gather to celebrate the summer solstice in Somerse

Getty Images

6/30 19 June 2016

Hot air balloons took to the air as part of the annual Lord Mayor's Hot Air Balloon Regatta, a charity event in aid of the Lord Mayor's Fund, in London

Getty Images

7/30 19 June 2016

Liberal Democrats leader Tim Farron (C) poses with supporters after arriving in the Liberal Democrat Vote Remain campaign bus, campaigning to avoid a Brexit in the EU referendum, during a launch event in east London

AFP/Getty Images

8/30 18 June 2016

A man lights a flare among pro-refugee activists rallying outside the French Embassy in central London, during a protest after most of an aid convoy of vehicles organised by campaign groups heading to northern France were turned back at the French frontier at the port of Dover

AFP/Getty Images

9/30 17 June 2016

Prime Minister David Cameron and Labour Leader Jeremy Corbyn arrive to pay their respects at the scene where Jo Cox was shot in Birstall

Getty Images

10/30 16 June 2016

Floral tributes and candles are placed by a picture of slain Labour MP Jo Cox at a vigil in Parliament square in London. Cox died after a shock daylight street attack, throwing campaigning for the referendum on Britain's membership of the European Union into disarray just a week before the crucial vote

AFP

11/30 15 June 2016

Boats from the 'Fishing for Leave' campaign group join a flotilla along the Thames River in London. The flotilla organised by members of the Fishing for Leave group, who are campaigning to leave the European Union ahead of the referendum on the 23 of June, was countered by boats representing the 'In' campaign

Getty Images

12/30 14 June 2016

A general view of the Tate Modern's new Switch House in London. The Tate Modern art gallery has unveiled its new Switch House building designed by architects Herzog & de Meuron

Getty

13/30 13 June 2016

Labour Leader Jeremy Corbyn (C) and Deputy Labour Leader Tom Watson (R) attend a vigil for the victims of the Orlando nightclub shooting, outside the Admiral Duncan pub on Old Compton Street in Soho, London

Getty Images

14/30 12 June 2016

A pigeon flies ahead of Britain's Queen Elizabeth and Prince Philip, and Princes William, Harry and Kate Duchess of Cambridge behind as they wave to guests attending the Patron's Lunch on the Mall, an event to mark her 90th birthday, in London

REUTERS

15/30 11 June 2016

A Guardsman faints at Horseguards Parade for the annual Trooping the Colour ceremony in central London

REUTERS

16/30 10 June 2016

The national service of thanksgiving for the 90th birthday of Britain's Queen Elizabeth II at St Paul's Cathedral in London, which is also the Duke of Edinburgh's 95th birthday

Getty Images

17/30 9 June 2016

Princess Anne, Princess Royal attends the Founders Day Parade at The Royal Hospital Chelsea in London

Getty Images

18/30 8 June 2016

Two women walk barefoot through heavy rain in Westminster in London. The Met Office has issued flood alerts for parts of the south east of England as torrential rain hit parts of the country

Getty Images

19/30 7 June 2016

An Osprey catches two Rainbow Trout at Rothiemurchus in Kincraig, Scotland. Ospreys migrate each spring from Africa and nest in tall pine trees around the Aviemore area, the raptor was hunted to the point of extinction in the Victorian era, their migratory habits eventually brought them back to Scotland with the first successful breeding pair being recorded in 1954

Getty

20/30 6 June 2016

David Cameron speaks at a Remain in the EU campaign event at the Oval cricket ground in London

Getty Images

21/30 5 June 2016

Original participants take part in Japanese artist Koki Tanaka's recreation of the 1985 youth training scheme protest as part of the Liverpool Biennial. The 1985 protest saw 10,000 UK school children take to the street to protest against the Conservative government's controversial youth training Scheme

Getty Images

22/30 4 June 2016

Troops parade along The Mall after the Colonel's Review in London

Getty Images

23/30 3 June 2016

Large scale recreation of Dutch flower painting 'A Still Life of flowers in a Wan-Li Vase' by Ambrosius Bosschaert made out of real flowers is seen outside National Gallery in London

Rex

24/30 2 June 2016

Final preparations are made for the RHS Rose Show in London. The RHS London Rose Show runs from June 3-4 at RHS Lawrence Hall in Westminster

Getty Images

25/30 1 June 2016

Sheep are judged on the opening day of the Royal Bath and West Show in Shepton Mallet. The result of the EU referendum is likely to be closely watched by members of the farming community as the UKs membership of the European Union has long been a contentious issue for the farming industry

Getty Images

26/30 31 May 2016

German President Joachim Gauck (C), British Premier David Cameron (L) and Princess Anne, Princess Royal attend the 100th anniversary commemorations for the Battle of Jutland at the Lyness cemetery in Lyness, Scotland

Getty Images

27/30 30 May 2016

People enjoy the fine weather as they gather on the beach at Sennen Cove in Cornwall

Getty Images

28/30 29 May 2016

K, Moses Adams (South Africa), performs a noseblunt slide during the Red Bull Hold The Line competition at The Royal Albert Hall in London

Getty Images

29/30 28 May 2016

Princess Anne, Princess Royal and Vice Admiral Sir Tim Laurence attend a service at a war graves cemetery to mark the Battle of Jutland in South Queensferry, Scotland. The events begin a weekend of commemoration leading up to the anniversary on 31 May and 1 June to mark the centenary of the largest naval battle of World War One where more than 6,000 Britons and 2,500 Germans died in the Battle of Jutland

Getty Images

30/30 27 May 2016

Leader of Britain's opposition Labour Party, Jeremy Corybn, arrives to deliver a speech on the merits of Britain remaining in the European Union, in Doncaster

Getty Images
There are even opponents of Trident in the Royal Navy. "We are ending up with a two-ship navy. We'll only have one giant aircraft carrier and one ballistic missile submarine at sea, pretending to be a mini-US. A lot of people I come across in the military are very dubious about this." The true cost of replacing Trident is not included in the £31bn. 
"If you're keeping these huge missile submarines reasonably safe you really need other assets. You normally would have a hunter-killer submarine as a little bit of a distant guardian angel. You should have long-range maritime reconnaissance aircraft, which we don't have now, but they are going to spend a lot on getting that renewed. You normally want to have one or two escorts, destroyers or frigates, in the area." 
Then there is extra security at Faslane. As the costs soar over the years, blowing £9bn on your principles begins to look like a bargain. 
Another defence expert, who prefers not to be named, says a third of senior military commanders at one lecture told him they thought replacing Trident was a waste of money. So, Prime Minister Osborne could sell it as the daring thing to do in 2020, in support of the armed forces themselves. He might cancel the fourth submarine, give up the idea of a deterrent constantly at sea and save a bit of money there. Or he might look for a cheaper way of delivering a nuclear strike.
Lord Owen, the former Foreign Secretary, says we should use the smaller Astute submarines that have already started coming in to service with the Royal Navy. They carry cruise missiles which could be fitted with nuclear warheads in a crisis.
Cruise missiles have a much shorter range than Trident's ballistic ones, but this plan would see four Astute submarines on patrol at any one time, able to attack from secret locations off any coastline in the world. Critics of this plan say Cruise is currently too slow and too easy to shoot down, but Lord Owen says this is surmountable. "Supersonic cruise missiles conventionally armed, which may well be designed fairly soon, but capable of carrying nuclear weapons at times of global tension, I see as a prudent insurance policy."
The Tories reject this, saying it could cost more than a new Trident.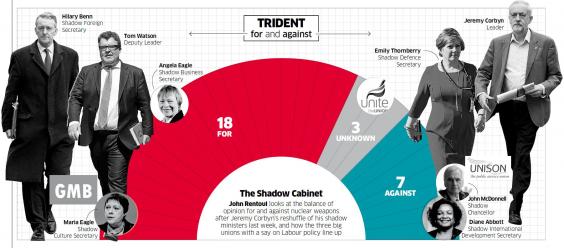 "That's bullshit," says Professor Rogers, who is in favour. Three Astute submarines have already been built and four are on the way. "If you have trouble with the unions then you build two more. Submarine building at Barrow will continue. You could buy off even Len McCluskey with that." 
The leader of the Unite union will have his own view.  
A Labour victory in 2020 currently looks as likely as an unprovoked attack by North Korea on the Isle of Wight, but let's imagine it anyway. "There are a number of options," says Mr Corbyn. But what are they? He has talked about "the Japanese option", which involves knowing how to make nukes but not doing so, as Japan does. But where would that leave the submarine builders?
Lord Owen's Astute option would see them concentrate on the smaller subs. Is there another option that would allow the new Trident submarine building to continue, securing the jobs involved, but equip their state-of-the-art long-range ballistic missiles with only conventional warheads?
"It's an incredibly expensive way of delivering a couple of tons of high explosive," says Professor Rogers. But the Americans have tried it and Paul Ingram, of Basic, says there are ways in which it might make sense. "It is an expensive sledgehammer to crack a nut, but a dual platform also delivers the potential for a virtual deterrent," says Mr Ingram.
That means Britain has the ability to deliver a nuclear strike against an enemy at relatively short notice, even if the policy of the moment is not to do so. "You would have the capability of having nuclear warheads stored at Aldermaston, using the submarines for conventional purposes but then if a future government found things got so bad we needed to go back to nuclear patrol, those warheads could be dusted off."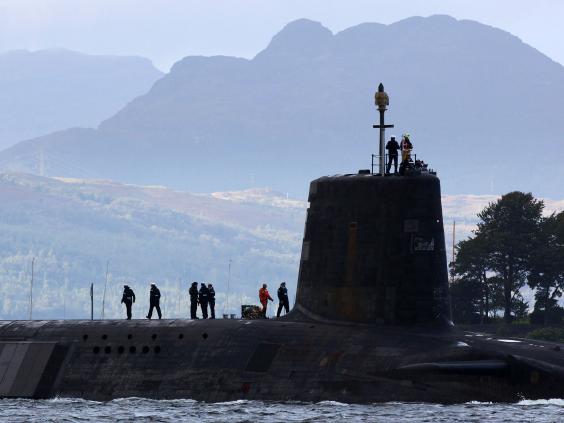 Prime Minister Corbyn could please the SNP by removing nuclear warheads from Faslane in Scotland. Any future leader could put the bombs back on the subs. The cost would be immense. But a new financial crisis could make it impossible to carry on with the Trident spending, whatever party is in power.
Then more people may be willing to name the new Trident as too costly, an overblown response to an out-of-date threat. But even if we go ahead anyway, there is a huge problem looming, which anyone frustrated by an obsolete smart phone will understand. 
"By the time they get in the water there will have been roughly 45 generations of development of anti-submarine warfare technology," says Mr Ingram. Deep-sea drones and other new means of finding secret subs are on their way. "It is heroic, to say the least, to suggest that 45 generations later they're not going to be able to detect the submarines." 
If the sub can be seen, it's useless. If there is no hiding place for the vessels gliding through the deep, dark depths in the early 2030s, the billions we will have spent on a new Trident will be blown out of the water.