Last-ditch talks to avert the most chaotic tube strike for a decade are being held – after London Underground came forward with an improved to workers.
The walk-out, due to start on Wednesday evening, could yet be called off, after transport chiefs offered a better pay deal and increased compensation for drivers working on the new 24-hour 'Night Tube'.
Both sides – Transport for London (TfL) and four unions representing tube workers – were due to return to the conciliation service Acas at midday on Tuesday for further talks, despite one union boss saying on Monday evening that the strike would "definitely" go ahead and reports, denied by TfL, that the improved offer had been withdrawn.
The "final" offer by TfL, of a 2 per cent pay-increase, and bonuses of £2,000 for drivers and £500 for all staff working on the Night Tube, was initially castigated by unions for being "divisive" and for arriving too late.
It means that the strike by 20,000 tube workers – which would close the entire network, the most severe action since 2002 – could yet be averted. Sources close to the talks told The Independent that they could run into Wednesday.
TfL made the offer on Monday after three months of stalemate with the RMT, Aslef, TSSA and Unite unions in a bid to head off the walk-out, due to begin at 6.30pm on Wednesday.
Finn Brennan, lead negotiator of the Aslef train drivers' union, said on Monday the strike would "definitely" go ahead. But TfL said that reports that the offer had been withdrawn, and that bosses would not be available for talks on Tuesday, the anniversary of the 7/7 attacks, were wrong and that it was still on the table.
Mr Brennan said on Tuesday: "Aslef have continued in contact with Acas this morning and remain ready to discuss any offer London Underground make.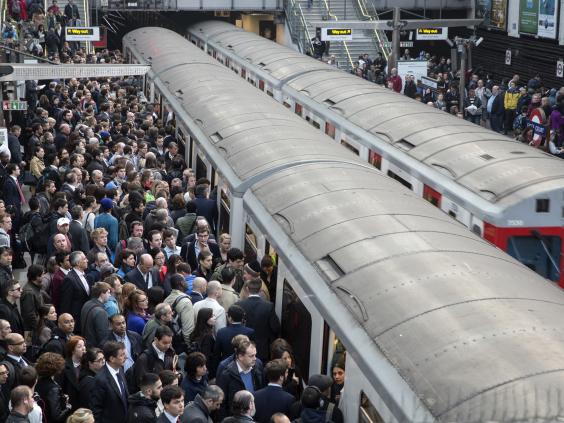 "For three months they didn't change their position, then they gave four trade unions one afternoon to unconditionally accept an offer before withdrawing it.
"This is no way to conduct serious negotiations. They have entirely wasted the window of opportunity to resolve this dispute over the last three months and are now trying to blame the trade unions for the impact of their inept tactics."
Mick Cash, general secretary of the RMT said: "RMT made it clear yesterday [Monday] that we are prepared to continue the talks process in line with the normal industrial relations procedure.
"That of course means that the detailed offer submitted by LU yesterday must remain on the table as a key part of the talks framework and the union issues on a coherent package that addresses work-life balance, equality and safety have to be on the agenda as well."
In pictures: Tube strike April 2014
In pictures: Tube strike April 2014
1/4 Tube Strike

Commuters travel on the Northern Line of the London Underground which is running a limited service due to industrial action on April 29, 2014 in London, England.

Getty Images

2/4 Tube Strike

Commuters at Stratford Underground, Overground and DLR Station in east London, on the first day of a 48 hour strike by tube workers on the London Underground over ticket office closures.

PA

3/4 Tube Strike

Commuters prepare to travel on the District Line of the London Underground during strike action on 30 April, 2014

Getty Images

4/4 Tube Strike

Commuters wait at Victoria tube station for limited service trains in London, Britain, 29 April 2014.

EPA
London Underground had previously offered a 0.75pc pay-rise, and a bonus of £250 for drivers. Some rank-and-file union members have reportedly already expressed dissatisfaction with even the improved offer, saying it does not compensate them adequately for the adverse effect of the Night Tube on their work-life balance. Drivers could get bonuses of up to £2,500 under the improved offer. The 2pc pay-rise is in-line with that offered by other train companies.
The war of words was ramped up on Tuesday when Mike Brown, boss of London Underground, slammed the planned strike - on the day of the budget - as "overtly political", "ludicrous" and "totally out of touch". He told the Evening Standard that unions were going "back to the 1970s". Transport Secretary Patrick McLoughlin also weighed in, calling the strike "needless".
Steve Griffiths, London Underground's Chief Operating Officer, advised customers to keep checking the TfL website for updates.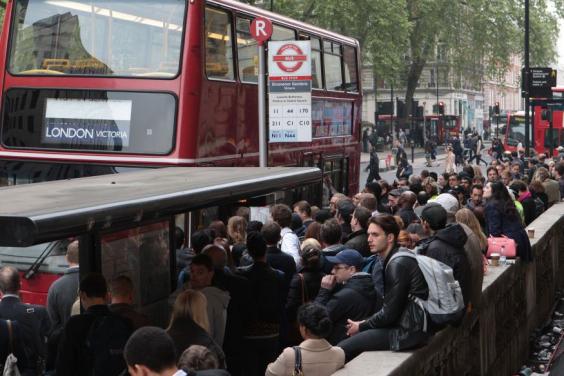 He added: "We are available for talks at ACAS all day.
"Londoners and businesses overwhelmingly back the Night Tube. It will make life better for everyone, cut journey times, create jobs and boost the economy.
"Many of our staff will not be affected by the new services as we are operating Friday and Saturday night services on five lines. We are also hiring 137 more train operators specifically to work on the Night Tube. For those who are affected, it will mean a few extra nights per year within the existing working week.
"No-one is being asked to work more hours than they do now. In return, we have offered a very fair and competitive package of an average 2pc increase this year, a pay increase of RPI or 1pc, whichever is greater, in 2016 and 2017, a £500 launch bonus to all staff on the Night Tube lines and stations and a £2,000 transition bonus for train operators.
"We received no response to this from the union leaderships."
Additional reporting by Press Association
Reuse content