Britain's largest developers have been accused of profiteering on the back of the country's housing crisis by restricting the supply of new houses to keep prices unnecessarily high.
Latest figures reveal that a record half a million homes in England now have planning permission granted but have yet to be built. The length of time it takes for developers to complete a house has jumped from 24 to 32 weeks.
Ministers are increasingly concerned by the failure of developers to speed up housebuilding and there are fears that some are deliberately restricting supply of new houses to boost profits. 
While rates of planning permission for new homes have increased by 60 per cent since 2010 there has only been a 48 per cent increase in the number of new homes being built. 
Taylor Wimpey announced a record operating profit margin of more than 20 per cent yesterday as it sold more homes at higher prices. Pre-tax profits at Britain's biggest housebuilder Barratt Homes have also jumped 40 per cent in the past six months to nearly £300m.
"When you have got housebuilders delivering, on average, 48 homes a year on some [large] sites that's not good enough," the housing minister, Brandon Lewis, said.
"We know they can go further. Housebuilders will talk about saturating the market. But we are aware that in too many places we are still taking 20 weeks to build a house when we can do it in three or four.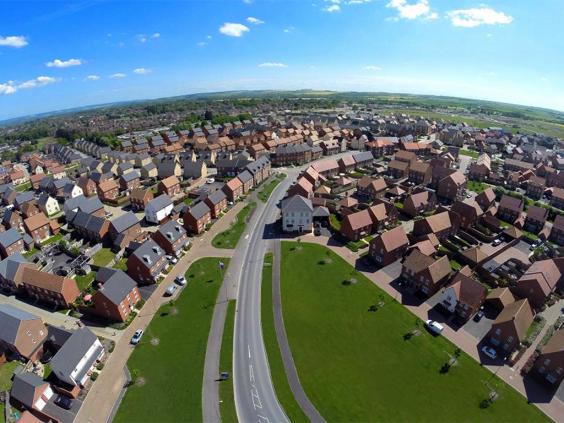 "Housebuilders should be playing their part to ensure we deliver the homes this country needs." Ministers are understood to be contemplating new measures to force up the rate of development amid fears that they will fall short of their manifesto commitment to build one million new homes by 2020.
This could include forcing developers that buy publicly owned land to commit to rapid construction as part of the planning process.
Clive Betts, the Labour chairman of the Local Government Select Committee, said:  "I think it is clear that the big developers are building at a rate to maximise their profits rather than addressing the country's housing need." 
Mr Betts added that some developments that have had planning permission were not due to be completed for another 10 years.
"These are private companies who are very simply trying to make money for their shareholders. They are restricting supply and the Government urgently needs to come forward with measures to address this."
UK news in pictures
UK news in pictures
1/30 30 June 2016

Justice Secretary and leading Brexit campaigner Michael Gove leaves his home in Kensington before announcing his intention to run to be the next Conservative Party leader and UK prime minister

Getty Images

2/30 29 June 2016

Spectators with umbrellas struggle against strong wind as stormy weather delays play at Wimbledon

REUTERS

3/30 28 June 2016

A couple kiss outside the Houses of Parliament during a protest aimed at showing London's solidarity with the European Union following the recent EU referendum

REUTERS

4/30 28 June 2016

Queen Elizabeth II & Prince Philip, Duke Of Edinburgh attend the unveiling of the Robert Quigg VC memorial statue in Bushmills village, Northern Ireland

Getty Images

5/30 27 June 2016

Opposition Labour party leader Jeremy Corbyn leaves after addressing a gathering of supporters demonstrating in Parliament Square, in central London

REUTERS

6/30 26 June 2016

A man dressed as Boris Johnson and Donald Trump prepare to take part in a tomato fight at the Glastonbury Festival 2016 at Worthy Farm

Getty Images

7/30 26 June 2016

People walk over Westminster Bridge wrapped in Union flags in central London. Britain's opposition Labour party plunged into turmoil and the prospect of Scottish independence drew closer, ahead of a showdown with EU leaders over the country's seismic vote to leave the bloc

AFP/Getty Images

8/30 25 June 2016

People pay tribute to the victims of the Orlando nightclub shooting as they take part in the annual Pride London Parade which highlights issues of the gay, lesbian and transgender community, in London

REUTERS

9/30 25 June 2016

Scotland's First Minister and Leader of the Scottish National Party (SNP), Nicola Sturgeon, addresses the media after holding an emergency Cabinet meeting at Bute House in Edinburgh, following the pro-Brexit result of the UK's EU referendum vote

AFP/Getty Images

10/30 24 June 2016

A man carries a EU flag, after Britain voted to leave the European Union, outside Downing Street in London

11/30 23 June 2016

AFP/Getty Images

12/30 22 June 2016

British Prime Minister David Cameron poses for a photograph after addressing pro-EU "Vote Remain" supporters at rally in Bristol, whilst campaigning to avoid a Brexit, ahead of the 23 June EU referendum

AFP/Getty Images

13/30 21 June 2016

Scottish Conservative leader Ruth Davidson (left) and Mayor of London Sadiq Khan speak during the EU debate at Wembley Arena in London

Getty Images

14/30 20 June 2016

A full moon rises behind Glastonbury Tor as people gather to celebrate the summer solstice in Somerse

Getty Images

15/30 19 June 2016

Hot air balloons took to the air as part of the annual Lord Mayor's Hot Air Balloon Regatta, a charity event in aid of the Lord Mayor's Fund, in London

Getty Images

16/30 19 June 2016

Liberal Democrats leader Tim Farron (C) poses with supporters after arriving in the Liberal Democrat Vote Remain campaign bus, campaigning to avoid a Brexit in the EU referendum, during a launch event in east London

AFP/Getty Images

17/30 18 June 2016

A man lights a flare among pro-refugee activists rallying outside the French Embassy in central London, during a protest after most of an aid convoy of vehicles organised by campaign groups heading to northern France were turned back at the French frontier at the port of Dover

AFP/Getty Images

18/30 17 June 2016

Prime Minister David Cameron and Labour Leader Jeremy Corbyn arrive to pay their respects at the scene where Jo Cox was shot in Birstall

Getty Images

19/30 16 June 2016

Floral tributes and candles are placed by a picture of slain Labour MP Jo Cox at a vigil in Parliament square in London. Cox died after a shock daylight street attack, throwing campaigning for the referendum on Britain's membership of the European Union into disarray just a week before the crucial vote

AFP

20/30 15 June 2016

Boats from the 'Fishing for Leave' campaign group join a flotilla along the Thames River in London. The flotilla organised by members of the Fishing for Leave group, who are campaigning to leave the European Union ahead of the referendum on the 23 of June, was countered by boats representing the 'In' campaign

Getty Images

21/30 14 June 2016

A general view of the Tate Modern's new Switch House in London. The Tate Modern art gallery has unveiled its new Switch House building designed by architects Herzog & de Meuron

Getty

22/30 13 June 2016

Labour Leader Jeremy Corbyn (C) and Deputy Labour Leader Tom Watson (R) attend a vigil for the victims of the Orlando nightclub shooting, outside the Admiral Duncan pub on Old Compton Street in Soho, London

Getty Images

23/30 12 June 2016

A pigeon flies ahead of Britain's Queen Elizabeth and Prince Philip, and Princes William, Harry and Kate Duchess of Cambridge behind as they wave to guests attending the Patron's Lunch on the Mall, an event to mark her 90th birthday, in London

REUTERS

24/30 11 June 2016

A Guardsman faints at Horseguards Parade for the annual Trooping the Colour ceremony in central London

REUTERS

25/30 10 June 2016

The national service of thanksgiving for the 90th birthday of Britain's Queen Elizabeth II at St Paul's Cathedral in London, which is also the Duke of Edinburgh's 95th birthday

Getty Images

26/30 9 June 2016

Princess Anne, Princess Royal attends the Founders Day Parade at The Royal Hospital Chelsea in London

Getty Images

27/30 8 June 2016

Two women walk barefoot through heavy rain in Westminster in London. The Met Office has issued flood alerts for parts of the south east of England as torrential rain hit parts of the country

Getty Images

28/30 7 June 2016

An Osprey catches two Rainbow Trout at Rothiemurchus in Kincraig, Scotland. Ospreys migrate each spring from Africa and nest in tall pine trees around the Aviemore area, the raptor was hunted to the point of extinction in the Victorian era, their migratory habits eventually brought them back to Scotland with the first successful breeding pair being recorded in 1954

Getty

29/30 6 June 2016

David Cameron speaks at a Remain in the EU campaign event at the Oval cricket ground in London

Getty Images

30/30 5 June 2016

Original participants take part in Japanese artist Koki Tanaka's recreation of the 1985 youth training scheme protest as part of the Liverpool Biennial. The 1985 protest saw 10,000 UK school children take to the street to protest against the Conservative government's controversial youth training Scheme

Getty Images
Figures compiled by the Local Government Association show that there are now a record 475,647 homes in England which have been given planning permission but have yet to be built. In 2012-13, the total was 381,390.
In comparison, the number of planning applications being approved had risen to 212,468 – up from 187,605 in 2007-08 – and is higher than all previous years.
Peter Box, the LGA's housing spokesman, said the figures "conclusively proved" that the planning system was not a barrier to house building. "To tackle the new homes backlog and to get Britain building again, councils must have the power to force developers to build homes more quickly," he said.
A spokesman for the campaign group Generation Rent added: "These are businesses out to maximise their profits so it makes sense for them to limit the supply of housing that is being built. But it shows that you cannot rely on them to fix the housing crisis." 
Some senior Whitehall figures are concerned that because some smaller developers went bankrupt as a result of the financial crisis, the market is now dominated by a handful of big companies reluctant to increase output significantly.
This view is shared by charities such as Shelter which said one of the "major problems" with the industry was that it relied on "a small number of big developers to deliver the lion's share of the homes we need".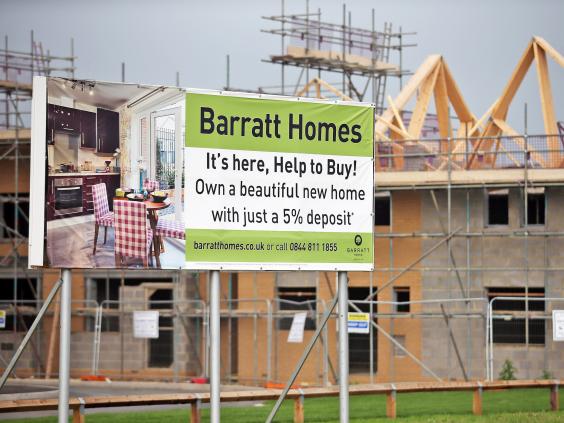 However, Mr Lewis has ruled out measures such as imposing council tax on plots that have been granted planning permission for fear that such a move could prove counter-productive. Instead, the Government believes that there is a case for trying to split up sites among rival developers to increase production rates. It is also investigating how to promote "ready-made" houses that could be built off site.
"If I go and look at a site like Didcot where they are building roughly 400 properties a year, they are doing it because there are four outlets," Mr Lewis told the select committee. "If you have got a site which only has one outlet they [developers] will go back to building roughly 50 a year. It's not about whether that site can take 200 or 400 a year, it's how they manage it."
But Labour's shadow housing minister, John Healey, said the Government could not escape the blame for the overall shortage of housing. "Ministers are right to be nervous about the performance of the private housebuilders," he said. "For five years they've written developers one blank cheque after another, with little to show for it. 
"Cutting back planning rules has meant the number of affordable homes developers build has halved, and now extraordinary plans in the Housing Bill will let them dispense with building low-cost housing altogether and build starter homes on sale for up to £450,000 instead."
A spokeswoman for Taylor Wimpey said that during 2015 the company had built more homes than at any point in the past six years. Pete Redfern, the group's chief executive, said it would "continue to work with stakeholders to ensure we open all sites with implementable planning and begin building as quickly and efficiently as possible".
A spokesman for the Home Builders Federation said the most recent government figures showed that there were 170,690 net additions to the housing stock during 2014-15, an increase of almost 25 per cent on the previous year. He blamed the planning systems of local and central government for the shortfall in housing.
"As a priority, government needs to work with local authorities to speed up the planning system and ensure local plans allocate enough sites of different types and sizes that are attractive to a range of companies," he said.
"It's simply not credible for ministers to complain that housebuilders aren't doing their bit. This is a failure of policy and a failure to see that all parts of the housing sector need to be doing much more to fix the cost-of-housing crisis".
UK's biggest developers: What they earn
Taylor Wimpey
Market capitalisation: £6bn
Pre-tax profit: £604m
Profit margin: 20 per cent
Chief executive: Pete Redfern  
Salary (including long-term bonuses) £5.8m 
Barratt Developments 
Market capitalisation: £5.9bn
Pre-tax profit: £570m (est)
Profit margin: 18 per cent
Chief executive:  David Thomas 
Salary (including long-term bonuses): £4.28m
Berkeley Group
Market capitalisation: 4.43bn
Pre-tax profit: £586m (est)
Profit margin: 25 per cent
Group executive chairman: Anthony Pidgley 
Salary (including long-term bonuses): £3.38m
Bovis Homes
Market capitalisation: £1.29bn
Pre-tax profit: £160m  
Profit margin: 16.9 per cent
Chief executive:  David Ritchie
Salary (including long-term bonuses): £1.5m
Redrow
Market capitalisation: £1.6bn
Pre-tax profit: £95m (est) 
Profit margin: 17.2 per cent
Group chief executive:  John Tutte
Salary (including long-term bonuses): £1.09m
Reuse content