London woke up to this stunning sunrise today but as the old saying goes, a red sky in the morning may not be a good sign for the weather.
Commuters stopped in their tracks to take pictures of the skies, which flamed orange, pink and red, lighting up the skyscrapers of the City and Canary Wharf.
The phenomenon happens when dust and small particles are trapped in the atmosphere by high pressure, scattering blue light and leaving only red to give the sky its appearance.
Forecasters at the Met Office say there is a scientific explanation for the saying: "Red sky at night, shepherds' delight. Red sky in the morning, shepherds' warning."
If it appears at sunset, it means high pressure is moving in from the west to make the next day dry and pleasant but if it appears in the morning, the good weather has usually already passed to the east.
Stunning #London Sunrise #nofilter pic.twitter.com/xScbEu2tRw

— Pat Goodall (@Se10Pat) October 6, 2014
The old adage looked to come true on Monday with rain, storms and high winds due to roll in for much of the UK this week.
The Met Office had issued severe weather warnings for the western side of the country and strong winds caused problems on the railways and for electricity suppliers.
Trees were brought down on train lines, taking out the power on major routes and strong winds of up to 84 mph, recorded in Scotland's Western Isles, damaged power lines in Northern Ireland and Cumbria.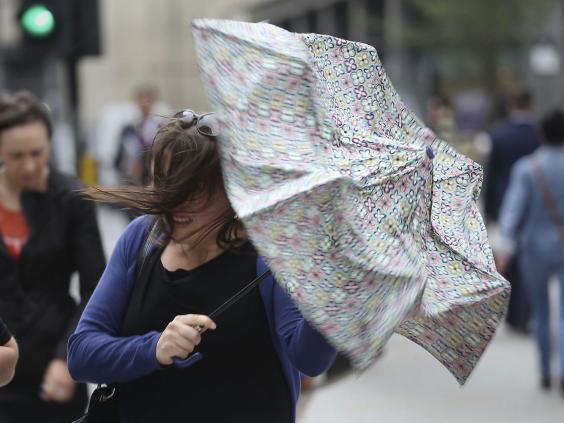 Inches of rain fell in parts of Cornwall and Wales and forecasters said it is here to stay.
"Once the showery rain passes through there will be a few spells of sunshine breaking through," said John Griffiths, a forecaster with MeteoGroup.
"It is windy and Scotland will get the worst of it tomorrow. In the Western Isles there will be some strong winds.
"But it is autumn and this is normal. We just got spoiled with the high."
The bad weather follows the driest September since records began in the UK and one of the warmest, seeing temperatures far above average and just a fifth of the expected rain falling.
Additional reporting by PA
Reuse content