One thousand people were evacuated from their homes in southern England as flooding hit yesterday, with the Environment Agency warning the situation could get worse across parts of the UK and winds of up to 90mph forecast.
Eleven people also had to be evacuated from properties in Wey Meadow area of Weybridge in Surrey this morning.
The Met Office has issued yellow and amber weather warnings, indicating "severe or hazardous weather" with potential to "cause danger to life or widespread disruption".
The worst-affected areas are expected to be northern England and northern parts of Wales.
John Griffiths, a forecaster for MeteoGroup UK, said: "There will be some very, very strong winds and blustery showers in places tomorrow.
"The winds will start to pick up this afternoon and evening. Tomorrow around 6am there will be some strong gusts of wind going up to 90mph."
Helen Roberts, a forecaster from the Met Office, said: "The storm will push in from the west overnight, bringing wet and windy weather to much of the UK.
"There will be very strong gales inland at times and severe gales on the western coast."
Thousands hit by floods and power cuts and chaos at Christmas
Thousands hit by floods and power cuts and chaos at Christmas
1/21 Lingfield

A Landrover makes it's way along a flooded road near Lingfield

Peter Macdiarmid/Getty Images

2/21 Gatwick

Many flights were cancelled at Gatwick after a power outage caused by flooding

AP

3/21 Tewkesbury

A flooded car park near Tewkesbury Cathedral in Gloucestershire as heavy rain and strong winds continue across the country

Tim Ireland/PA

4/21 Saltcoats

Martin and Sean McKinney dodge a wave at Saltcoats Harbour in Saltcoats, Scotland

Jeff J Mitchell/Getty Images

5/21 Heathrow

A plane takes off at Heathrow Airport as wind and rain hit the UK

PA

6/21 Anglesey

A woman wraps up against the wind and a blizzard of sea foam whipped up by the wind near Trearddur Bay in Anglesey

Getty Images

7/21 Saltcoats

Waves hit the shore at Saltcoats in Scotland where trains where cancelled today due to the bad weather

PA

8/21 Antrim

Fallen tree's are cleared in north Antrim as power companies have been condemned for failing to restore supplies to thousands of households as the UK suffered a second major storm over the Christmas holiday

PA

9/21 Wateringbury

Flooded property is seen in Wateringbury, southern England

Reuters

10/21 Yalding

Prime Minister David Cameron visits the recently flooded village of Yalding

Getty Images

11/21 Antrim

A motorist navigates past a fallen tree in north Antrim as power companies have been condemned for failing to restore supplies to thousands of households as the UK suffered a second major storm over the Christmas holiday

PA

12/21 Yalding

A man paddles his canoe past a flooded property in Yalding

Reuters

13/21 Yalding

Emergency services operate along streets submerged beneath floodwaters in Yalding

Getty Images

14/21 Yalding

Emergency services operate along streets submerged beneath floodwaters in Yalding

Getty Images

15/21 Polhill

An ambulance on route to a 999 call heads into flood water at Polhill in Kent. The emergency vehicle is help through the floodwaters by a white jeep in front

16/21 Leatherhead

An abandoned vehicle lies in floodwater after the River Mole burst it's banks in Leatherhead, England

Getty Images

17/21 Lingfield

A police officer wades through flood water near Lingfield in Surrey

PA

18/21 Dorking

The Burford Bridge Hotel lies under floodwater from the River Mole near Dorking, England

Getty Images

19/21 Lyme Regis

Storm waves break on the sea wall behind buildings on the Cobb in Lyme Regis

Matt Cardy/Getty Images

20/21 London

A pedestrian struggles to hold on to his umbrella along Oxford Street in London

Andy Rain/EPA

21/21 Sidmouth

People brave the stormy weather and walk besides the beach in Sidmouth

Matt Cardy/Getty Images
People in the south east and south west of England were worst hit when heavy rain and floods forced hundreds to evacuate properties by boat as rivers burst their banks. 13,000 properties are still cut off from power and could face waiting to a week to have it restored.
The Energy Networks Association said engineers were experiencing problems working in heavily flooded parts such as Kent, Sussex and Surrey.
Spokesman Tim Field said the BBC: "The nature of the work the engineers are having to do, the severity of the damage caused by the storm, also some very challenging conditions such as flooded roads and roads blocked by debris has made repairs much more difficult."
 The Environment Agency has 84 severe flood warnings in place and 165 flood alert warnings across the UK. Two severe flood warnings remain on the Stour in Dorset.
Continuing power cuts also left thousands unable to cook or heat their homes, with energy distributors offering to pay for food and accommodation in local pubs, restaurants and hotels.
In addition to the floods, strong winds left roads blocked with trees and debris, making travel difficult - not least for engineers attempting to reconnect power to the thousands of homes cut off.
There were also delays and cancellations at railways and airports, leaving thousands of passengers stranded. Tim Field, of the Energy Networks Association, said about 50,000 homes were without power on Christmas Day, but expected the majority to be back online on Boxing Day. "We are making arrangements with local authorities, charities and businesses to host and feed those without power. We are also making calls to the elderly and vulnerable to see if they need help," he said.
A spokesman for the Environment Agency said it had cut the number of severe weather warnings from three to two, both in South-West England, but warned that "it would take time for the water to pass through the system".
Late on Christmas Eve, 76 residents of the Little Venice Caravan and Marina Park at Yalding, Kent, were evacuated by boat and 4x4 vehicles by the Maritime and Coastguard Agency (MCA) and Kent Fire and Rescue as water levels on the River Medway reached "chest height" and caravans lifted. An MCA manager, Aimee Rampton, said: "We were operating under force majeure to help the residents of Little Venice as our normal area of operation is along our coasts and shorelines. The people at the caravan site needed help and the flood waters were rising rapidly, so our specially trained water rescue teams swung into action."
A further 90 people were evacuated from their homes on the River Stour near Bournemouth early on Christmas Day. Police began to evacuate residents of the Ilford Bridge Home Park at 3am following a severe flood warning.
One resident Pat Tapply, 79, said: "I would just like to know how bad it is. All the presents are by my fireplace, I don't know what they are but I hope they are still there when I can come back."
People were also evacuated at Beaulieu Garden Park Home in Christchurch, Dorset.
The  Environment Agency has 126 flood warnings in place across England and Wales on Boxing Day morning, mainly in South-East England, the South-west and the Midlands. A further 218 flood alerts remain in place, with 90 in the South-East. The agency said that by Wednesday evening 150 properties had been flooded in England, mainly in the south. Families had to be evacuated from homes in Dorking, Leatherhead and Guildford in Surrey, and 40 properties were evacuated in Godalming because of concerns over the height of the River Wey. A rest centre was set up for evacuees.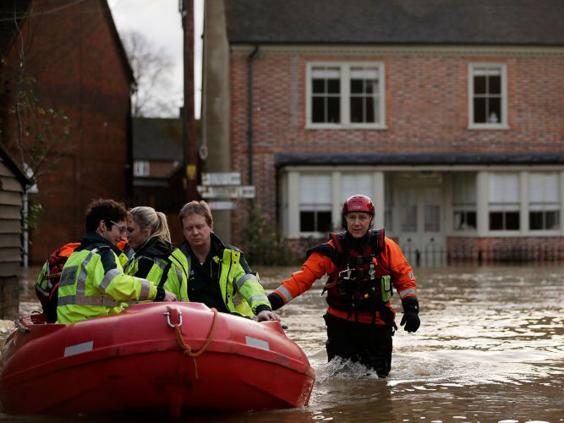 More evacuations were ordered in Tonbridge, Kent, where 100 people had to abandon their plans for Christmas lunch at a pub after it was flooded. Staff at Wetherspoons said they had tried to relocate diners at alternative premises where possible.
About 800 homes in the north of Scotland were still without power last night, mainly around the Banchory, Buchan and Aboyne areas in Aberdeenshire, and Forres and Fochabers in Elgin.
Travellers trying to get home on Christmas Eve fought treacherous conditions on the roads and suffered major delays as the rail network was crippled.
A power cut at Gatwick Airport's North Terminal led to cancellations and delays for thousands of passengers who were left stranded until yesterday, when the majority of flights resumed.
Forecast: more misery ahead
People have been advised to make the most of Boxing Day because storms and heavy rain could bring a return of Christmas Eve's travel problems by the end of the week.
Thursday is expected to be cold but dry and sunny for most of the country, with a chance of snow in parts of Scotland and the odd light shower elsewhere.
However, the wind is expected to pick up from the west overnight, bringing squally rain down on already saturated ground.
Emma Compton, a forecaster at the Met Office, said: "We are expecting gales around coastal areas, particularly in the west and higher ground, of around 60mph. There is also much more rain to come on Friday and a risk of flooding. We could see between 10 and 20mm of rain fall, and may even get up to 30mm which could again cause some disruption."
Reuse content