The UK is preparing to send troops to take part in joint Nato war games in Eastern Europe in response to Russia's ongoing actions against Ukraine, the Defence Secretary has said.
Philip Hammond said British typhoon aircraft would likely be based in Estonia to help police the skies around the Baltic sea, as part of a commitment to "greater participation in exercises in the Baltic States".
While Ukraine is not a member of Nato, and as such receives no automatic protection from the alliance, the Baltic states of Estonia, Latvia and Lithuania are – meaning aggression towards them is regarded as aggression towards the entire of Western Europe and the US.
President Vladimir Putin has previously expressed an intention to secure "Russian interests" in the Baltics, Belarus and Finland – and there is growing international concern about the estimated 40,000 Russian troops now amassed on Ukraine's eastern border.
Mr Hammond said he hoped a diplomatic solution could be found but it was important to maintain pressure on Moscow following its use of "very crude" tactics against its neighbour.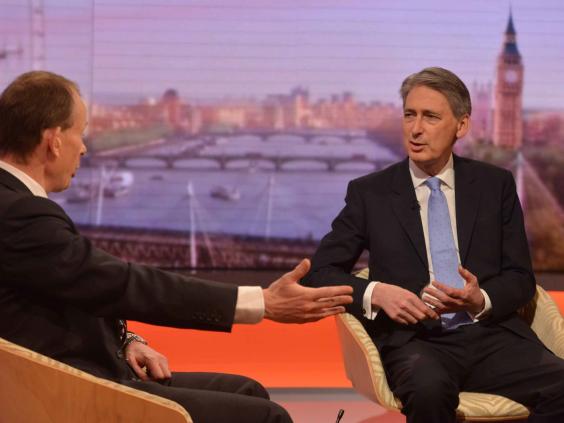 He told the BBC's Andrew Marr Show: "Everybody is concerned. We are concerned that there might be a further incursion in the territory of a sovereign nation.
"Whether there is or there isn't, we all need to be concerned about the use of this very crude and blunt instrument to try to influence other countries and their behaviour.
"We thought we had seen the end of that kind of thing in Europe."
He added: "Certainly one of the things we are looking at is a greater participation in exercises in the Baltic States, the Eastern European Nato member countries as a way of reassuring them about our commitment to Article 5 of the Washington Treaty, the mutual guarantee."
Article 5 of the Nato treaty means that an attack on one nation in the alliance is viewed as an act of aggression against them all.
Crimea referendum and independence
Crimea referendum and independence
1/14 Crimea Referendum

A man shows his shirt with the Russian emblem as he celebrates the results of the Crimean referendum at the Lenin Square in Simferopol

EPA

2/14 Crimea Referendum

An elderly retired Soviet Navy officer and his wife take a walk in Sevastopol the morning after the referendum

AFP/Getty

3/14 Crimea Referendum

A man plays accordion as people dance during celebrations in Sevastopol

AFP

4/14 Crimea Referendum

People wave Russian flags as fireworks explode in the sky over Sevastopol following the announcement of the result of the referendum

EPA

5/14 Crimea Referendum

A member of a Ukrainian "Maidan" self-defense battalion takes part in training to qualify for service in the newly-created National Guard.

Reuters

6/14 Crimea Referendum

Pro-Russian protesters hold a Russian, Crimean and Soviet flags during their rally at Lenin Square in Simferopol, Ukraine

EPA

7/14 Crimea Referendum

A member of the Crimean election commission waits for voters at the polling station in Belogorsk near Simferopol, Crimea, Ukraine

EPA

8/14 Crimea Referendum

Polling stations opened in Crimea for a referendum about whether the Ukrainian Black Sea region should join Russia. The vote has been widely condemned by Western governments, who call it illegal and have announced sanctions against Russia if it goes ahead. Thousands of unmarked forces, believed to be Russian, have appeared in Crimea after local Moscow-backed authorities asked Russia for protection against 'extremists' in the new Ukrainian leadership

EPA

9/14 Crimea Referendum

A lettering on the facade of the Council of Ministers building reads 'Spring in Crimea' in Simferopol, Crimea, Ukraine

EPA

10/14 Crimea Referendum

People wave Crimean flags at Lenin square in Simferopol, Crimea, Ukraine

EPA

11/14 Crimea Referendum

A poster in Crimea presents a stark choice - Nazism, or Russia - to voters ahead of the referendum

12/14 Crimea Referendum

Protesters against Ukraine's referendum gather in Simferopol

Getty Images

13/14 Crimea Referendum

Action stations: Preparations for today's referendum in Simferopol, where Crimea will vote to become part of Russia

AP

14/14 Crimea Referendum

Cossacks guard the regional parliament building in Simferopol during the Crimean referendum

AP
"Nobody should be in any doubt to our resolve to live up to our commitments under the Nato treaty," Mr Hammond said.
Meanwhile, Russia has set out demands for a diplomatic resolution to the crisis in Ukraine, saying the former Soviet republic should be unified in a federation allowing wide autonomy to its various regions.
Foreign minister Sergey Lavrov met with his US counterpart John Kerry in Paris last night to discuss options to de-escalate the situation.
After four hours of "frank" talks, the two failed to reach a deal on how to resolve the Crimean crisis.
Reuse content