Ultra-Orthodox Jews are raising £1m to prevent "pure and holy" children from leaving the strict faith community and living with "irreligious parents" in an "evil culture", The Independent has learned.
The fundraising drive has been established to fund the legal fees of divorcing parents involved in child custody battles with ex-partners who want to join mainstream society.
The Independent has seen flyers for a fundraising event in the Stamford Hill area of London that call for the community to back the bid, saying: "Rescue The Children Convention: We now need one million pounds and therefore the community is requested to join in with a minimum sum of £500."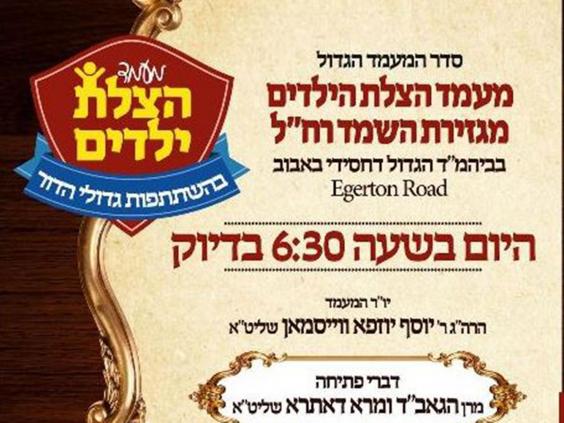 The flyers were accompanied by a letter of support from a local rabbi stating they wish to fight cases involving 17 children: "To our great pain, and our misfortune, our community finds itself in a terrible situation – 17 of our pure and holy children where one of the parents, God rescue them, have gone out into an evil culture, and want to drag their children after them.
"This is a decree of apostasy and this situation has motivated our rabbis who are in Israel… to come here in a personal capacity to increase prayer and to gather money for legal fees, and to achieve this a convention has been organised of prayer and also to collect money."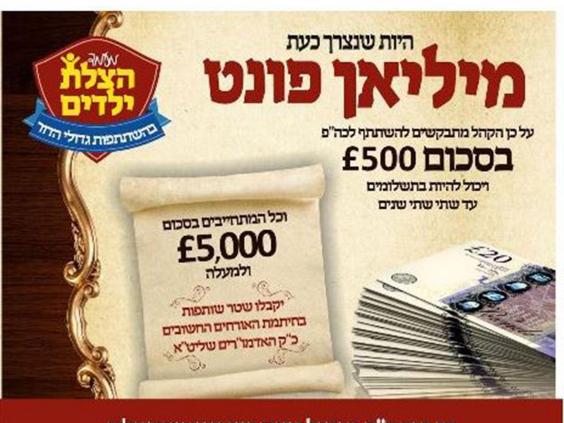 The Charedi community is notoriously insular and practices a 19th-century interpretation of the faith. Engagement with the secular world is deeply taboo, Yiddish is spoken as the primary language and arranged marriages are standard practice. Men wear 19th-century Eastern European dress including long black coats and black hats, while married women must dress modestly and cover their hair.
Campaigners and former community members have told The Independent the tactical funding of legal fees tears families apart by denying those wishing to leave the religion access to their children as a punishment for no longer believing in ultra-Orthodox Judaism. 
They say the practice unfairly skews child custody battles in favour of the funded parent who remains in the faith groups, rather than enabling custody to be decided on the basis of the best interests of children. Many who join mainstream society have little grasp of the English language or legal system as well as no financial resources, they are severely disadvantaged in court cases and can struggle to understand or articulate their experiences or get adequate legal representation.
A spokesperson for GesherEU, a charity supporting people wishing to leave Charedi communities, told The Independent: "[Child custody cases instigated by a parent leaving the community are] seen as a huge threat to the Charedi community, knowing that people can leave the community and take their children with them and give them a decent secular education and live successfully outside of the community. 
"It is very common within the Charedi community for the religious parent to receive full financial support throughout the court process to ensure the children remain within the community. The parent who stays religious will receive fully funded solicitors and barristers with the sole intention of ensuring the children remain resident with the parent who stays in the community."
"The religious parent will be pressurised into filing for full custody and even lie in court so that the other parent is seen as 'an unfit parent' and lose custody/contact with their children. Often parents who leave will experience domestic violence as the religious parent will resort to threats and emotional and physical abuse to try and coerce their spouse to remain married and living within the Charedi community."
They added that the knowledge the community will try and keep a child with a believing parent acts as a deterrent for anyone questioning their faith and considering leaving: "An event like this is a clear warning to those thinking of leaving as well as a scare tactic: 'If you leave we have all the money power and resources to fight you and ensure your children stay within the community are alienated from you.' This does work to some extent and deters many who would otherwise leave knowing they will be facing a legal battle with possibly devastating consequences."
Last year, the community came under scrutiny when it emerged one school threatened pupils with expulsion if their mothers drove them to school on the grounds that it was "contrary to the rules of religious modesty" for women to drive. An investigation by The Independent earlier this year found more than a 1,000 children in Charedi communities are attending illegal schools where secular knowledge is banned and they learn only religious texts, meaning they leave school with no qualifications and often unable to speak any English.
The Independent has seen details of legal cases brought before British Family Courts in recent years whereby the ultra-Orthodox Jewish community has funded legal fees of a 'believing' parent in the hope that they will be given custody of the children above the other parent. In a 2013 ruling, a judge told the court: "The mother and father come from the… Charedi community of ultra-Orthodox Jews. A major reason for the marriage breakdown was that the mother no longer wished to follow the strict tenets of that community. She remains an orthodox Jew but wished for a way of living for herself and the children which allowed greater diversity of educational, personal and economic opportunity. Her wish has come at a price. Her own parents and siblings are no longer in contact with her.
"The financial cost of this litigation is significant. The mother does not receive public funding, and pays the legal costs from her own pocket. The father's legal costs are paid for by his community and by his parents… This is a grossly disproportionate misdirection of the father's available financial resources. It is also a wearing down of the mother's resources. I did not make a costs order on this occasion but, if these or similar disputes are continued, the court may have to intervene with costs orders in future to prevent further financial injustice to the mother." 
A court case last year exposed the extreme pressure individuals feel when leaving the community as a woman sought to divorce her husband after alleging sexual and domestic violence, and gain custody of their daughter. Court records seen by The Independent show the woman was unable to read or write English and was represented on a voluntary basis by lawyers due to lack of funds. It is not known how her ex-husband's legal fees were funded.
The ruling notes that the woman says she was beaten and raped repeatedly throughout her marriage but "was inhibited from speaking out about her abusive experiences contemporaneously because of the culture in which she was living… where she would have no audience and no sympathy".
The woman told the court that when the woman attended a GP's appointment for vaginal pain incurred by rape, her husband attended with her to translate English for her, meaning she was unable to get help there too.
She said that once she did speak out and seek custody of her child, community members spread rumours she had been sexually promiscuous. "A member of the community threw eggs at me for disclosing the violence and allegedly bringing shame upon the community," she said. The woman was granted custody and left the country soon after to begin a new life with her child. 
UK news in pictures
UK news in pictures
1/28

The funeral procession leaves St Columba's Church Long Tower with the coffin after the funeral of former Northern Ireland Deputy First Minister Martin McGuinness in Derry, Northern Ireland

Getty Images

2/28

Martin McGuinness's wife Bernie leaves St Columba's Church Long Tower, in Londonderry

PA wire

3/28 21 March 2017

Northern Ireland's Former Deputy First Minister Martin McGuinness Dies Aged 66

Getty Images

4/28 21 March 2017

Beautiful Beautiful George Michael Love Painting of late singer George Michael by Damien Hirst

Damien Hirst/The Goss-Michael Foundation/PA Wire

5/28 18 March 2017

Britain's Prince William, Duke of Cambridge, and his wife Britain's Kate, Duchess of Cambridge, look across the River Seine at a view of Paris through the clock face at the Musee dOrsay - the former Gare d'Orsay train station- during their visit to the museum on the second day of their two-day visit to the French capital. It is the prince's first official visit to the French capital since his mother Diana died there in a car crash in 1997

Getty Images

6/28 18 March 2017

The Duke and Duchess of Cambridge at Les Invalides, where they met a number of victims and first responders from the Bataclan and Nice attacks and also heard more about the important historic and current role of the site, in particular its work supporting veterans and its rehabilitation programmes, as part of their official visit to the French capital

PA wire

7/28 18 March 2017

The Duke and Duchess of Cambridge at the Trocadero, where attended a 'Les Voisins in Action' event highlighting the strong ties between the young people of France and the UK, during an official visit to Paris, France

PA wire

8/28 18 March 2017

The Duke and Duchess of Cambridge at the Trocadero, join in a game of rugby with school children as they attends a 'Les Voisins in Action' event highlighting the strong ties between the young people of France and the UK, during an official visit to Paris, France

PA wire

9/28 18 March 2017

Scottish First Minister Nicola Sturgeon tours the stall at the SNP Spring Conference at the AECC in Aberdeen

PA

10/28 18 March 2017

Thousands of protesters arrived at Portland Place in Central London at around midday holding banners adorning defiant messages of solidarity

Zakariya Cochrane

11/28 16 March 2017

Amnesty International activists hold banners while taking a demonstration in London

AP

12/28 16 March 2017

Prince Harry leads a panel discussion with former members of the UK and US Armed Forces, Ivan Castro, and Philip Eaglesham, with his Assistance Dog Cooper, during the Veterans' Mental Health Conference at the King's Building in the Quad, King's College London

PA wire

13/28 15 March 2017

House of Commons Sergeant at Arms Kamal El-Hajji tries a new 360 degree headset which allows people to have a virtual reality tour of the Houses of Parliament in London using their smart phone from anywhere in the world

PA wire

14/28 15 March 2017

Claire Blackman, wife of the imprisoned British Sergeant Alexander Blackman, poses as she leaves the Royal Courts of Justice

Getty

15/28 14 March 2017

Muirfield golf club members have voted to admit women members after the privately owned club voted eighty percent in favour in updating the membership policy

Getty Images

16/28 13 March 2017

A photographer captures the sunrise in Whitley Bay, Tyne and Wear, as today could be one of the warmest days of the year so far with spring just over a week away

PA wire

17/28 13 March 2017

Metropolitan Police undated handout photo of rapist Anthony Roberts who is facing jail for a vicious attack on an 81-year-old woman minutes after he sat next to her on a bus

Metropolitan Police/PA Wire

18/28 13 March 2017

British Prime Minister Theresa May leaves after attending a Commonwealth Day Service at Westminster Abbey

Getty Images

19/28 13 March 2017

Buglers play their instruments during a Commonwealth Day Service at Westminster Abbey

Getty Images

20/28 13 March 2017

Britain's Queen Elizabeth II, Britain's Prince Charles, Prince of Wales and Britain's Prince Philip, Duke of Edinburgh leave after attending a Commonwealth Day Service at Westminster Abbey

Getty Images

21/28 5 March 2017

The sun rises over Bingham in Nottinghamshire

Neil Squires/PA Wire

22/28 5 March 2017

Annie Lennox, Mayor of London Sadiq Khan and Bianca Jagger, at the start of the March4Women event in London, ahead of International Women's Day

Dominic Lipinski/PA

23/28 5 March 2017

Jack Mckendrick from North Wales, carrying his partner Kirsty Jones, wins the 10th UK Wife Carrying Race in Dorking, Surrey

PA wire

24/28 5 March 2017

Competitors start the 10th UK Wife Carrying Race in Dorking, Surrey

Gareth Fuller/PA Wire

25/28 4 March 2017

'Our NHS' demonstrators protest outside of the parliament in London

EPA

26/28 4 March 2017

Protesters march with banners and placards against private companies' involvement in the National Health Service (NHS) and social care services provision and against cuts to NHS funding in central London

Getty Images

27/28 4 March 2017

Sinn Fein northern leader Michelle O'Neill stands in front a mural of republican hunger striker Bobby Sands after holding a post election press conference at Sinn Fein headquarters in Belfast, Northern Ireland

Getty Images

28/28 2 March 2017

Mother Pam Duggan and aunt Carole Duggan arriving at the Royal Courts of Justice in London for the latest round of a legal battle by the family of Mark Duggan, whose fatal shooting by a police marksman sparked nationwide riots. They are going to the Court of Appeal to challenge a decision by three High Court judges that an inquest jury was legally entitled to bring in its 8-2 majority verdict that he was 'lawfully killed'

Nick Ansell/PA Wire
Imtiaz Shams, co-founder of Faith To Faithless an advocacy group for ex-religious people, told The Independent: "Faith to Faithless has come across many parents for whom leaving their faith has had huge consequences for their relationship with their children. Many have had to "go back into the closet" in terms of their lack of faith, even from their own children, simply to protect this bond. 
"Leaving faith can put the financial and social weight of the whole religious community against the parent: it is part of the systematic prejudice faced by non-religious people from religious communities. Leaving the Ultra-Orthodox community can be particularly difficult as these parents can be isolated, may not know what their rights are or have the financial and emotional support required to fight these custody battles."
He added: "We call on the Government and civil society to do more to protect non-religious parents and their children, who may not have the resources to challenge the discrimination they face."