London's Tower Bridge was shut to traffic today after an unexploded Second World War bomb was dug up by builders.
Construction workers on a site in The Grange, Bermondsey, alerted police shortly after the discovery at 9.15am on Monday.
The huge explosive is believed to be around 5ft long and 1,000lbs in weight.
Hundreds of people were evacuated from flat blocks on large estates surrounding the site and two schools had to be shut as a precaution.
#BreakingNews #Bermondsey #bomb #ww2 #roadclosures @LondonFire @metpoliceuk doing their thing. #policeline pic.twitter.com/qgrocR5XFq

— Matthew Barksby (@matthewbarksby) March 23, 2015
As the Metropolitan Police's bomb squad rushed to the scene, officers put in a 400 metre exclusion zone, closing some of London's busiest roads.
Tower Bridge was shut in both directions as traffic jammed north and south of the River Thames and stricken bus passengers reported miles of queues.
Britain during WWII - in pictures
Britain during WWII - in pictures
1/30 WWII

1939: A squadron of Spitfires took part in mimic 'air alarms', during a speed demonstration at Duxford Aerodrome

2/30 WWII

1939: British railway workers fit floodgates below river level at Underground Stations

3/30 WWII

1939: A patient on a stretcher is loaded into a Green-Line coach ambulance when being evacuated from Guy's Hospital in London

4/30 WWII

1939: Metropolitan Police Constables wearing gas masks line up to enter a mobile gas chamber at East Ham Police Station, London

5/30 WWII

1939: A young female British Navy officer sitting astride a minesweeper's cannon and lighting a cigarette whilst two officers look on

6/30 WWII

1939: Schoolchildren crowd Ealing Broadway Station in London, some of the first youngsters to be evacuated to the country during World War II

7/30 WWII

1940: Bells rescued from the belfry of St Giles in Cripplegate, London, which was bombed during a night raid

8/30 WWII

1940: A projector, operating from its sunken sandbagged emplacement, at a searchlight station in the London area

9/30 WWII

1940: Auxiliary Territorial Services personnel sealing and preparing a Churchill tank for export to the Soviet Union

10/30 WWII

1940: An Australian soldier leaps from a tank during training exercises in Britain

11/30 WWII

1940: A man flies a Union Jack on a bomb site. The area was bombed twice, and the second time it tore the flag in two

12/30 WWII

1941: A policeman coaxing his pony to leave an area which is being evacuated due to the discovery of an unexploded bomb

13/30 WWII

1941: Charles de Gaulle (C), Chief of the French Free Forces, inspects the French colonial troops during during his visit of a military base in Great Britain

14/30 WWII

1941: US politician Wendell Willkie viewing the bomb damage to the Guildhall during the Blitz, London

15/30 WWII

1941: Men, women and children stand with their belongings on a pavement in Clydeside, in the aftermath of a severe bombing raid

16/30 WWII

1941: The famous American 'Eagle' Volunteer Air Squadron, formed during WWI, takes its place in the ranks of the RAF

17/30 WWII

1942: Work in progress of the decks of almost completed ships, being built for the merchant navy

18/30 WWII

1942: Two London buses passing through thick smoke screens during Civil Defence Service training operations

19/30 WWII

1942: A British ship (either the Cathay or the Karanja) on fire in Bougie Harbour (Bejaia), during the North African 'torch' landings. The Luftwaffe bombed three of the Allied ships as they attempted to reach shore

20/30 WWII

1943: American soldiers viewing some of London's raid damage during a tour

21/30 WWII

1943: A crashed German Messerschmitt is towed past the Houses of Parliament in London

22/30 WWII

1943: The wreckage of Sandhurst Road School in Catford, south London, the day after it was partially destroyed in a German bombing raid

23/30 WWII

1944: Extensive manoeuvres for invasion being carried out by American Sherman tank units in Britain

24/30 WWII

1944: Rescue workers searching through the rubble of a block of flats destroyed by German raids in London

25/30 WWII

1944: Bomb damaged buildings in London's Pall Mall after an air raid

26/30 WWII

1945: British officers liberated by the 9th Army from Brunswick Oflag 79, the largest British officers' camp in Germany

27/30 WWII

1945: Essex-class fleet carrier USS Franklin after suffering a hit by a Japanese dive-bomber off Japan, during war in the Pacific

28/30 WWII

1945: The scene in Farringdon Road, London, after a V-2 rocket had fallen in daylight on the Central Markets

29/30 WWII

1945: VE day, held to commemorate the official end of Britain's involvement in World War II, is celebrated by crowds at Trafalgar Square in London

30/30 WWII

1945: Soldiers from the Women's Royal Army Corps in their service vehicle, driving through Trafalgar Square during the VE Day celebrations in London
The London Fire Brigade, who sent specialist units to the scene, said it has attended incidents involving seven unexploded bombs and five hand grenades in the capital over the last five years.
@metpoliceuk Doing a great job in Bermondsey, dealing with an un-exploded WW2 Bomb, A very high security presence pic.twitter.com/UMbUPV2H0W

— Josh Reinke (@JoshR297) March 23, 2015
Southwark Council warned that residents returning from work may not be allowed home on Monday evening and said rest centres had been set up in a nearby library and leisure centre.
"Traffic is still being diverted from the wider area and this is causing considerable congestion in the Tower Bridge/Grange area," a spokesperson said.
"We would advise people to stay away from the area if at all possible, especially at rush hour.
"We are awaiting more information about next steps once a comprehensive assessment of the bomb can be carried out."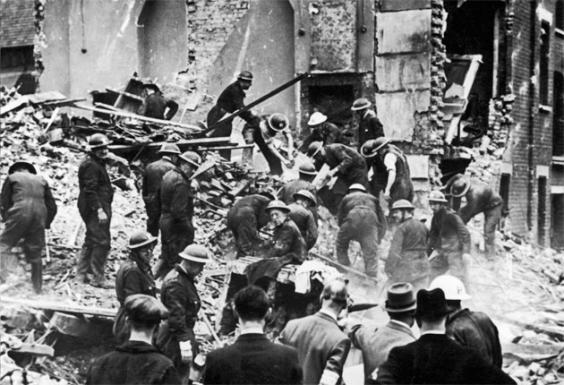 Bermondsey was one of the most heavily bombed areas of Britain during the Second World War, with 709 civilians killed and thousands more hurt according to local authorities records.
It was targeted because of its industry, proximity to the busy London docklands and main railway supply lines.
Reuse content