If the organisers of the launch of Britain's first housing development partnered with Versace were concerned they had missed their target market, they need not have looked further than the venue's car park for reassurance.
At the entrance to London's Dorchester Hotel, a Range Rover in mirrored gold sat alongside two Rolls Royces in electric blue and fire engine red with contrasting white and chrome bonnets. It was testimony to the sheer amount of automotive bling massed on Park Lane that a £180,000, 199mph scarlet Ferrari was the least shouty ride on display.
Whether any of the owners of these vehicles variously sporting Kuwaiti and Saudi number plates were attending the launch inside of Aykon Nine Elms - breathlessly billed as the nation's first large-scale residential development to be kitted out by a luxury fashion house - was not immediately obvious.
But it was barely inconceivable that the owner of a six-figure supercar pimped up in pearlescent purple might also be eyeing up a London pied-a-terre complete with a Donatella Versace  gold-mosaiced spa and embossed teapots as standard. Who among the world's have-yachts, after all, could turn down the opportunity for a share in the exclusive use of a Versace-designed children's play area with panoramic views of the Houses of Parliament?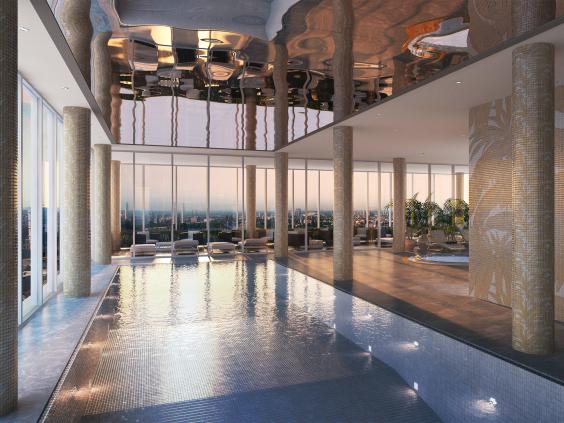 These two gleaming examples of conspicuous, brand-heavy consumption sat cheek-by-jowl in Mayfair served as proof of the increasingly strenuous efforts in the capital to attract the planet's super-wealthy with the glitziest of baubles - and the yawning gap between such gems and what the hundreds of thousands of Londoners seeking to buy a home can afford.
Boasting some 360 studios, apartments and penthouses spread over 50 storeys soaring above the Thames in the same corner of central London that will before long house the American embassy, the Aykon Nine Elms will not be ready until 2020 and even its most bijou offering has a £690,000 asking price.
In return for a five-year wait to pick up the keys, the Dubai-based developers DAMAC have hit upon a new selling point in a hyper-ventilating luxury housing market already heaving with car lifts, dial-up Michelin-starred cuisine and in-house florists.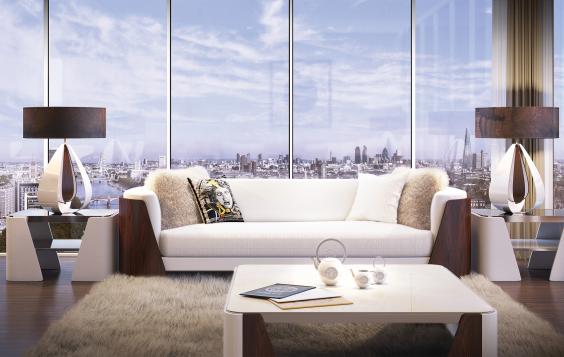 As a spokesman for estate agent Hamptons International, which is helping to market the project, put it: "With luxury developments there is always pressure to see how you can push things to the next level.
"Versace is what will help this exceptional building achieve that - it is pushing the envelope slightly with something quite different. It has an appeal for people from all over the world."
Indeed, with up to half of all property sales in London's prime areas going to non-British buyers, it is likely to be globetrotters rather than even the most monied locals hoovering up the first 23 floors of flats available this week.
Riba Stirling Prize 2015 shortlist
Riba Stirling Prize 2015 shortlist
1/6 Burntwood School, Wandsworth, London

This project, by AHMM, was discussed at some length by the jury for the Architects Journal's Best Building in 2015. It didn't win, but there was no doubting the architectural ambition of the scheme.

Tim Soar/PA

2/6 Whitworth Gallery, Manchester

The MUMA practice opened a new central axis through the original Victorian building and added an L-shaped glass box to the side of the building facing Whitworth Park. Brilliant! But then they put brick "stitches" along one flank, signifying the city's historic cotton industry. They don't. They just look silly. And there are polished steel columns in the glass-sided restaurant, to reflect the trees in the park. Equally silly.

Alan Williams/PA

3/6 Library and teaching building, University of Greenwich

The Irish practice Heneghan Peng gave this building a skilfully modulated form and facades, decreasing its sense of mass, and fitting it into its urban context. Wierdly, if you shrink a segment of it, it recalls the St Andrews housing by the Scots, Sutherland Hussey.

Hufton + Crow/PA

4/6 Maggie's cancer care centre, Lanarkshire

Reiach and Hall's design takes the form of a building and courtyard. There is absolutely nothing look-at-me about it. What it does convey is a place of retreat and calm order. No, Maggie's centre has quite equalled the brilliantly "domestic" one designed by Rogers Stirk and Harbour at Charing Cross Hospital. Nevertheless, the Lanarkshire building is very much in that homely mode.

David Grandorage/PA

5/6 NEO Bankside, Southwark, London

Or is it NEO Blingside? The apartments cost between £1.5m and £4.5m. The Meccano-like buildings have the brio of Rogers Stirk Harbour's trademark steroidally expressed, brightly coloured structure and exoskeleton. The materials, finishes and details are superb. But if the judges were being picky, they might recall that the 'Architects' Journal' criticised the fact that some of the exposed structural bracing was just for show.

Edmund Sumner/PA

6/6 Peabody affordable housing, Darbishire Place, London

Most people would find Niall McLaughlin's design unremarkable. Bricks, simple balconies, a regular architectural rhythm, nothing much to catch the eye – all very self-effacing. But compared to the premium-value apartment blocks mushrooming across London this is virtuous ordinary architecture for those who earn something like the London pre-tax average of £34,000.

Nick Kane
Insiders acknowledged that there had already been "strong interest" in the development from the Middle East, the Far East, Russia and South and North America; though they also insisted they do not want to produce a "ghost building" with absentee occupants permanently abroad.
Every property in the project, which currently has a top asking price of £4m but has yet to offer its plutocrat-seducing penthouses, will feature marble kitchens and bathrooms by Versace Home. As an added bonus, those splashing out on an apartment with two-bedrooms or more, complete with "anti-skid porcelain flooring", will receive complimentary flights to Milan and the opportunity to order a fully bespoke interior by the design house known for its minimalist approach to luxury.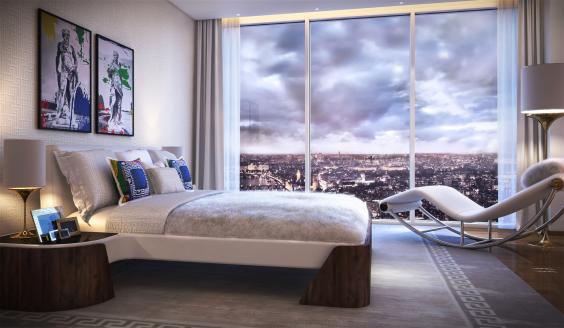 And for those who will be moving into the 90 affordable housing units in the conjoined tower and cannot quite stretch to £690,000 and beyond? A smidgin of Versace? Some bath towels maybe?
"No, there will be no Versace in the affordable housing," said the Hamptons spokesman, before adding that unlike some developers who strike deals to site the social housing element of their projects away from their showcase building, DAMAC had been keen to ensure diversity in its project.
He said: "We don't want to create a city like Paris where those on lower incomes are pushed out to the suburbs. It is very important to the developer that London remain as has it has always been with a mixture of all incomes, races and backgrounds living close together."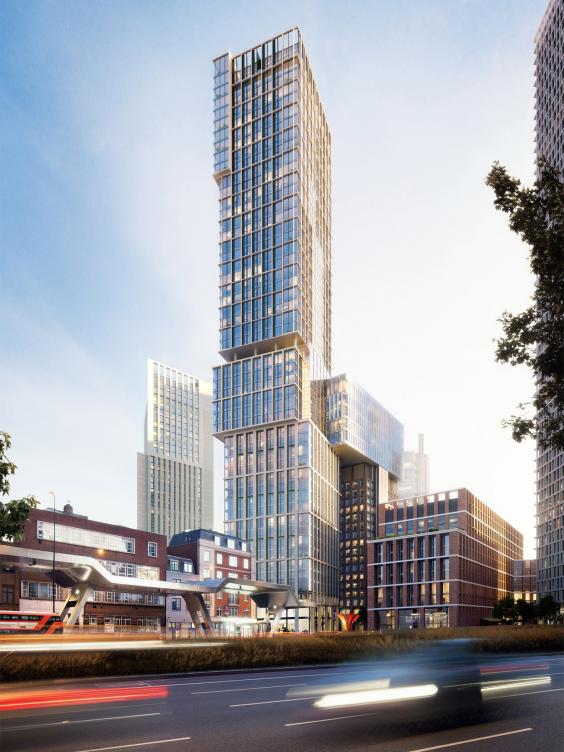 Not so close, of course, that the dwellers of the Versace-bedecked properties will share an entrance with the hoi polloi, whose homes will be managed via Lambeth Borough Council and split between shared ownership schemes and affordable rent.
Campaigners said the development highlighted the contrast in the capital between the profusion of eye-catching properties for a global elite and a city where, according to one survey, there were a grand total of 43 affordable properties on the market for first time buyers in April.
Roger Harding, director of policy for housing charlity Shelter, said: "London's drought of genuinely affordable homes is leaving hardworking families with no option but to keep paying sky high rents to private landlords. We don't just need to build homes, we need to build the right homes."
In the meantime, those arriving at the Aykon Nine Elms showroom at the Dorchester were in little doubt about the reason for their interest. One man, who described himself as representing a UK-based Middle Eastern businessman, said: "London is a rare thing - it has a property market that only goes up. That's why people are interested; not so much, I imagine, because of the Versace plates."
And did his client own one of the vehicles out front? He replied: "I couldn't possibly comment."
Reuse content