Police in the north-west of England have warned of a "ticking time-bomb" after four people were hospitalised after taking a potentially lethal legal high.
Cheshire Police have warned that there a "significant risk to life" from the cannabis substitute Vertex, which has been linked to a spate of incidents in Warrington and Runcorn this week, including the hospitalisation of a 16-year-old girl.
The legal high, which is also known as Space Cadet, is a synthetic alternative to marijuana, often imported legally from China, that is diluted with water, sprayed onto herbs and smoked like marijuana.
Laboratory tests have now confirmed that some samples of Vertex, which is freely available in shops locally and online,  contain a potentially lethal synthetic cannabis chemical called AB–CHMINACA (AB-C). AB-C is already illegal in the US and has been linked to a number of fatalities across Europe, with symptoms including "delirious ranting" and "very high body temperature".
Assistant Chief Constable Mark Roberts told The Independent: "This is a ticking-time bomb as we move towards the weekend and we are keen to get the warning about Vertex out to as wide an audience as possible."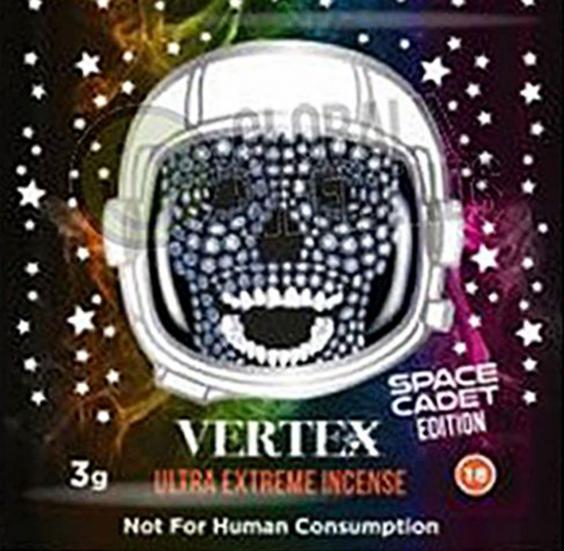 He said: "We have alerted Public Health England and based on their analysis this drug poses a serious risk to health. It works on the cardiac system, which is obviously extremely dangerous and chemical analysis has shown it is close to a drug which has been responsible for a number of deaths in Europe."
Police officers in Cheshire have spoken to a number of outlets known to supply Vortex and advised them to remove it from their shelves, while Assistant Chief Constable Roberts said the force would "not rule out" pushing for manslaughter charges if a shop sold a chemical that went to cause a fatality. He also warned that the force has received "unconfirmed intelligence reports" that criminal gangs had starting buying the drug in bulk.
Vertex is a in the same family of drugs as Spice, a substance that was made illegal in 2009 after public outcry. Last month five students at Lancaster University were admitted to hospital after taking a substance believed to be Spice, however police later said the chemical was a "new psychoactive substance".
Both Spice and Vortex are so-called cannabinoids that are designed to work in the same way as tetrahydrocannabinol (THC), the constituent of cannabis that acts on receptors in the brain to produce a psychoactive effect, or high. On sale in the UK, they are often labelled as "incense" or "research chemicals" and mark "not for human consumption" so as to be sold legally in stores and online.
Meanwhile police in the Greater Manchester area are reportedly concerned that the drugs may be being bulk bought by street dealers in the Bolton area to sell at the Parklife Weekender festival this weekend, warning revellers at the 70,000 strong event would be playing "Russian Roulette" with their lives if they used the drug.
Drug addiction, overdoses, and a very brief history of Heroin
Drug addiction, overdoses, and a very brief history of Heroin
1/14 Heroin – the chemical name for which is diacetylmorphine – was originally synthesized by British chemist C.R.Alder Wright (pictured overleaf) in 1874, by adding two acetyl groups to the molecule morphine, which is naturally found in the opium poppy.

2/14 Bayer, the German pharmaceutical company behind Alka-Seltzer and Aspirin, bought the rights to diacetylmorphine, marketing it under the name "Heroin" in 1895 because early testers said that it made them feel "heroisch" or "heroic".

3/14 By 1898, it was ready for mass marketing. It was originally sold as an over-the-counter cough suppressant that didn't have problematic side effects, like addiction (the irony) - while alternative treatments morphine and codeine did. This was before they realised that, when taken into the body, it actually converts into morphine, and is ferociously addictive. Thus defeating the object and defining what was to become a historically embarrassing moment for the company in later years.

4/14 By 1899 Bayer was producing a ton of Heroin and exporting the drug to 23 countries, while free samples sent to doctors and studies appeared in medical journals. It was also around this time that early reports of addiction began to surface. The company wisely released Aspirin this year, which would go on to become one of the most popular and widely used pain relief drugs in the world.

5/14 US medicines containing heroin were available over the counter from 1907, after the American Medical Association gave it its stamp of approval.

6/14 As Heroin dependency became a torrent and overdoses began to be reported, Heroin was made illegal to obtain without a prescription from a doctor in the US in 1914. Bayer lost some of its trademark rights to Heroin and Aspirin under the Treaty Of Versailles in 1919, after the German defeat in World War I.

7/14 In the early 1920s, a number of addicted users in New York supported themselves by collecting and selling scrap metal retrieved from industrial dumps. It was from this that the label "junkies" was born. The behavior of Heroin addicts was soon, however, to cause a concern to the public and the authorities. In 1924, it became completely illegal, and doctors were told they could no longer prescribe the drug.

8/14 By this point, Heroin had become popular among creative industries. Pictured left is famed actress Jeanne Eagels, who died of a Heroin overdose in 1929. Its outlawed use had pushed manufacturers underground, and the purity of the product illegal traders now used varied in quality.

9/14 In the UK, the Rolleston Committee Report in 1926, illegal Heroin dealers were prosecuted, but doctors could prescribe diacetylmorphine to users when they were withdrawing from it, if it would cause harm or severe distress to the patient to go without it. This would be the law until 1959 when the number of diacetylmorphine addicts doubled every 16 months between 1959 and 1968.

10/14 The Brain Committee recommended that only selected, specially approved doctors at specialized centres were allowed to prescribe diacetylmorphine to users in 1964. The law was further restricted in 1968, and by the 1970s, the emphasis shifted to encouraging abstinence and the use of substitute methadone.

11/14 In the 1980s, the UK experienced a surge in Heroin supply because of a sudden cheap influx from Pakistan (the main supplier had been – and is now – Afghanistan). Cues from popular culture – and a social downtown caused by the economic and industrial crisis in the late 1970s – created the perfect environment for the Trainspotting generation.

12/14 In the 1990s, Heroin use was again popularized by the rise of grunge and Britpop, while the emergence of 'the waif' in fashion, of which Kate Moss is often cited as the originator, would give rise to the term 'Heroin chic'. In 1994, the Swiss began to trial a diamorphine maintenance program for users who had failed multiple withdrawal programs. It aimed to maintain the health of the user, by discouraging the use of illicit street Heroin. It was deemed a success.

Kate Moss and Johnny Depp, together in 1994

13/14 Today, the largest producer of opium, needed to create Heroin is Afghanistan. This is closely followed by Mexico, who increased their rate of production sixfold between 2007 and 2011. Diacetylmorphine is a controlled, Class A substance in the UK, but continues to be used in palliative care for the treatment of acute pain, such as in severe physical trauma, post-surgical and chronic pain, as well as relieving sufferers of terminal illnesses.

14/14 Key figures continue to campaign for greater sympathies and better treatment of Heroin addicts as they attempt to rehabilitate themselves and re-enter society. Russell Brand's Give it Up Fund, run in conjunction with Comic Relief, aims to provide financial aid to help people remain free from substance abuse by setting up support groups. "It's integral that people entering a life of abstinence after the chaos of addiction have stability, support and a role to play in the wider community," he said.
Last week, the Home Office announced plans to a blanket ban on legal highs, which would outlaw substances "capable of producing psychoactive effect".
The home secretary, Theresa May, has said the blanket ban is necessary to "get ahead" of the rapid growth in legal highs, which she regards as a "game changer" after decades of stable or even declining illegal drug use in Britain.
Under the plans there would be a penalty of seven years imprisonment for selling newly-created drugs, though critics have suggested the new law may drive the trade underground.
Reuse content