A series of catastrophic mistakes by the Home Office resulted in a young doctor and her family having their lives put at risk.
The Home Secretary, Theresa May, and Home Office officials ignored at least four explicit warnings and evidence that Al Amin Dhalla, a Canadian citizen, was a violent criminal who had tried to strangle his mother and attacked his uncle with a knife.
That meant he was able to return to the UK, where he subjected the family to a campaign of violent stalking that ended with him setting their house on fire and attempting to kill them.
An official report into the case also reveals glaring flaws in Britain's immigration regulations which allowed a convicted violent criminal who had served a jail sentence in Canada being able to get a work permit to live in Britain, without any checks into his background.
Last night the Home Office was ordered to pay £130,000 in compensation to Alison Hewitt, her mother, Pamela, and stepfather, David Gray, for its failures, which resulted in an arson attack on their home and an attempt to kill them with a crossbow.
The case is also deeply embarrassing to Ms May, who was personally made aware of Dhalla's criminal record in a letter that was lost by the Home Office.
The matter has been referred to the Home Affairs Select Committee by the parliamentary ombudsman, who investigated the family's complaint. The department has been given six months to respond.
"A mother and her family were forced to endure a living nightmare for months on end because of the Home Office's repeated mistakes," the parliamentary and health service ombudsman, Julie Mellor, said. "Vital opportunities to protect the family were missed because procedures weren't followed, allegations weren't followed up and two of the complainant's letters lost."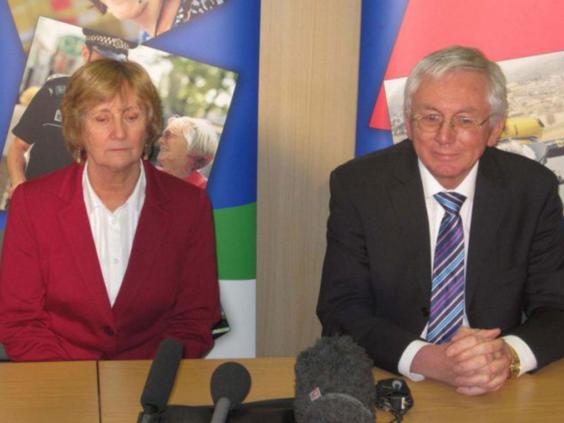 In an interview with The Independent, Ms Hewitt described how she had first tipped off the Border Agency after discovering Dhalla's previous convictions in Canada for which he was jailed.
At the time, Dhalla was out of the country but the warning was not passed on to immigration officials at Heathrow and he was allowed to re-enter the UK. When her daughter ended the relationship, Dhalla began harassing the family with repeated texts, emails and telephone calls.
Worried about their safety, Ms Hewitt wrote to Ms May and the head of the Border Agency to express the family's concerns about Dhalla, including evidence of his previous convictions. But she never received a response and the letters were lost.
Even when Dhalla was arrested after test-firing a crossbow and with his victim's address programmed into his satnav, he was released by police after they contacted the Home Office, which told officers he "was not of interest to them". Dhalla went on to try to burn down the 500-year-old thatched cottage belonging to Ms Hewitt and Mr Gray.
The couple were put under police protection and while Dhalla was on the run he dressed as a doctor to track down Dr Hewitt at the hospital where she worked.
He was eventually arrested after stealing a hospital rota and attempting to confront Dr Hewitt as she went to work.
Ms Hewitt said they had received no reassurance from the Home Office that measures were in place to prevent the same thing from happening to someone else. "We are concerned this could happen to other people."
David Hanson, shadow Immigration minister, described it as "astounding that no checks were undertaken on this convicted criminal" and called for "an urgent review into the actions of the Home Secretary".
A Home Office spokesperson claimed they sent an apology, but the family told The Independent that it had not received it.
Reuse content