In a quiet function room in Gloucester, a group of friends are drinking tea and enjoying some cake served from a table which is adorned with rainbow flags.
The members of the Gloucestershire Gay and Lesbian Community (GGLC) seem as optimistic as they are welcoming. But when they hand you a copy of their spring newsletter, you can't help but notice the rather plaintive note on the back page.
"Local 'haunt', The Westgate," it begins, before adding forlornly: "'Haunts' is now 'haunt'… any ideas anyone?"
And now the newsletter is out of date. That last "haunt" has gone. The rainbow flag still flies over Gloucester's Westgate gay bar. But the doors are locked.
The last dedicated lesbian, gay, bisexual and transgender (LGBT) venue in the entire county has closed. 
This was the starting point for gay pride marches, the place where everyone popped in for a pre-parade pint.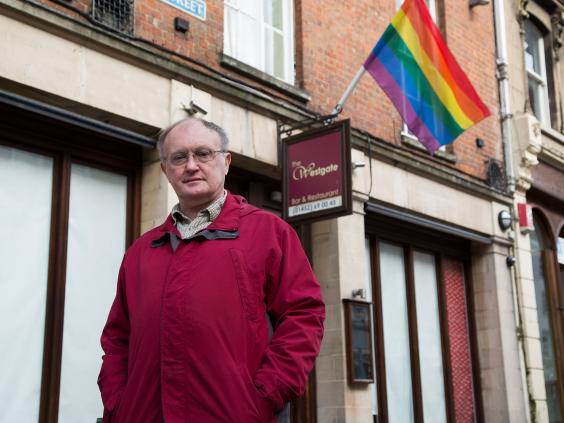 At weekends, the disco would last all night. And this, in a place so far from the self-consciously liberal elites, was a venue where everyone really was welcome.
Drag queens performed here, but little old ladies also popped in for tea. A cheerful debate starts up amongst the GGLC men as to whether the ladies were unaware of what the rainbow flag signified, or only too aware and rather happy about it.
"It's so sad to walk past it and see it boarded up," said Howard Hyman, 68, a retired local authority worker.
"In the Eighties until the late Nineties," remembered Mark Merrett, 51, a publications editor, "there was a pretty lively scene: three pubs in Cheltenham, one in Gloucester, a regular evening at a Gloucester night club, monthly nights at Cheltenham racecourse."
Now there is no LGBT venue in a county of 590,000 people, up to 34,000 of them gay by some estimates.
Lonely Planet's top 10 gay-friendly travel destinations
Lonely Planet's top 10 gay-friendly travel destinations
1/10 1. Copenhagen, Denmark

Copenhagen

2/10 2. New Zealand

3/10 3. Toronto, Canada

Hubert Kang

4/10 4. Palm Springs, US

5/10 5. Sitges, Spain

Sitges

Getty

6/10 6. Berlin, Germany

7/10 7. Mykonos, Greece

8/10 8. New York City, US

Nikada/Getty Images

9/10 9. Reykjavik, Iceland

10/10 10. Montevideo, Uruguay
"If you want a gay night out," said Mr Merrett, "You have to go to Bristol – a 60-mile round trip – or Birmingham, 50 miles away."
Gloucestershire may be the most extreme example, but it is far from the only area where LGBT venues are closing, and where some feel the gay scene is contracting as a result.
Even in Manchester's gay village there are reports of bars struggling. In London, campaigners are fighting to save the Joiners Arms in Shoreditch, after the famous gay venue was closed and earmarked for development.
Closer to home, Mr Merrett remembered: "When a gay bar closed in Hereford four years ago, a friend of mine said it was the last straw, and moved to Bournemouth."
It has been suggested that as well as struggling to recover from a fire in 2013, The Westgate was caught up in a general industry downturn, which according to Camra, the Campaign for Real Ale, is causing 29 pubs to close each week.
Other gay bars, however, may be closing for unexpected, rather positive reasons.
"Sometimes there's not quite the same need for these venues as there once was," said Stephanie Fuller, of the Albert Kennedy Trust, a charity which provides support for young LGBT people. "Sometimes people feel safe in other bars, so they don't need gay venues as much."
In Gloucester, they agreed. Royston Glue, 26, an administrator from Cheltenham, said this was particularly true of younger generations: "You can walk into some pubs as a gay couple and not get harassed. There is more acceptance."
The internet, too, seemed to have reduced a sense of isolation, even in supposedly remote rural areas. The decline in that vibrant late Nineties scene, Mr Merrett said: "Seemed to coincide with the rise of online dating."
But progress – still – only went so far. Gay venues, they agreed, were the only places where LGBT people could feel entirely free.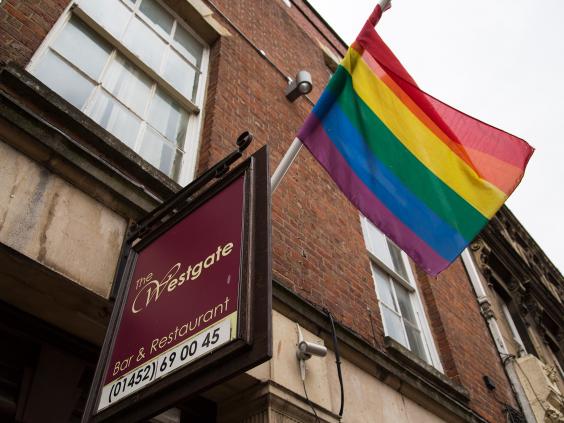 "You can now legally be husband and husband or wife and wife," said Michael Charlton-Hubble, 68, a retired superintendent registrar. "But the attitude behind that legislation doesn't extend to showing affection for each other.  I can't honestly feel comfortable holding my husband's hand in Gloucester."
As for kissing in a non-gay pub, they all agreed – forget it. Hence, said Ms Fuller of the Albert Kennedy Trust, there continues to be a need for gay venues, especially for those just starting to come out.  She reeled off some chilling statistics: 24 per cent of homeless 16-25-year-olds in the UK identified as LGBT, a massive over-representation given that the latest figures suggest only 6.9 per cent of the general population are LGBT.
Of those homeless LGBT 16-25-year-olds, 77 per cent reckoned the reason for their homelessness was being rejected by their families because of their sexuality.
LGBT venues, said Ms Fuller, could provide a vital refuge. "For most people, they are still a starting point, a place to head for at the beginning. They give a sense of identity, as well as being a place for meeting people and meeting partners. They are still needed."
In Gloucester, of course, they were hardly going to be defeated by the closure of The Westgate.  Their organisation, they said proudly, had survived for more than 40 years, making the GGLC the oldest such social group in the country still in existence.
Already, the plans for the future are being formulated – "I wonder whether we should be looking at starting a gay coffee shop," said Mr Charlton-Hubble, "Or finding a friendly pub landlord..."
Other venues might come and go; but they would continue to provide cake, rainbow flags and a warm welcome.
Reuse content