On the way into Lea Village, a suburb in the east of Birmingham, a public information sign reminds visitors of the area's formerly rich shopping heritage, quoting a local resident who says one of the most popular stores in the 1930s was Ted Haynes the greengrocers.
"[It] was always busy, a really big shop with roll up shutters all round," the quote reads. "There were tons of potatoes piled up, every vegetable under the sun, apples, oranges, all piled up in huge displays."
Nowadays, things are a little different. Arranged around a busy roundabout on Kitt's Green Road, in the space of around 100 square yards, are eight takeaway shops, from Fat Aad's kebab house and Naga Pepperoni Pizza to the Lucky House Chinese and Chicks Fried Chicken. The healthiest option is probably Greggs.
According to recent figures, 64 per cent of people in Birmingham are overweight, obese or morbidly obese, above the national average. There is one fast food outlet for 1,097 people in the city overall – and nowhere is it more obvious than in Lea Village, where 22 per cent of the shops are takeaways.
It was statistics like these that prompted Birmingham City Council to crack down on fast food. Just over two years ago it declared that only one in 10 premises in any shopping area should be a takeaway and began limiting the number of new openings. Since the policy came into force, the planning department has had 36 applications for hot food takeaways, refusing 15 of them.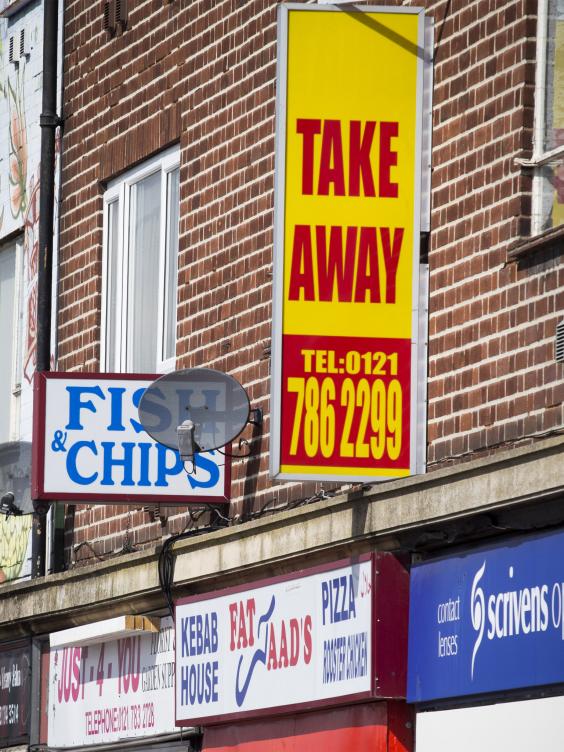 It had good reason to do so: a study published in the British Medical Journal this month concluded that exposure to too many fast food outlets nearly doubled a person's chances of being obese.
Tassos Fatta, who has run the Village Fish Bar in Lea Village for 12 years, might be expected to have a partisan view on the subject. But when The Independent visited yesterday lunchtime, he said limiting the number of establishments like his was a good idea.
"It is better for local people that way," he said, before gesturing across the roundabout to a cluster of other shops and adding: "We have been here for a long time but all these places have opened in the last four, five years. Nobody wanted them."
Jan Safi, who works at Naga Pepperoni Pizza, an Indian-Italian hybrid serving everything from curry to kebab meat-topped pizzas, says his shop is popular with schoolchildren who often come in around 3pm on their way home from school.
He backed the council's move from an economic perspective. "It's a good policy, because if there are a lot of the same types of business in a small area then it affects your business. If you get good business, you pay more tax, which is better for the country."
For Lea Village, the new rules came too late. The council cannot retrospectively force existing takeaways to close, so the establishments of Kitt's Green Road are safe. But in Stirchley, another suburb in the south of the city, it is a different story.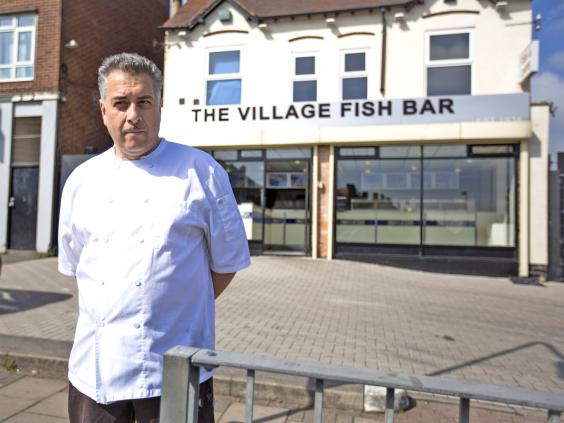 Of Birmingham's 73 business areas, 35 have now reached the council's 10 per cent limit on takeaways. Stirchley is one of the most recent to hit this threshold, meaning that its high street could arguably be viewed as a model for the rest of the UK: the odd fast food outlet, but not too many.
The area's main shopping street, Pershore Road, certainly seems more diverse than its cousin in Lea Village, with bed shops, plumbers, a dentist and carpet shops jostling for position alongside a smattering of takeaways.
Local businesses, it appears, want to keep it that way. "If there's one chippy on a road, then that chippy will make money," said one employee of Stirchley Fast Food, who declined to be named. "If there's a guy who opens a chip shop up next door, they undercut us."
Steve Bedser, Birmingham City Council's cabinet member for health and wellbeing, told The Independent he rejected the idea that the clampdown was meddling with people's personal choices. "I've never had a member of the public come to me to say 'There's not enough fast food takeaways in my area'," he said.
"The scariest thing I know about Birmingham is that one in four of our 10-year-olds is obese. That's not just a bit of puppy fat that they'll grow out of. Obesity in Birmingham is an epidemic, a public health emergency. We've seen example of kids picking up unhealthy, hot food on the way to school as breakfast."
He added that he and his colleagues were investigating using similar policies to discourage shisha bars, payday loans companies and betting shops, which he said all "insidiously attack the poor".
But not everyone agrees with the council's crusade. Jallal Aghebatie, a customer of Caspian Pizza in Stirchley, said he enjoyed having a choice of places to eat quickly. "You can't stop people eating. People like to eat, especially junk food – if you say 'Don't eat this, don't eat that', they're only going to do it more."
Reuse content