A US military helicopter exploded in a "fireball" after it was hit by a flock of geese while flying over a Norfolk nature reserve, witnesses have said.
All four crew members, Capt Christopher Stover, Capt Sean Ruane, Tech Sgt Dale Mathews and Staff Sgt Afton Ponce, died in the crash near Cley in January.
The HH-60G Pave Hawk, described as having "the best safety record of any helicopter that the US has ever owned", was flying with another helicopter on a training exercise near RAF Lakenheath when it went down.
Initial investigations focused on ammunition the aircraft was carrying but the Accident Investigation Branch has since confirmed the crash was caused by pink-footed geese that smashed through the helicopter's windscreen, knocking the pilot and co-pilot unconscious.
Wreckage including live munitions was scattered across an area the size of a football pitch in Cley Marshes, a nature reserve known for its popularity with birdwatchers.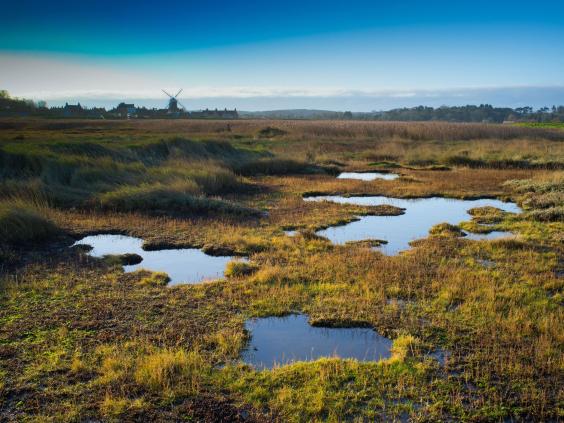 The United States Air Force in Europe has now released witness statements from its investigation under freedom of information laws.
Officials believe the first helicopter startled birds in the marshes, causing them to fly up and hit the aircraft behind, which was flying just 110ft off the ground at 126mph.
According to a report seen by the BBC, the impact was so severe that parts of the geese were found entwined with bolts from the downed helicopter.
The co-pilot of the helicopter in front - whose name was not released - told the investigation panel: "The gunner said 'I've got a fireball at the six o'clock' or at the seven o'clock or something like that, and at that point we [tried] to initiate a radio contact with them and we failed to do it.
"Obviously, there was no answer.
"It did not look like what I thought a crashed helicopter would look like, you know, because there was obviously a lot of water there and stuff so [it] was a really small fire from my perspective."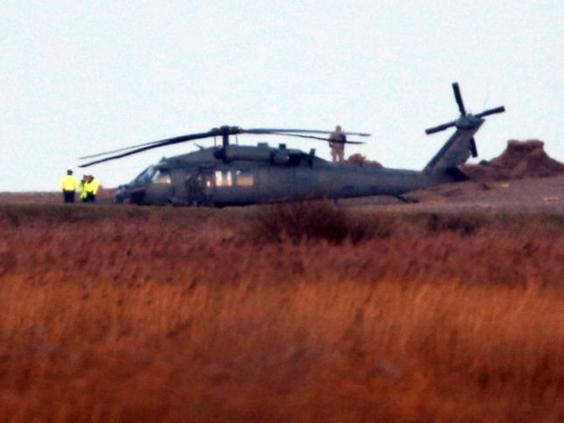 The Pave Hawk, stationed with the 48th Air Wing at the US Air Force base at RAF Lakenheath, had taken off shortly after 5.30pm on 7 January and crashed half an hour later.
The risk of bird strikes in the area was assessed as "low" and some experts initially doubted geese could have caused a fatal crash.
Local people claimed they had warned of the hazard before to the authorities but were rebuffed.
Richard Kelham, chairman of Cley Parish Council, said: "In a sense it was an accident waiting to happen. We used to complain to the commanding officer who bluntly told us to piss off.
"We do feel for the families of the crew, but they were put in a position they should not have been. This is a place for birds."
The gunner of the first aircraft said leading helicopters frequently startle birds, causing them to fly in front of anyone behind.
"I noticed they were gone," he added. "So I queried my flight engineer and they went over there and that's when the gut feeling that something was wrong hit me."
Reuse content