A pioneering charity that has campaigned for 40 years about the under-representation of women in the construction sector faces closure, despite a chronic shortage of skilled labour that threatens the Government's house-building plans.
The proportion of women working in manual trades has barely risen above two per cent since the 1970s, amid persistent complaints of sexism in the workplace and complacency from major building companies to recruit beyond the traditional pool of young, white men, according to campaigners.
Women in Manual Trades (WAMT), a group that represents more than 700 female workers, says it is under threat of closure by the end of the year after losing financial backing from a trade body. Appeals to major house-builders and industry groups have so far failed.
"We're hanging on by our fingernails," said WAMT's interim chief executive Andrea Kelmanson.
"If something very dramatic doesn't happen by the end of the year we will probably have to go into dormancy."
The charity's struggles come amid major demographic changes with an increasing number of older women living alone likely to drive up demand for tradeswomen to carry out domestic works.
The proportion of women in the construction sector rises to just 14 per cent when white-collar jobs, such as surveying and architecture, are taken into account, according to the latest labour statistics. The numbers involved in some manual trades have barely changed from the 1970s, particularly in trades such as bricklaying and carpentry, said WAMT.
Women working in manual trades are likely to be older, work for themselves and focus on domestic work, with large construction sites traditionally seen as an unwelcoming place. "We know there's a market as quite a lot of construction companies have been saying to us we would like to recruit women, but don't know how to find them," said Ms Kelmanson. "They are thousands of people short to fill the skills gap and women are being completely overlooked in that."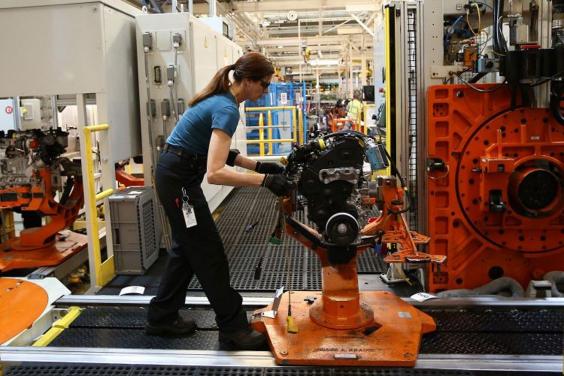 An industry report last year blamed poor working conditions, long hours, discrimination and the "persistence of a macho culture" as key reasons why the equality agenda has failed to make much impact on the building sector.
While improvements have been made on big construction sites, some smaller ones still fail to have women-only toilets or separate shower facilities, say campaigners
The industry as a whole was badly hit by the global financial crisis, falling from a high of 2.36m people working in the sector in 2008 to 2.1m last year, with dramatic falls in the numbers of bricklayers, glaziers and masons. That skills shortage is seen as one of the greatest barriers to the Government's plans, announced in July, to build 200,000 new starter homes over the next five years, with young Britons apparently unwilling to join the building trade.
'When I started, it was really, really bad'
After 30 years of working as a painter and decorator and teaching new recruits – most of them men – Angela Steele has responded to the shortage of women in her field by setting up her own training course.
When she first started out three decades ago,  Angela Steele was the only woman on her training course in south London, but now runs a company, intodecor, comprising six women working from Gravesend in Kent.
She began her training programme in 2012 and sought a grant from the local Jobcentre to help get it off the ground, but the manager – a woman – poured scorn on the idea. "She just wouldn't have it," said Ms Steele. "I was told that there wasn't a need to run a course just for women. I lost out in the bidding because we weren't offering training for both women and men."
She has since secured money from the Big Lottery Fund and a group that promotes entrepreneurs, but not from any of the major house-builders.
While the statistics show that women make up two per cent of manual workers in the sector, compared with 38 per cent of manual workers in all industries, she says that things are getting better, particularly on construction sites which were once a hotbed of sexual harassment.
"Society is changing. Back in the days when I started, it was really, really bad. You just don't have it any more. If you say [bad] things to women, you're in trouble."
Ms Steele cites one of her recent graduates, a married 51-year-old woman who saw an advert for the course. She had done all the DIY at home and needed a new challenge. She now works as a kitchen fitter.
Reuse content