A vagina-like purse is featured on a new poster for the Women's Equality Party (WEP) to highlight the policies of its candidate in the Liverpool mayoral elections.
"Women are being short-changed by £23.7 billion," its strap line says. "Close the gender pay gap in Liverpool. Vote Tabitha Morton."
The party claims the figure refers to the annual amount lost every year from the northwest economy because of the gender pay gap, although new rules mean that thousands of companies have been asked to come clean on the state of their pay gaps by April 2018.
Another poster starkly depicts a woman whose back is bruised black and blue in marks which resemble the date of the election – 4 May.
A domestic violence incident is reported to the police almost every fifteen minutes on Merseyside according to statistics from 2016 – although this represents a slight fall from the previous year.
Catherine Riley, head of communications at WEP, explained the concept behind the arresting poster campaign.
"For too long, politics in the city has been dominated by white men, who have done little or nothing to prioritise policies that will help women and families in the region," she said. "We're in the race to change all that."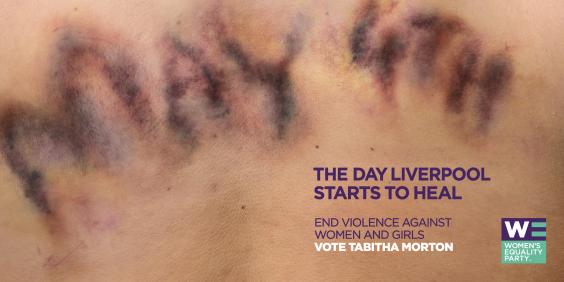 Melissa Robinson, chief executive of Now agency which designed the posters, added: "We wanted to find ways of bringing the brutal facts about inequality in Liverpool to life in a visually arresting way. It's all about making people stand up and take notice, because the more people understand the problem, the more they can be part of the solution."
At the first ever mayoral elections in the region, Ms Morton  is standing against favourite Steve Rotheram of Labour, Carl Cashman of the Liberal Democrats, Tom Crone from the Green Party and Conservative Tony Caldeira.
UKIP is also fielding a woman, Paula Walters.
Reuse content