The sheer breadth of the UK and US's air campaign against carried out against Hitler and his allies in the Second World War has been mapped out in a dramatic animation for the first time.
The animation takes the viewer through the six year bombing campaign carried out by the RAF 1939 through to when America's USAAF joined the allies in the skies in 1942 up to the end of the Second World War in 1945.  
With the RAF marked in blue and the USAAF in red, the researchers at the Imperial War Museum have mapped where each and every flight and bombing raid was carried out.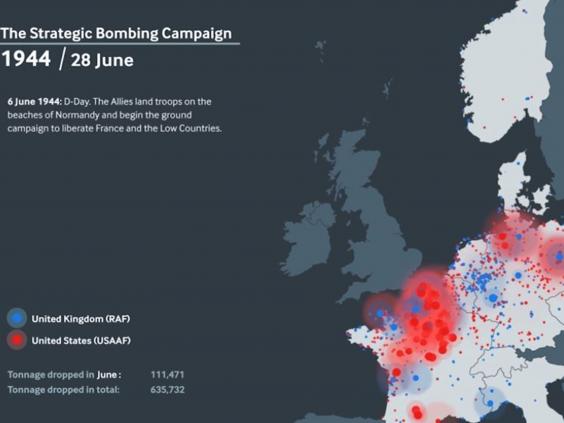 The two allied forces dropped a total of 1.6m tonnes of explosives on their enemies over this period of time with the majority of the bombing raids – 80% - were carried out in the last year and a half of the fight against the Nazis, the Mail Online reports.
Emily Charles, the research officer who headed up the animation project, told The Independent she and her team created the information for the map by researching the missions flown by the RAF and the USAAF during the war from using documentation. Each mission was then plotted across the map month by month and the resulting video is the first time the entire campaign has been visualised in this way.
The animation has been created to mark the reopening of the Imperial War Museum Duxford's American Air Museum in Cambridge, which has undergone a major redevelopment.
The museum features personal stories of 85 different people from different walks of life who have been affected by their experiences of conflict, while focusing on the role played by American air power since 1918.  
Reuse content