A jihadist thought to have helped recruit the British Isis executioner known as 'Jihadi John' has alerted security services as to his whereabouts after seemingly disclosing his location on a LinkedIn profile. 
Rabah Tahari, 46, also known as Abu Musab, is the leader of a jihadist group linked to Al-Qaeda, which has attracted a number of foreign fighters to join its cause in Syria. 
But British and Turkish security services are now concerned that Tahari has fled to Turkey after a LinkedIn page with his name was updated to show he was in Turkey. 
They fear Tahari might have tried to return to Europe to carry out terrorists attacks. 
"Rabah Tahari has fled to Turkey after falling out with other jihadists over money. He has a lot of enemies," a security source told the Telegraph. 
The Independent saw Tahari's LinkedIn page shortly before it was deleted from the site. 
The page only had two connections, one of which is the former British Guantanamo detainee Moazzam Begg, also from Birmingham, who was cleared two years ago of terrorism charges — including supporting Tahari in Syria.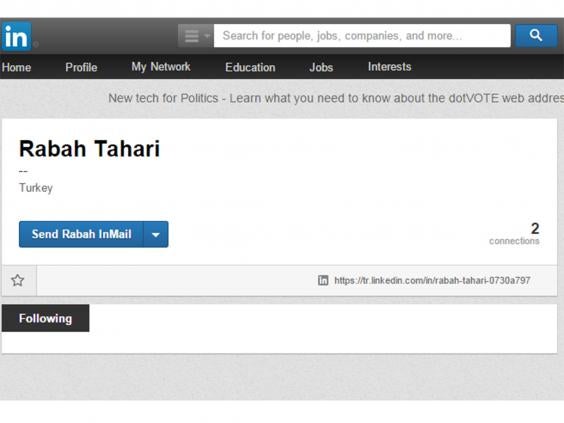 Jihadi John, whose real name was Mohammed Emwazi, died in November last year after having been hit by a US drone in Al-Raqqah, Syria. 
He is believed to have left London in 2012 to join Tahari in Syria, who was training foreign fighters, before pledging his loyalty to Isis and beheading British and American prisoners. 
At the time, Tahari was leading an Islamist group called Kateeba al-Kawthar and boasted of having fighters from more than 20 different countries. 
In 2014, Home Office minister for immigration James Brokenshire said in a debate in the House of Commons: "Kateeba al-Kawthar describes itself as a group of mujaheddin from more than 20 countries that seeks a just—as it perversely says—Islamic nation.
"It is an armed terrorist group fighting to establish an Islamic state in Syria. It is aligned to the most extreme groups operating in Syria, and it has links to al-Qaeda. Abu Musab, who is also known as Rabah Tahari, a western mujahed commander, is its leader.
"The group is believed to have attracted a number of western foreign fighters, and it has released YouTube footage that encourages travel to Syria and asks Muslims to support the fighters."