The first Romanian to arrive in Britain when border controls were relaxed a year ago has said that Ukip leader Nigel Farage says "lots of stupid things" - and he wouldn't tell his friends to work here.
"I don't tell them to come here," Victor Spirescu, 30, told the Daily Telegraph.
Mr Spirescu, who arrived in Britain on 1 January last year, now working as a construction worker in east London, continued that it was "hard" to save money, adding that he had no intention of going on benefits but had to rely on "luck" to make money.
He criticised Ukip's leader Mr Farage, telling a reporter: "He speaks lots of stupid things," and adding: "He has a problem with immigrants – but he has an immigrant wife".
It is not the first time Mr Spirescu has expressed his dissatisfaction with living and working here. "It is not so easy to stay here and work", he told FiveNews in April of this year, adding he wanted to "go back to my country".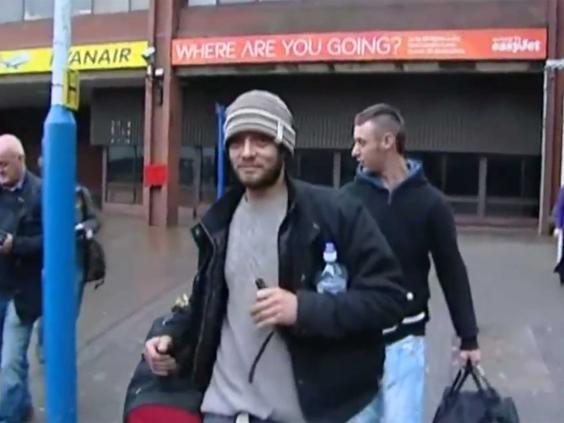 Roughly 47,000 Romanians and Bulgarians entered the UK last year when 'transitional controls' on migrants' access to the labour market were relaxed  after the two nations joined the European Union in 2007.
Despite huge fanfare – and predictions of doom – the numbers of migrant workers did not drastically rise, with figures showing broadly similar numbers arriving in 2013 and 2012.
Ukip's confusing policies
Ukip's confusing policies
1/6 Deport migrants

Ukip MP Mark Reckless suggested he would deport existing EU migrants, a policy Nigel Farage rejected out of hand.

Reuters

2/6 US-style NHS

Farage was caught on film in 2012 saying healthcare headed towards insurance-based system, though he has since said he would keep it free at the point of use.

Universal Images

3/6 Handbag tax

Ukip Economy spokesman Patrick O'Flynn said he would introduce a tax on high-price items like shoes, Nigel Farage disowned this idea.

4/6 Same-sex couple adoption

Ukip candidate Winston McKenzie likened adoption by same-sex couples to "child abuse", but the party rejects that view.

PA

5/6 Gay marriage?

In early 2014 Ukip released a statement saying it would review its gay marriage policy, but later said that was an error.

AFP/Getty Image

6/6 Sex education u-turn

Nigel Farage told Leaders Live that he backed sex education for under-11s but later admitted that is not Ukip policy.

Getty
Mr Farage has consistently campaigned for better controls on migration, claiming last year that "mass immigration" had left Britain "unrecognisable" and blaming a medley of problems on immigrants, including – most recently – traffic jams on the M4.
Reuse content