Andrea Leadsom has admitted that she "didn't really like" the gay marriage law passed in 2013 because of the "clear hurt" it caused to Christians. 
In an interview after her speech in Westminster, Ms Leadsom, a Conservative leadership contender, said that she did not like the same-sex marriage legislation and would have preferred for it to include civil partnerships for heterosexual people.
She told ITV: "I believe the love of same-sex couples is as every bit as valuable that of opposite sex couples – absolutely committed to that. But nevertheless, my own view actually, is that marriage in the biblical sense is very clearly from the many many Christians who wrote to me on this subject – in their opinion – can only be between a man and a woman."
Asked whether she agreed with them, Ms Leadsom added: "No I don't actually agree with them. I don't agree with them to be specific. But what I do think is that I would have preferred for civil partnerships to be available to heterosexual and gay couples and for marriage to have a remained a Christian service for men and women who wanted to commit in the eyes of God.
"Civil partnerships are called marriage as well. As in registry offices marriages are still marriages. The concern I had was the potential compulsion for the Church of England so I don't think that the Anglican Church should be forced down a route where many Christians aren't comfortable about it. My own view on it was to positively abstain."
"This is not about do I consider gay couples to be any less worthy of marriage than heterosexual couples – not at all, it's exactly the same. The issue is one I have around the consequences, the very clear hurt caused to many Christians who felt that marriage in the Church could only be between a man a woman. I think we've muddled the terms of marriage, civil partnership, church etc. I would have liked that to have been clarified.I didn't really like the legislation – that was the problem. But I absolutely support gay marriage."
It came after Ms Leadsom promised to "banish the pessimists" in what was billed to journalists as a major speech on the economy. Ms Leadsom, however, delivered a series of soundbites that lacked any real substance. Rather the revealing her vision for Britain's future outside the European Union, the junior energy minister who received 66 votes from MPs in the first round of voting on Tuesday, promised to "banish the pessimists" and prosperity for every corner of the country.
The favourites in the Tory leadership race
The favourites in the Tory leadership race
1/5 Theresa May

The longest-serving Home Secretary in 100 years took a back seat in the referendum campaign. While backing Remain, she did not hit the campaign trail and delivered only a handful of speeches and interviews, and was critical of many aspects of the EU, particularly the European Convention on Human Rights. Hedging her bets allows her to now emerge as a 'unity' candidate, and she is said to have been building up her back-room staff in preparation for a leadership bid. She has the significant advantage of having served in one of the great offices of state, in a steady and competent manner that has won her many admirers within party and the civil service. At a time of great instability, it may be that she is viewed as steady hand on the tiller. Mrs May does however, lack the 'star quality' of a Boris Johnson and party members may doubt her ability to connect with ordinary voters

PA

2/5 Michael Gove

The Justice Secretary may be able to set himself up as 'the thinking Tory's Brexit candidate'. Made an enormous political and personal decision to back Leave, taking on his old friend David Cameron. He performed well during the TV debates, and will be an admired figure among Eurosceptic Conservatives. Along with Johnson, he will be hindered by the fact that he led a very divisive campaign, characterised by 'blue-on-blue' action. MPs may also judge that he lacks Boris Johnson's wider appeal with the electorate. Possibly more likely that he will settle for being his new bosom buddy Boris's Chancellor

Getty

3/5 Stephen Crabb

Highly-rated Work and Pensions Secretary, raised on a council estate, so could reach out to non-traditional working class Tory voters

Getty Images

4/5 Andrea Leadsom

Minister of State for Energy at the Department of Energy and Climate Change is one of the most prominent figures in the Leave campaign, seen to have performed well in TV debates

Rex Features

5/5 Liam Fox

British Conservative MP and former Secretary of State for Defence, as sources said he will stand for the leadership of the Conservative Party

AFP/Getty
Ms Leadsom also failed to take questions despite controversy over her CV and attempts by a member of rival Mr Gove's team to keep her out of the run-off vote for party members by urging supporters of frontrunner Theresa May to back the Justice Secretary in the final round of the MPs' ballot today. 
Instead, her campaign chief Tim Loughton and proposer Penny Mordaunt led a march of blue T-shirt clad activists to Parliament, chanting: "What do we want? Leadsom for leader. When do we want it? Now."
Setting out her "vision" in London, Ms Leadsom added – in contradiction to the strategy she adhered to during her time in the Treasury – that "prosperity should be our goal not austerity". 
She added: "My first task is to show how great we are as a nation – let's banish the pessimists," she said to a rapturous applause. 
"This is after all the country that gave the world the rule of law, parliamentary democracy, the right to own property, the English Language, and the free market… we are a remarkable people and we have so much more to give.
Ms Leadsom continued: "Today I want to speak to the markets, as well as the nation. No one needs to fear our decision to leave the EU. We will do so carefully, reassuring our European friends and those businesses who are worrying about change.
 "Trade must be the top priority – continued tariff-free trade with the EU, continued free trade with those countries we have agreements with as a current member of the EU and vitally, seizing the opportunities to take up new trade agreements with fast growing economies around the world," Ms Leadsom added.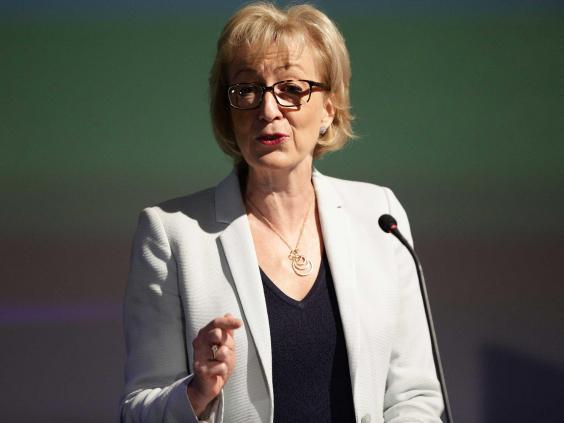 The junior energy minister, however, failed to elaborate on how she would secure Britain's access to "tariff-free trade" with the EU in the face of such vocal opposition from European heads of state. Just 48 hours before her speech Donald Tusk, the European Council President, reiterated that Britain must accept the EU's four freedoms and cannot have access to the single market "à la carte".
Following her speech and the march, Penny Mordaunt promised that Mrs Leadsom would set out a "third way" to solve the apparent dilemma over the single market and free movement.
The Defence Minister told the Press Association: "If she's on the ballot paper tonight you will see her throughout the campaign outline different elements of this in more detail. "But what, if you like, the unique selling point of Andrea is, that the other candidates haven't got anywhere near, is that she understands the single market and the free movement issue - but there is a third, and that is restoring certainty and stability."
Taking a swipe at the frontrunner in the Tory leadership contest, Theresa May, Ms Leadsom added: "I will not use people's lives as a bargaining chip in some negotiation… people need certainty and they will get it. I say to all that are legally here that you will be welcome to stay.