It was always going to be David Miliband's fate from the moment he lost the Labour leadership election that he cannot open his mouth on any subject without his words being interpreted as a criticism of his brother. The pundits have taken apart an article he wrote for the Financial Times and believe that they have uncovered traces of a rebuke to the Labour leader for not backing a military strike against the Assad regime.
It may be that the older Miliband is in favour of military intervention in Syria, just as he was in favour of the Iraq and Afghanistan wars, but if he is, it is not what he wrote. His actual words were that "none of the military options being canvassed – or, in the UK, rejected – promises a decisive shift in the course of the conflict," that "international engagement…is increasingly necessary" and that "the drums of war are reason to redouble humanitarian efforts, not to forget them." The word 'engagement' is the bobbin around which pundits spun the story that the older Miliband was having a go at his kid brother.
David Miliband began a new job on Tuesday as President and chief executive of the International Rescue Committee, a £290 million a year global charity, with 12,000 full time staff, dedicated to aiding victims of war. There are now two million refugees on Syria's borders needing help. There are 40 other parts of the world where the IRC are involved . Last week, the charity had to announce that a taxi taking five of their staff back to work in the Herat province of Afghanistan after the Eid holiday had been hijacked. Their five employees - Ahmad Momini, Mohammad Nazir, Mohammad Sharif, Wahidullah and Habiburahman, whose ages ranged from 24 to 27 – were subsequently dumped at a local hospital. They had all been slaughtered: nobody knows by whom, or why.
With matters such as that on his desk, it would be sad indeed if the IRC's new chief executive was wasting energy fretting about the Labour Party.
Rule No 1: never pull a funny face for the camera
There are a number of things that politicians should never do in the presence of photographers. They should never put on a baseball cap, as William Hague did when he was leader of the Conservative Party, nor hold up a banana and grin at the camera like David Miliband, nor knit a woollen kangaroo, which was Australia's Welsh born prime minister Julia Gillard's last public act before her party sacked her. To this list, Francois Hollande has now a fourth total absolument pas: do not pull a funny face to amuse a class of school children.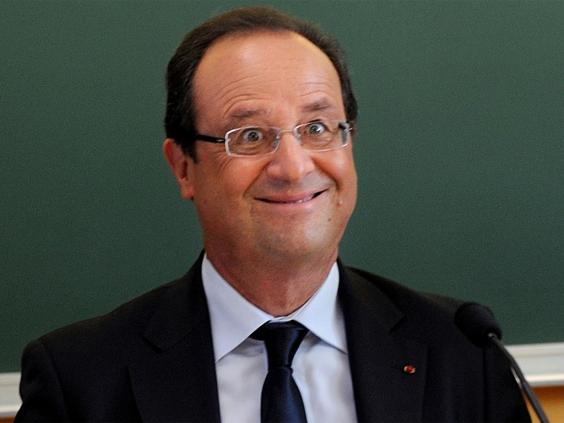 The Socialist Party leader was reckoned to be one of France's funniest politicians while he was on the way up, but has tried to be more serious and statesmanlike since becoming President. Then, at the very time when he is preparing to involve France in the Syrian imbroglio, he visited a school and held a photocall sitting at teacher's desk in front of a blackboard – and this is the gift he gave the photographers.
The agency AFP posted the picture on its website, available for downloading, but were either knobbled or had an attack of conscience and made an 'editorial decision' to withdraw it and ask their clients to remove it from their systems. Too late. The picture was already out on the social media, and anyway was still available from Reuters. No witty bon mot that Hollande has ever cracked has amused the French half so much as this image, which will stick with him forever.
Amateur hour in the Commons
Last thing on Tuesday evening, a rather sad speech was delivered to an almost empty House of Commons by a Tory MP named David Amess, who is not the brightest spark on the government benches. He was abroad when Margaret Thatcher died, so missing his chance to pay a dewy-eyed tribute to his heroine at the appropriate time. He made up for it by delivering a 25 minute eulogy at the close of Tuesday's parliamentary business, during which he gave the impression that nothing has been the same in his life since he lost his leaderene, 23 years ago. "In those days, the Chamber was full of giants," he lamented. "There were many experts and I was in awe of anyone. I feel that this is now a Chamber of amateurs."
A hangover from the Blair years
As David Cameron jets off today to the G20 summit in St Petersburg, I do hope the accompanying press pack are more discreet in their behaviour than their colleagues were when Tony Blair was at a similar summit in 2006. As shadows lengthened on the final evening, a party of hacks set out to sample the Petersburg night life, with wild abandon. In fact, the only woman in the company thought it was all getting so out of hand that she chose to walk back to her hotel alone, through a strange city, rather than see it through to the finish. One of the young tabloid hacks who looked ashen-faced as he hobbled down to breakfast in the morning was the man from the Daily Mail, Graeme Wilson. Seven years on, he is an older and wiser fellow, who will start work next month as David Cameron's press secretary.
Less champagne? I'll drink to that...
One of the first dictats issued by Michael Fallon, when he took over from Michael Ashcroft as Deputy Chairman of the Conservative three years ago was there would be less cork popping than usual at the Conservative Party annual conference, because pictures of politicians swigging champagne while imposing austerity on the average citizen did not look good. If Lord Ashcroft were still in post, he might be less on enforcing that rule: he has just bought a vineyard in Kent.
a.mcsmith@independent.co.uk; twitter.com/@andymcsmith
Reuse content