Theresa May has ended weeks of speculation and revealed that she will launch formal Brexit talks with EU leaders before the end of March 2017.
The Prime Minister will trigger Article 50 of the Lisbon Treaty early next year, sparking the start of a two-year countdown within which time a withdrawal deal with the EU must be agreed.
This morning the Conservatives confirmed they will also introduce a "Great Repeal Bill" designed to end the EU's authority in the UK on the first day of Brexit. 
The twin announcements, putting flesh on the bones of how the UK will tear itself away from the EU, have already seen an intensification of the internal Tory battle to steer Brexit negotiations.
The struggle will be the key theme of the Conservatives' Birmingham conference kicking off today, with Eurosceptics already calling for quicker action and pro-EU MPs raising concerns about what they see as an early trigger date. 
Speaking to the BBC's The Andrew Marr show, Ms May said: "As you know, I've been saying that we wouldn't trigger before the end of this year so that we can get some preparation in place.
"But yes, I will be saying in my speech today that we will trigger before the end of March next year."
Ministers had faced constant questions over Article 50's triggering, while several foreign politicians reported being told by Ms May that it would be in early 2017. 
The Prime Minister went on: "It's for the European Union – the remaining members of the EU – to decide what the process of the negotiation is.
"I hope, that I'll be saying to them, now they know what the timings will be, that we'll be able to have some preparatory work so that once the trigger comes we have a smoother process of negotiation."
Ms May said Parliament would be kept informed, adding: "This is not about keeping silent for two years, but it's about making sure that we are able to negotiate, that we don't set out all the cards in our negotiation because, as anybody will know who's been involved in these things, if you do that up front, or if you give a running commentary, you don't get the right deal."
Leading Brexiteer Iain Duncan Smith immediately took to the airwaves to raise the possibility of a speedier timetable.
What experts have said about Brexit
What experts have said about Brexit
1/11 Chancellor of the Exchequer Philip Hammond

The Chancellor claims London can still be a world financial hub despite Brexit "One of Britain's great strengths is the ability to offer and aggregate all of the services the global financial services industry needs" "This has not changed as a result of the EU referendum and I will do everything I can to ensure the City of London retains its position as the world's leading international financial centre."

Reuters

2/11 Yanis Varoufakis

Greece's former finance minister compared the UK relations with the EU bloc with a well-known song by the Eagles: "You can check out any time you like, as the Hotel California song says, but you can't really leave. The proof is Theresa May has not even dared to trigger Article 50. It's like Harrison Ford going into Indiana Jones' castle and the path behind him fragmenting. You can get in, but getting out is not at all clear"

Getty Images

3/11 Michael O'Leary

Ryanair boss says UK will be 'screwed' by EU in Brexit trade deals: "I have no faith in the politicians in London going on about how 'the world will want to trade with us'. The world will want to screw you – that's what happens in trade talks," he said. "They have no interest in giving the UK a deal on trade"

Getty

4/11 Tim Martin

JD Wetherspoon's chairman has said claims that the UK would see serious economic consequences from a Brexit vote were "lurid" and wrong: "We were told it would be Armageddon from the OECD, from the IMF, David Cameron, the chancellor and President Obama who were predicting locusts in the fields and tidal waves in the North Sea"

PA

5/11 Mark Carney

Governor of Bank of England is 'serene' about Bank of England's Brexit stance: "I am absolutely serene about the … judgments made both by the MPC and the FPC"

Reuters

6/11 Christine Lagarde

IMF chief urges quick Brexit to reduce economic uncertainty: "We want to see clarity sooner rather than later because we think that a lack of clarity feeds uncertainty, which itself undermines investment appetites and decision making"

Getty Images

7/11 Inga Beale

Lloyd's chief executive says Brexit is a major issue: "Clearly the UK's referendum on its EU membership is a major issue for us to deal with and we are now focusing our attention on having in place the plans that will ensure Lloyd's continues trading across Europe"

EPA

8/11 Colm Kelleher

President of US bank Morgan Stanley says City of London 'will suffer' as result of the EU referendum: "I do believe, and I said prior to the referendum, that the City of London will suffer as result of Brexit. The issue is how much"

9/11 Richard Branson

Virgin founder believes we've lost a THIRD of our value because of Brexit and cancelled a deal worth 3,000 jobs: We're not any worse than anybody else, but I suspect we've lost a third of our value which is dreadful for people in the workplace.' He continued: "We were about to do a very big deal, we cancelled that deal, that would have involved 3,000 jobs, and that's happening all over the country"

Getty Images

10/11 Barack Obama

US President believes Britain was wrong to vote to leave the EU: "It is absolutely true that I believed pre-Brexit vote and continue to believe post-Brexit vote that the world benefited enormously from the United Kingdom's participation in the EU. We are fully supportive of a process that is as little disruptive as possible so that people around the world can continue to benefit from economic growth"

Getty Images

11/11 Kristin Forbes

American economist and an external member of the Monetary Policy Committee of the Bank of England argues that the economy had been "less stormy than many expected" following the shock referendum result: "For now…the economy is experiencing some chop, but no tsunami. The adverse winds could quickly pick up – and merit a stronger policy response. But recently they have shifted to a more favourable direction"

Getty
The former work and pensions secretary told Sky News: "This is a 'by the end of March', so there is every chance she will be triggering it earlier than that.
"It depends hugely on what they are doing behind the scenes, trying to make sure they have exactly the areas that they want lined up."
But Tory former minister Anna Soubry, who is on the liberal pro-Europe wing of the party, said triggering Article 50 so soon "really concerns" her and warned that the EU "holds all the cards" in the negotiation.
Ms Soubry told Mr Peston: "We won't have had the French elections, we won't have had the German elections, and I'm sorry, it is going to take a lot of time and effort to disentangle ourselves and get the right deal.
"The other thing that's got to be said is this - this idea that we hold the cards and that the EU is going to come to us and say 'do you know what, we'll give you pretty much what you want', the idea we're going to get anything like we've got now is rubbish.
"We're going to get something worse, obviously we are, and we don't hold the cards, the EU does."
Labour shadow minister Jon Ashworth joined Ms Soubry in calling for more clarity over the Government's Brexit strategy.
He said: "Theresa May said she was providing 'clarity' but that's exactly what we aren't getting from the Tories. There were very few answers from her this morning either on the big questions facing us.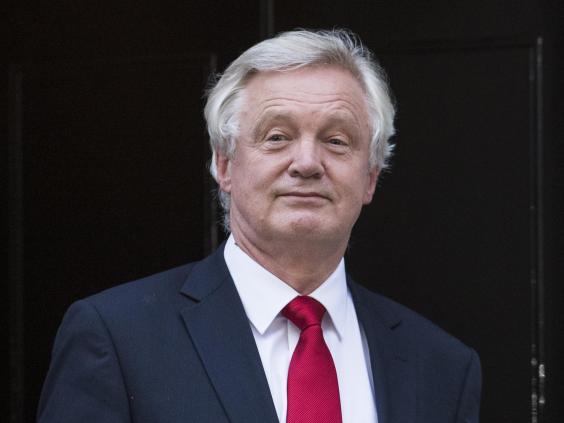 "She gave very little detail on her supposed big idea of a Great Repeal Act other than it's an ambition; there was no answer on what would be in it, how it would work or, vitally, how she intends to deliver Brexit while protecting our workers and businesses."
Brexit Secretary David Davis said his "Great Repeal Bill" would end the authority of European law in Britain at the very first moment the country leaves the EU.
The Bill to be brought in next spring, shortly after the triggering of Article 50, will scrap the European Communities Act, absorbing parts into UK law while giving ministers powers to ditch other elements they want rid of.  
The move sets the scene for a major clash in Parliament, as the Government will have to pass the Bill through a House of Lords where the Tories are in a minority and even some Conservative peers suggest they may try and delay Brexit legislation.
Cabinet minister Chris Grayling insisted it was "inconceivable" that Parliament would defeat exit plans, despite an overwhelming majority of MPs and peers being personally opposed to Brexit.
"I think it's inconceivable that Parliament could look at the view of the public and just ignore it," he told BBC One's Sunday Politics.
"The people have spoken, they have given us their mandate, I'm absolutely certain that Parliament will fulfil that mandate."
Reuse content