Companies should be required by the Government to publish full details of the difference in pay between men and women before the end of this year, Labour will demand in a motion in the House of Commons.
The gender pay gap between men and women is so stark that the average female worker will effectively earn nothing from this Tuesday until the end of the year. Gloria De Piero, the shadow women and equalities minister, will use Equal Pay Day, on Tuesday, to highlight the failure of big businesses to be transparent about paying female workers. Before the end of the year, Labour will demand a vote in Parliament calling for an immediate change in government policy. If Ed Miliband wins power, his government will introduce the compulsory scheme for companies with 250 or more employees.
Three years ago, the coalition introduced a voluntary scheme for pay transparency called Think, Act, Report, but while dozens of firms have signed up to it, only four companies – Tesco, Astra Zeneca, Genesis Housing and Friends Life – have actually revealed their pay details.
Women on average are paid 80p an hour for every man earning £1. Ms De Piero said: "Imagine all women on Tuesday get their pay cheque from 4 November to 31 December and it said £000. For those 57 days, that is effectively what it means. We need to have transparency. The Government has acknowledged that principle of transparency, or they say they do, but they say it should be voluntary. A Labour government will work with employers and business organisations to ensure full transparency."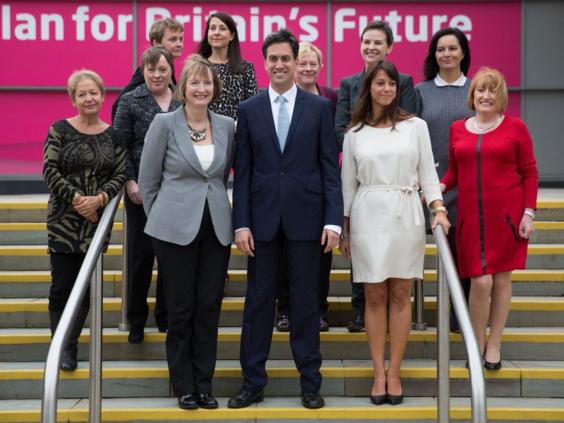 Under the previous Labour government, the pay gap closed by almost a third but has since widened. According to the Office for National Statistics' Annual Survey of Hours and Earnings 2013, the overall pay gap for full-time and part-time work rose from 19.6 to 19.7 and from 9.5 to 10.0 for full-time workers only. For overall median hourly pay, women earn on average £2.53 less per hour than men.
The next Labour government's scheme would require companies to publish hourly pay gaps – which would mean many women doing part-time work, which is paid by an hourly rate, would be included. The measure would also expose whether too few women occupy senior positions. Other countries operate compulsory schemes including Sweden, Belgium and Austria.
In a speech in 2012, the Liberal Democrat minister for Women and Equalities, Lynne Featherstone, said: "I firmly believe that for most companies who are trying to do the right thing, voluntary business-led initiatives are key. They secure more buy-in and achieve more lasting change than the big stick of legislation... [Think, Act, Report] is not about forcing companies to report information they don't want to."
The UK has fallen down the gender equality table to 26, the World Economic Forum's Global Gender Gap report revealed last week, dropping out of the top 20 for the first time, behind Nicaragua, Rwanda and Moldova. Average earnings for women in the UK fell from £18,000 to £15,400, while for men the figure has remained roughly the same.
Reuse content