Boris Johnson's tour of Israel and the Palestinian territories was ending in controversy today as Palestinian groups and charities cancelled a string of meetings in the West Bank.
The Conservative MP was still due to meet the Palestinian Prime Minister but there was growing anger and calls for protest over comments where he dismissed Israel boycott supporters as "lefty academics".
He was due to visit the Sharek Youth Forum at its offices in the West Bank this afternoon following a tour of Israel but was told he was not welcome just hours before his expected arrival.
A spokesperson for the charity said the action was taken in response to Mr Johnson's "inaccurate, misinformed, and disrespectful statement" regarding the boycott, divestment, and sanctions (BDS) movement.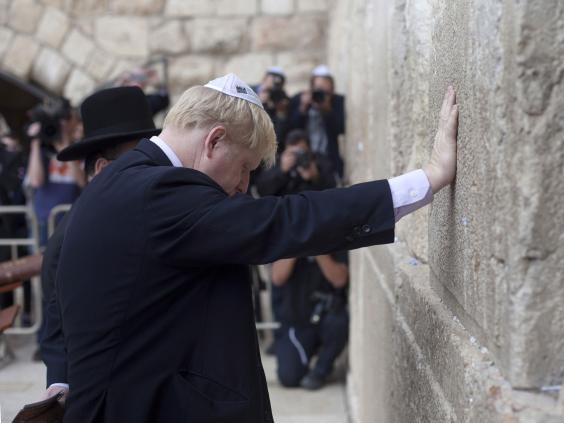 She told The Independent: "It is our conclusion, supported by the Palestinian youth that we represent, that he consciously denies the reality of the occupation that continues to oppress them and all Palestinians.
"As Palestinians and supporters of BDS, we cannot in good conscience host Johnson, a person who denounces the international BDS movement and prioritises the feelings of wearers of 'corduroy jackets' over an entire nation under occupation. 
"In Johnson's own words, the 'only democracy in the region… a pluralist, open society' is one that oppresses citizens, confiscates land, demolishes homes, detains children, and violates international humanitarian and human rights law on a daily basis. We, at Sharek Youth Forum, refuse to give a platform to someone who fails to acknowledge our very existence as Palestinians." 
Mr Johnson had been scheduled to meet with a group of young Palestinians at the Sharek Youth Forum's headquarters.
The group, launched by the UN Development Programme in 1996, aims to empower young Palestinians and involve them in projects to develop their communities.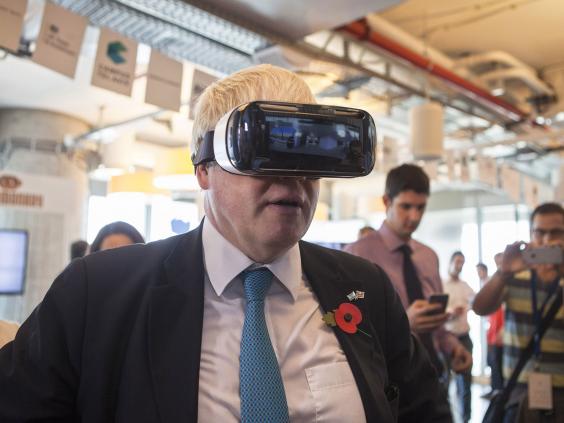 Sharek's announcement came after the Palestinian territories' first female governor, Leila Ghannam, cancelled her meeting with Mr Johnson on Tuesday, citing "personal reasons" for clearing her diary.
There was also outcry after the Palestinian Business Women's Forum reportedly banned Jewish Chronicle correspondent Noga Tarnopolsky from attending the meeting with Mr Johnson.
The MP was reportedly "exasperated" by the demand and promised to raise the issue.
When The Independent spoke to the forum, a representative could not confirm whether Ms Tarnopolsky had been banned because she was Jewish or whether the meeting was still going ahead.
During Mr Johnson's visit to Tel Aviv on Monday, he had been asked about his views on the growing movement to boycott Israeli products, services and universities by British campaigners.
"I cannot think of anything more foolish than to say that you want to have any kind of divestments or sanctions or boycott against a country that, when all is said and done, is the only democracy in the region, is the only place that has, in my view, pluralist, open society – why boycott Israel?" he said in footage broadcast by Channel 4 News.
"I think there's some misunderstanding over here about it. The supporters of this so-called boycott are really just a bunch of corduroy-jacketed…lefty academics who have no real standing in the matter and I think are highly unlikely to be influential in Britain."
It is Mr Johnson's last day in the region following visits to business centres and holy sites amid heightened security following a wave of stabbing attacks and clashes between Palestinian protesters and Israeli forces.
Eleven Israelis have been killed in stabbings, shootings or other attacks since the start of October, while Israeli forces have shot dead more than 70 Palestinians, including at least 42 who security forces said were carrying out or attempting attacks.
Conflicting claims about Jerusalem's Temple Mount, the holiest site in Judaism and third-holiest in Islam, have partly been fuelling the crisis.
Boris Johnson's defining moments
Boris Johnson's defining moments
1/27 Boris Johnson, 2014

Mayor of London Boris Johnson boxes with a trainer during his visit to Fight for Peace Academy in North Woolwich, London.

2/27 Boris Johnson, 2012

Boris Johnson's encounter with a zip wire only served to prove how adept the London Mayor is at defying political gravity in 2012.

Getty Images

3/27 Boris Johnson, 2014

Boris Johnson prepares to deliver a speech in Bloomberg's European headquarters on Britain's involvement in the EU. Mr Johnson also announced his intention to become an MP again at the 2015 general election, whilst serving out the remainder of his term as mayor.

Getty Images

4/27 Boris Johnson, 2012

Boris Johnson playing tennis.

Getty Images

5/27 Boris Johnson, 2013

Mayor of London Boris Johnson takes a helicopter ride over Hong Kong as part of week long visit to China to promote trade between the far east and London.

PA

6/27 Boris Johnson, 2014

The Mayor of London Boris Johnson wears a traditional headdress during a visit to the Shree Swaminarayan Mandir, a major new Hindu temple being built in Kingsbury in London.

7/27 Boris Johnson, 2014

The Mayor of London Boris Johnson during a speech and Q&A session at Bloomberg, London, where he has said that 'in all probability' he will seek to stand for Parliament in next year's general election.

PA Wire

8/27 Boris Johnson, 2013

Boris Johnson explains why he's such a hit with female voters.

PA

9/27 Boris Johnson, 2013

Boris Johnson celebrates after a wildly successful interview with Eddie Mair.

PA

10/27 Boris Johnson, 2013

Mayor of London Boris Johnson sits in the operator's cab of a crane on the quay at DP World London Gateway Port in Stanford-le-Hope.

11/27 Boris Johnson, 2013

Perhaps the only person ever who has ridden on the Emirates Air Line.

Getty Images

12/27 Boris Johnson, 2009

Frothy top? Boris Johnson visits Starbucks in Mayfair.

PA

13/27 Boris Johnson, 2014

Many Conservative Party members gagging to have Boris Johnson as their MP.

PA

14/27 Boris Johnson, 2013

Boris Johnson shoots a basketball.

Getty Images

15/27 Boris Johnson, 2013

Boris Johnson meets saltwater crocodile George, which was named after the royal baby.

EPA

16/27 Boris Johnson, 2014

London mayor Boris Johnson helps shear a sheep held by New Zealand's most successful competition sheep shearer, David Fagan (L) on a visit to Lister Shearing Equipment in Stonehouse, Gloucestershire.

17/27 Boris Johnson, 2012

Boris goes for a bounce in one of favourite places... (the Olympic village obviousy)

Reuters

18/27 Boris Johnson, 2011

Like a raging bull, Boris Johnson challenges a statue to a duel.

AP Photo/Rajanish Kakade

19/27 Boris Johnson in 80s

Boris as a young'un. He was fired from his first job as a trainee reporter at The Times for making up a quote about the Plantagenet King Edward the II and his gay lover.

BBC

20/27 Boris Johnson, 2011

London Mayor Boris Johnson on the streets of Clapham.

REUTERS

21/27 Boris Johnson, 2008

Boris Johnson tries his hand at policing the capital - primarily by wearing a new hat.

PA

22/27 Boris Johnson, 2013

The Mayor of London make a strong pose in what appears to be a particularly bad tourism advert for Asia.

PA

23/27 Boris Johnson, 2010

Boris Johnson embraces a member of the public in Ealing, west London, who seems to have taken a shine to him.

FACUNDO ARRIZABALAGA

24/27 Boris Johnson, 2008

The hippie world welcomes a new member to the fold in Boris Johnson.

Reuters

25/27 Boris Johnson, 2009

Johnson tries on one of his favourite pink and sparkly hats.

Getty Images

26/27 Boris Johnson, 2012

Aside from his mayoral duties, London Mayor, Boris Johnson, is looking displeased at his seven appearances.

Rex Features

27/27 Boris Johnson, 2008

Johnson smiles smugly as he thinks of his fine mop of hair, worthy of a L'Oreal advert.

PA
Palestinians are concerned that Israeli authorities are trying to erode Muslim control of the compound, which houses the Al-Aqsa Mosque and Dome of the Rock – a claim continually denied by the Israeli Prime Minister.
Mr Johnson visited the landmark today, alongside the Western Wall and Holy Church of the Sepulchre.
He was then heading across the separation wall to the West Bank's de-facto capital of Ramallah, where he is expected to meet Rami Hamdallah, Prime Minister of the Palestinian Authority. Journalists accompanying Mr Johnson said they had been barred from the meeting.
The London Mayor has previously provoked controversy with his comments on the Israeli-Palestinian conflict, declaring himself a "passionate Zionist" on LBC radio during the Gaza war last year.
He went on to call Israel's bombing of the strip "disproportionate…ugly and tragic".