Boris Johnson could be breaching gender discrimination laws after he came to the defence of Sir Tim Hunt, the Nobel laureate who resigned over comments about women in science, an MP has claimed.
The Mayor of London wrote in the Daily Telegraph that Sir Tim "did not deserve to be pilloried" for claiming that women scientists cry, and should be reinstated to his positions at University College London and as a Royal Society fellow.
In his column, Mr Johnson cited work By Professor Ad Vingerhoets of Tilburg University suggesting that women cry more than men. "[It] is a fact that – on the whole – men and women express emotion differently ...  it should not be an offence to say that," Mr Johnson wrote.
Such views could land Mr Johnson in hot water, according to a Labour MP. Chi Onwurah, the member for Newcastle Central, reckons that because Mayor Boris is an employer, he could be breaking sex discrimination laws if he is treating male and female employees differently.
Ms Onwurah, who worked for two decades in the male-dominated industry that is chartered electrical engineering, told the Guardian: "As the Mayor of London, he is effectively managing many women. If Boris is treating women differently from men by not giving them honest feedback on their performance because they might burst into tears, he is certainly failing in his duty of care and could be in breach of the sex discrimination act.
"I think women employees could rightly argue that they have not had proper feedback from Johnson because of his views on women and their propensity to weep in the workplace. It could have prevented women from being promoted.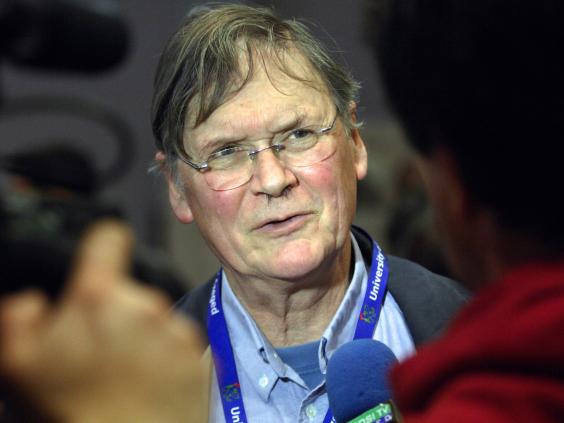 "I have found in my career in industry that constructive criticism can really improve opportunities at work. Johnson could be holding women back by not giving them honest feedback."
The furore centres around what Mr Johnson called a "light-hearted, off-the-cuff" speech by Sir Tim to women science journalists Seoul. In it, the professor, who won the Nobel Prize in 2001 for his work on cell division, said:  "Let me tell you about my trouble with girls. Three things happen when they are in the lab: you fall in love with them, they fall in love with you and when you criticise them, they cry."
During the speech - which Prof Hunt later said was meant to be "jocular and ironic" and which he apologised for - he described himself as "a chauvinist pig" and called for separate men and women to work in separate science labs.
In an interview with the Observer over the weekend, the biochemist said that his career was "finished" and that he had been "hung out to dry" after the comments provoked a searing backlash, among those present and then on social media.
Boris Johnson's defining moments
Boris Johnson's defining moments
1/32 2016

Boris Johnson swings from a bus as Northern Ireland Secretary Theresa Villiers (left), Northern First Minister and DUP leader Arlene Foster and Minister of Enterprise, Trade and Investment Jonathan Bell (second right) look on during a visit to Wrightbus Chassis plant in Antrim

PA

2/32 2015

Boris Johnson takes down 10-year-old Toki Sekiguchi during a game of Street Rugby with a group of Tokyo children

Reuters

3/32 2015

Boris Johnson planting flowers at the Royal Botanical Gardens in Kew

PA

4/32 2015

A commuter gesturing to Boris Johnson as he cycles across Vauxhall Bridge

PA

5/32 2014

Mayor of London Boris Johnson boxes with a trainer during his visit to Fight for Peace Academy in North Woolwich

6/32 2014

The Mayor of London Boris Johnson wears a traditional headdress during a visit to the Shree Swaminarayan Mandir, a major new Hindu temple being built in Kingsbury in London

7/32 2014

Many Conservative Party members gagging to have Boris Johnson as their MP

PA

8/32 2014

Boris Johnson prepares to deliver a speech in Bloomberg's European headquarters on Britain's involvement in the EU. Mr Johnson also announced his intention to become an MP again at the 2015 general election, whilst serving out the remainder of his term as mayor.

Getty Images

9/32 2014

The Mayor of London Boris Johnson during a speech and Q&A session at Bloomberg, London, where he has said that 'in all probability' he will seek to stand for Parliament in next year's general election.

PA Wire

10/32 2014

London mayor Boris Johnson helps shear a sheep held by New Zealand's most successful competition sheep shearer, David Fagan (L) on a visit to Lister Shearing Equipment in Stonehouse

11/32 2013

Mayor of London Boris Johnson takes a helicopter ride over Hong Kong as part of week long visit to China to promote trade between the far east and London

PA

12/32 2013

Boris Johnson explains why he's such a hit with female voters

PA

13/32 2013

Boris Johnson celebrates after a wildly successful interview with Eddie Mair

PA

14/32 2013

Mayor of London Boris Johnson sits in the operator's cab of a crane on the quay at DP World London Gateway Port in Stanford-le-Hope

15/32 2013

Boris Johnson shoots a basketball

Getty Images

16/32 2013

The Mayor of London make a strong pose in what appears to be a particularly bad tourism advert for Asia

PA

17/32 2013

Boris Johnson meets saltwater crocodile George, which was named after the royal baby

EPA

18/32 2013

Perhaps the only person ever who has ridden on the Emirates Air Line

Getty Images

19/32 2012

Boris Johnson's encounter with a zip wire only served to prove how adept the London Mayor is at defying political gravity in 2012

Getty Images

20/32 2012

Boris Johnson playing tennis

Getty Images

21/32 2012

Aside from his mayoral duties, London Mayor, Boris Johnson, is looking displeased at his seven appearances

Rex Features

22/32 2012

Boris goes for a bounce in one of favourite places... (the Olympic village obviousy)

Reuters

23/32 2011

London Mayor Boris Johnson on the streets of Clapham

REUTERS

24/32 2011

Like a raging bull, Boris Johnson challenges a statue to a duel

AP Photo/Rajanish Kakade

25/32 2010

Boris Johnson embraces a member of the public in Ealing, west London, who seems to have taken a shine to him

FACUNDO ARRIZABALAGA

26/32 2009

Frothy top? Boris Johnson visits Starbucks in Mayfair

PA

27/32 2009

Johnson tries on one of his favourite pink and sparkly hats

Getty Images

28/32 2008

Johnson smiles smugly as he thinks of his fine mop of hair, worthy of a L'Oreal advert

PA

29/32 2008

Boris Johnson tries his hand at policing the capital - primarily by wearing a new hat

PA

30/32 2008

The hippie world welcomes a new member to the fold in Boris Johnson

Reuters

31/32 2004

Boris Johnson jogs on the streets of London

PA

32/32 1980's

Boris as a young'un. He was fired from his first job as a trainee reporter at The Times for making up a quote about the Plantagenet King Edward the II and his gay lover

BBC
But Mr Johnson said that Sir Tim had simply "doing what he had done all his life – pointing out a natural phenomenon he had observed". And at an event in London yesterday, he said that Sir Tim had fallen victim to "the ferocious stinging bees of the Twittersphere".
Should the Mayor of London be overwhelmed by sex discrimination claims in his remaining time at City Hall, he can't claim he wasn't warned.
Reuse content