Foreign Secretary Boris Johnson has stressed Britain's close ties with Saudi Arabia, days after he was rebuked by Downing Street for accusing the kingdom of being behind "proxy wars".
"I'm here to emphasise the friendship that exists between the UK and Saudi Arabia, and that is something that is developing and expanding," Mr Johnson said at a joint news conference in Riyadh with Saudi foreign minister Adel al-Jubeir.
"And it's also fair to say that we believe in candour in our relationship," he added. "Now is the time for us to talk about the positive things that we are doing together."
Mr Johnson was slapped down by Downing Street over comments he made last week at a conference in Rome, where he accused Saudi Arabia and Iran of stoking proxy wars across the Middle East.
Prime Minister Theresa May's official spokesperson said the Foreign Secretary's comments were his own views and did not reflect Government policy. 
However, Mr Johnson said he recognised Saudi Arabia faced a grave threat from the conflict in Yemen, where the kingdom is leading a coalition of Arab forces in support of the internationally recognised government against Iran-backed Houthi rebels.
He added: "Of course, we continue, like everybody in this room and around the world to have a deep concern for the suffering of the people of Yemen."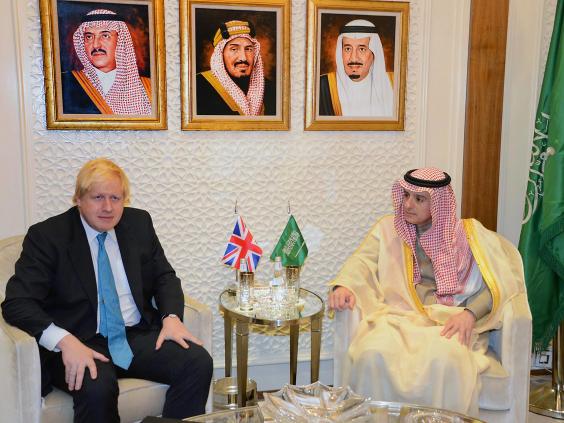 Mr Jubeir said Riyadh was "absolutely not" getting mixed messages from Britain. 
"We don't have any doubt in where Britain stands and Britain has no doubt where we stand," he added.
He said Mr Johnson's comments had been misconstrued, and Britain and Saudi Arabia had enjoyed a long strategic relationship extending over 100 years.
10 examples of Saudi Arabia's human rights abuses
10 examples of Saudi Arabia's human rights abuses
1/10

In October 2014, three lawyers, Dr Abdulrahman al-Subaihi, Bander al-Nogaithan and Abdulrahman al-Rumaih , were sentenced to up to eight years in prison for using Twitter to criticize the Ministry of Justice.

AFP/Getty Images

2/10

In March 2015, Yemen's Sunni President Abd-Rabbu Mansour Hadi was forced into exile after a Shia-led insurgency. A Saudi Arabia-led coalition has responded with air strikes in order to reinstate Mr Hadi. It has since been accused of committing war crimes in the country.

Getty Images

3/10

Women who supported the Women2Drive campaign, launched in 2011 to challenge the ban on women driving vehicles, faced harassment and intimidation by the authorities. The government warned that women drivers would face arrest.

Getty Images

4/10

Members of the Kingdom's Shia minority, most of whom live in the oil-rich Eastern Province, continue to face discrimination that limits their access to government services and employment. Activists have received death sentences or long prison terms for their alleged participation in protests in 2011 and 2012.

Getty Images

5/10

All public gatherings are prohibited under an order issued by the Interior Ministry in 2011. Those defy the ban face arrest, prosecution and imprisonment on charges such as "inciting people against the authorities".

Getty Images

6/10

In March 2014, the Interior Ministry stated that authorities had deported over 370,000 foreign migrants and that 18,000 others were in detention. Thousands of workers were returned to Somalia and other states where they were at risk of human rights abuses, with large numbers also returned to Yemen, in order to open more jobs to Saudi Arabians. Many migrants reported that prior to their deportation they had been packed into overcrowded makeshift detention facilities where they received little food and water and were abused by guards.

Getty Images

7/10

The Saudi Arabian authorities continue to deny access to independent human rights organisations like Amnesty International, and they have been known to take punitive action, including through the courts, against activists and family members of victims who contact Amnesty.

Getty Images

8/10

Raif Badawi was sentenced to 1000 lashes and 10 years in prison for using his liberal blog to criticise Saudi Arabia's clerics. He has already received 50 lashes, which have reportedly left him in poor health.

Carsten Koall/Getty Images

9/10

Dawood al-Marhoon was arrested aged 17 for participating in an anti-government protest. After refusing to spy on his fellow protestors, he was tortured and forced to sign a blank document that would later contain his 'confession'. At Dawood's trial, the prosecution requested death by crucifixion while refusing him a lawyer.

Getty Images

10/10

Ali Mohammed al-Nimr was arrested in 2012 aged either 16 or 17 for participating in protests during the Arab spring. His sentence includes beheading and crucifixion. The international community has spoken out against the punishment and has called on Saudi Arabia to stop. He is the nephew of a prominent government dissident.

Getty
Defence Secretary Michael Fallon also attempted to play down No 10's rebuke on Sunday morning.
He told BBC One's Andrew Marr Show: "The media, with great respect, are now starting to over-textualise every remark he makes in answer to every question.
"Downing Street was asked whether this misreporting of what Boris had said, whether that was Government policy. Downing Street simply answered the question."
British military personnel have been involved with advising the Saudi-led coalition as it pursues a campaign against the Iranian-backed Houthis in Yemen's civil war.
The war has killed more than 10,000 people, half of them civilians, and unleashed a humanitarian crisis in the poorest country in the Middle East. 
Reuse content