Boris Johnson has declared that he would campaign to pull Britain out of the EU in a referendum if David Cameron's attempts to negotiate a new deal for Britain in Europe failed.
There would be no point in negotiating for a change of rules in the EU unless the government was serious about being prepared to pull out "and I would be willing to say that," he argued.
His remarks show that on this issue London's Mayor is closer to the Tory right, who are determined to get out of the EU, than David Cameron, who warned earlier in this year against the "pessimists" who refuse to believe that the EU can reform. 
The Mayor also expressed bemusement at the rise of UKIP, which he described as the Conservative Party's 'doppelganger' because, he claimed, they shared identical beliefs. His remarks were very different from how David Cameron described UKIP members eight years ago - as "fruitcakes, loonies and closet racists."
On immigration, the main issue that cost the Tories last week's defeat in the Clacton by-election, won by the Tory defector Douglas Carswell, the Mayor claimed that it should be possible for Britain to negotiate an opt-out of one of the fundamental EU rules that any EU citizen can move freely to any EU state in search of work.
Boris Johnson's defining moments
Boris Johnson's defining moments
1/32 2016

Boris Johnson swings from a bus as Northern Ireland Secretary Theresa Villiers (left), Northern First Minister and DUP leader Arlene Foster and Minister of Enterprise, Trade and Investment Jonathan Bell (second right) look on during a visit to Wrightbus Chassis plant in Antrim

PA

2/32 2015

Boris Johnson takes down 10-year-old Toki Sekiguchi during a game of Street Rugby with a group of Tokyo children

Reuters

3/32 2015

Boris Johnson planting flowers at the Royal Botanical Gardens in Kew

PA

4/32 2015

A commuter gesturing to Boris Johnson as he cycles across Vauxhall Bridge

PA

5/32 2014

Mayor of London Boris Johnson boxes with a trainer during his visit to Fight for Peace Academy in North Woolwich

6/32 2014

The Mayor of London Boris Johnson wears a traditional headdress during a visit to the Shree Swaminarayan Mandir, a major new Hindu temple being built in Kingsbury in London

7/32 2014

Many Conservative Party members gagging to have Boris Johnson as their MP

PA

8/32 2014

Boris Johnson prepares to deliver a speech in Bloomberg's European headquarters on Britain's involvement in the EU. Mr Johnson also announced his intention to become an MP again at the 2015 general election, whilst serving out the remainder of his term as mayor.

Getty Images

9/32 2014

The Mayor of London Boris Johnson during a speech and Q&A session at Bloomberg, London, where he has said that 'in all probability' he will seek to stand for Parliament in next year's general election.

PA Wire

10/32 2014

London mayor Boris Johnson helps shear a sheep held by New Zealand's most successful competition sheep shearer, David Fagan (L) on a visit to Lister Shearing Equipment in Stonehouse

11/32 2013

Mayor of London Boris Johnson takes a helicopter ride over Hong Kong as part of week long visit to China to promote trade between the far east and London

PA

12/32 2013

Boris Johnson explains why he's such a hit with female voters

PA

13/32 2013

Boris Johnson celebrates after a wildly successful interview with Eddie Mair

PA

14/32 2013

Mayor of London Boris Johnson sits in the operator's cab of a crane on the quay at DP World London Gateway Port in Stanford-le-Hope

15/32 2013

Boris Johnson shoots a basketball

Getty Images

16/32 2013

The Mayor of London make a strong pose in what appears to be a particularly bad tourism advert for Asia

PA

17/32 2013

Boris Johnson meets saltwater crocodile George, which was named after the royal baby

EPA

18/32 2013

Perhaps the only person ever who has ridden on the Emirates Air Line

Getty Images

19/32 2012

Boris Johnson's encounter with a zip wire only served to prove how adept the London Mayor is at defying political gravity in 2012

Getty Images

20/32 2012

Boris Johnson playing tennis

Getty Images

21/32 2012

Aside from his mayoral duties, London Mayor, Boris Johnson, is looking displeased at his seven appearances

Rex Features

22/32 2012

Boris goes for a bounce in one of favourite places... (the Olympic village obviousy)

Reuters

23/32 2011

London Mayor Boris Johnson on the streets of Clapham

REUTERS

24/32 2011

Like a raging bull, Boris Johnson challenges a statue to a duel

AP Photo/Rajanish Kakade

25/32 2010

Boris Johnson embraces a member of the public in Ealing, west London, who seems to have taken a shine to him

FACUNDO ARRIZABALAGA

26/32 2009

Frothy top? Boris Johnson visits Starbucks in Mayfair

PA

27/32 2009

Johnson tries on one of his favourite pink and sparkly hats

Getty Images

28/32 2008

Johnson smiles smugly as he thinks of his fine mop of hair, worthy of a L'Oreal advert

PA

29/32 2008

Boris Johnson tries his hand at policing the capital - primarily by wearing a new hat

PA

30/32 2008

The hippie world welcomes a new member to the fold in Boris Johnson

Reuters

31/32 2004

Boris Johnson jogs on the streets of London

PA

32/32 1980's

Boris as a young'un. He was fired from his first job as a trainee reporter at The Times for making up a quote about the Plantagenet King Edward the II and his gay lover

BBC
Mr Johnson told the BBC's Andrew Marr programme that border controls are now "the number one thing that we need to sort out" and called for a points system, similar to the USA's, to decide which EU migrants should be allowed into the UK. "I don't think that's something our friends in Europe would view with complete horror," he said.
He added: "It's obviously axiomatic that if we don't get the reform that we need in 2016 or '17, then I think we should campaign to come out... In the past few years I have come to the view that there is a viable and very attractive future for this country with a different arrangement. People are too apprehensive about the possible down side.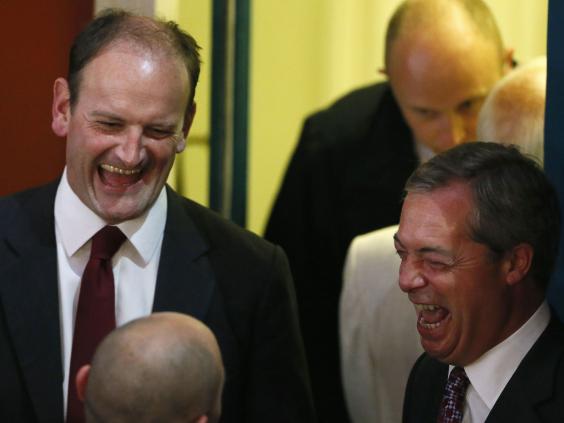 "You can't go into a negotiation unless you're prepared to walk away, so it follows that if we don't get the right solution then need a better solution, and I would certainly be willing to say that. There is nothing to fear from this argument and a lot to gain. One of the reasons UKIP has gained in appeal is that people feel they are not being given a proper choice."
The Mayor appealed to former Tory voters who have switched allegiance to UKIP to come back, because there is no real difference between the parties. He said: "There's a very good film starring John Travolta and Nicholas Cage called Face Off, in which basically... the Nicholas Cage guy is fighting a character who looks like himself, the doppelganger. I was listening to Douglas and I wondered what I disagreed with him about, and there wasn't very much.
"So my message to kippers is that it doesn't seem to me there's a lot between us."