Boris Johnson may have been pelted with balls on his way into the Conservative Party conference but he received a rapturous welcome inside, earning cheers, laughs and a standing ovation with his speech.
The outgoing Mayor of London's appearance was eagerly awaited as speculation continues over who will run to succeed David Cameron and the pressure was on following Theresa May's address to delegates.
As expected, he struck a more jocular tone than the Home Secretary, even on the subject of immigration.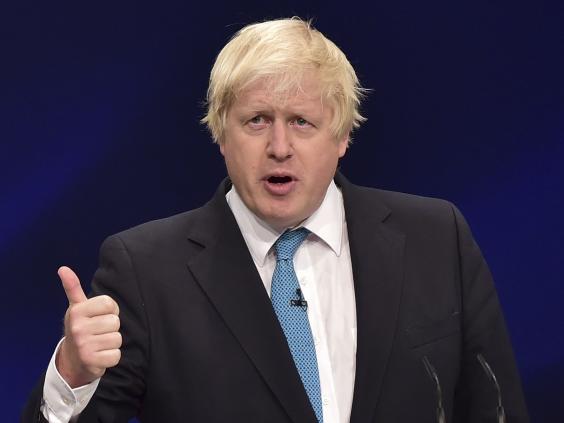 "It should be up to this parliament and this country - not to Jean-Claude Juncker - to decide if too many people are coming here," he said.
"Because it is not that we object to immigration in itself - I speak as the proud great grandson of a Turk who fled his country in fear of his life. To Wimbledon for some reason…he was then assassinated by his political opponents - a fate I intend to avoid."
It did not take long for Mr Johnson to hit out at the Labour Party and the "left-wing agitators" he claimed wanted to divide society.
Mr Johnson called the London Labour Party "trots and militants with vested interests and indeed interesting vests… the people who idolise Hugo Chavez and toast the revolution in taxpayer funded vintage burgundy".
"Where there is a grievance, they foment it; where there is sectarianism, they take sides; Where there are racial or religious or ethnic divisions their instinct is always to play them up and of course there is one conflict they relish above all others, and that is economic class war," the Uxbridge and South Ruislip MP continued.
He dubbed John McDonnell, the shadow Chancellor, an "avowed Marxist" and cautioned young people against embracing socialism.
"And so I say to all those £3 Corbynistas – we tried that. We tried fermenting anti-capitalism in the Soviet Union; we have tried brewing it in Britain in the 1970s and in many other parts of the world and the result has been the kind of toxic moonshine that sends you blind.
"Give that hooch a miss."
He painted a picture of One Nation Conservatism that used capitalism to "deliver social and economic progress" but said checks must be maintained on the gulf between rich and poor.
"I say we one nation Tories cannot ignore the gulf in pay packets that yawns wider year by year," Mr Johnson continued, citing an FTSE 100 company were cheif executives pay themselves "780 times" the average pay.
"We will accept it if and only if they pay their taxes – rich corporations and individuals, if and only if those firms are paying their employees decently…and we must ensure that as we reform welfare and we cut taxes that we protect the hardest working and lowest paid."
Boris Johnson's defining moments
Boris Johnson's defining moments
1/32 2016

Boris Johnson swings from a bus as Northern Ireland Secretary Theresa Villiers (left), Northern First Minister and DUP leader Arlene Foster and Minister of Enterprise, Trade and Investment Jonathan Bell (second right) look on during a visit to Wrightbus Chassis plant in Antrim

PA

2/32 2015

Boris Johnson takes down 10-year-old Toki Sekiguchi during a game of Street Rugby with a group of Tokyo children

Reuters

3/32 2015

Boris Johnson planting flowers at the Royal Botanical Gardens in Kew

PA

4/32 2015

A commuter gesturing to Boris Johnson as he cycles across Vauxhall Bridge

PA

5/32 2014

Mayor of London Boris Johnson boxes with a trainer during his visit to Fight for Peace Academy in North Woolwich

6/32 2014

The Mayor of London Boris Johnson wears a traditional headdress during a visit to the Shree Swaminarayan Mandir, a major new Hindu temple being built in Kingsbury in London

7/32 2014

Many Conservative Party members gagging to have Boris Johnson as their MP

PA

8/32 2014

Boris Johnson prepares to deliver a speech in Bloomberg's European headquarters on Britain's involvement in the EU. Mr Johnson also announced his intention to become an MP again at the 2015 general election, whilst serving out the remainder of his term as mayor.

Getty Images

9/32 2014

The Mayor of London Boris Johnson during a speech and Q&A session at Bloomberg, London, where he has said that 'in all probability' he will seek to stand for Parliament in next year's general election.

PA Wire

10/32 2014

London mayor Boris Johnson helps shear a sheep held by New Zealand's most successful competition sheep shearer, David Fagan (L) on a visit to Lister Shearing Equipment in Stonehouse

11/32 2013

Mayor of London Boris Johnson takes a helicopter ride over Hong Kong as part of week long visit to China to promote trade between the far east and London

PA

12/32 2013

Boris Johnson explains why he's such a hit with female voters

PA

13/32 2013

Boris Johnson celebrates after a wildly successful interview with Eddie Mair

PA

14/32 2013

Mayor of London Boris Johnson sits in the operator's cab of a crane on the quay at DP World London Gateway Port in Stanford-le-Hope

15/32 2013

Boris Johnson shoots a basketball

Getty Images

16/32 2013

The Mayor of London make a strong pose in what appears to be a particularly bad tourism advert for Asia

PA

17/32 2013

Boris Johnson meets saltwater crocodile George, which was named after the royal baby

EPA

18/32 2013

Perhaps the only person ever who has ridden on the Emirates Air Line

Getty Images

19/32 2012

Boris Johnson's encounter with a zip wire only served to prove how adept the London Mayor is at defying political gravity in 2012

Getty Images

20/32 2012

Boris Johnson playing tennis

Getty Images

21/32 2012

Aside from his mayoral duties, London Mayor, Boris Johnson, is looking displeased at his seven appearances

Rex Features

22/32 2012

Boris goes for a bounce in one of favourite places... (the Olympic village obviousy)

Reuters

23/32 2011

London Mayor Boris Johnson on the streets of Clapham

REUTERS

24/32 2011

Like a raging bull, Boris Johnson challenges a statue to a duel

AP Photo/Rajanish Kakade

25/32 2010

Boris Johnson embraces a member of the public in Ealing, west London, who seems to have taken a shine to him

FACUNDO ARRIZABALAGA

26/32 2009

Frothy top? Boris Johnson visits Starbucks in Mayfair

PA

27/32 2009

Johnson tries on one of his favourite pink and sparkly hats

Getty Images

28/32 2008

Johnson smiles smugly as he thinks of his fine mop of hair, worthy of a L'Oreal advert

PA

29/32 2008

Boris Johnson tries his hand at policing the capital - primarily by wearing a new hat

PA

30/32 2008

The hippie world welcomes a new member to the fold in Boris Johnson

Reuters

31/32 2004

Boris Johnson jogs on the streets of London

PA

32/32 1980's

Boris as a young'un. He was fired from his first job as a trainee reporter at The Times for making up a quote about the Plantagenet King Edward the II and his gay lover

BBC
Directing a barb at protesters, who he referred to as "our crusty friends outside", Mr Johnson listed Conservative policies he claimed were benefitting the poor by cutting crime, pollution and raising life expectancy.
After being loudly booed and pelted with plastic balls, eggs and water bombs by protesters stationed outside the conference in Manchester yesterday, Mr Johnson described the experience as "a kind of Khyber pass". 
Rallying the conference, he asked: "Were we intimidated? No. "Will we give up our plans to take this country forward? No.
"Will we surrender to the hard-left agitators – preposterously supported by Jeremy Corbyn – who believe in these tactics and want to divide this society? No. 
"In fact I drew only one conclusion – that we need to do more to encourage sport in schools, because they managed to miss their target with every projectile."
Conference delegates described Tories "rolling over with delight" as the speech continued, while commentators afterwards wrote that it was Mr Johnson's "best ever", "quite brilliant" and "just superb".
Others were unconvinced, describing the speech as "random incoherent nonsense" and the ramblings of a "posh buffoon".
Reuse content