The Leave campaign has officially won the EU referendum, comfortably passing the 16,813,000 target before going on to secure 51.9 per cent of the vote.
With all the counts declared, Leave has taken it by a margin of 1,269,501 votes. 
Leave ended up on 17,410,742 votes compared to 16,141,241 for Remain.
It gave the pro-Brexit camp a victory of 51.9 per cent to 48.1 per cent, on a turnout of 72 per cent.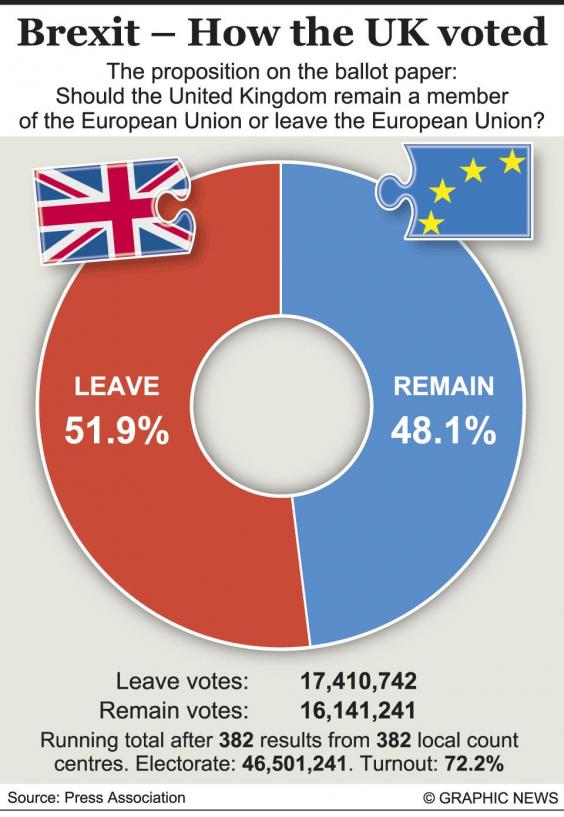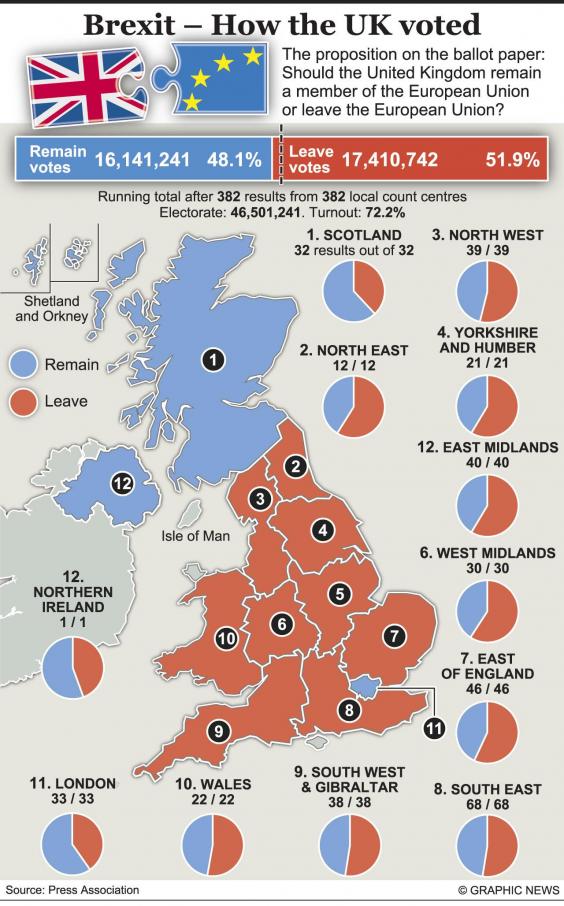 Nigel Farage declared Thursday as "our independence day", while Vote Leave's chair, the Labour MP Gisela Stuart, said it was "our opportunity to take back control of a whole area of democratic decisions".
6 ways Britain leaving the EU will affect you
6 ways Britain leaving the EU will affect you
1/6 More expensive foreign holidays

The first practical effect of a vote to Leave is that the pound will be worth less abroad, meaning foreign holidays will cost us more

nito100

2/6 No immediate change in immigration status

The Prime Minister will have to address other immediate concerns. He is likely to reassure nationals of other EU countries living in the UK that their status is unchanged. That is what the Leave campaign has said, so, even after the Brexit negotiations are complete, those who are already in the UK would be allowed to stay

Getty

3/6 Higher inflation

A lower pound means that imports would become more expensive. This is likely to mean the return of inflation – a phenomenon with which many of us are unfamiliar because prices have been stable for so long, rising at no more than about 2 per cent a year. The effect may probably not be particularly noticeable in the first few months. At first price rises would be confined to imported goods – food and clothes being the most obvious – but inflation has a tendency to spread and to gain its own momentum

AFP/Getty Images

4/6 Interest rates might rise

The trouble with inflation is that the Bank of England has a legal obligation to keep it as close to 2 per cent a year as possible. If a fall in the pound threatens to push prices up faster than this, the Bank will raise interest rates. This acts against inflation in three ways. First, it makes the pound more attractive, because deposits in pounds will earn higher interest. Second, it reduces demand by putting up the cost of borrowing, and especially by taking larger mortgage payments out of the economy. Third, it makes it more expensive for businesses to borrow to expand output

Getty

5/6 Did somebody say recession?

Mr Carney, the Treasury and a range of international economists have warned about this. Many Leave voters appear not to have believed them, or to think that they are exaggerating small, long-term effects. But there is no doubt that the Leave vote is a negative shock to the economy. This is because it changes expectations about the economy's future performance. Even though Britain is not actually be leaving the EU for at least two years, companies and investors will start to move money out of Britain, or to scale back plans for expansion, because they are less confident about what would happen after 2018

AFP/Getty Images

6/6 And we wouldn't even get our money back

All this will be happening while the Prime Minister, whoever he or she is, is negotiating the terms of our future access to the EU single market. In the meantime, our trade with the EU would be unaffected, except that companies elsewhere in the EU may be less interested in buying from us or selling to us, expecting tariff barriers to go up in two years' time. Whoever the Chancellor is, he or she may feel the need to bring in a new Budget

Getty Images
But economists have started to downgrade their forecasts for UK growth, with a recession forecast unless a quick deal can be done.
IHS Global Insight said that is "substantially cutting" its GDP growth forecasts to 1.5 per cent from 2 per cent for 2016 and to 0.2 per cent from 2.4 per cent for 2017.
The result of the referendum will almost certainly spell the end of David Cameron's premiership.
Nigel Farage said Mr Cameron should resign "immediately", while Labour also said that he should "consider his position".
The outcome is also likely to spark a second independence referendum in Scotland that, unlike England and Wales, voted to remain in the EU. 
Read the latest updates as Britain votes for Brexit here.
Reuse content