The Mayor of Calais has said she wants the French government to consider renegotiating the Le Touquet treaty between the UK and France. 
Speaking after Britain voted to leave the European Union, Mayor Natacha Bouchart said France should consider changing the agreement, which allows British border guards to check for illegal immigrants stowing away on lorries, cars and trains before they head through the Channel Tunnel and onto ferries.
During the referendum campaign, which saw the Leave side narrowly triumph with 52 per cent of the vote, Eurosceptics said the presence of immigration checks on the French side of the border would not be affected as Le Touquet treaty was separate to the EU-wide rules on the free movement of people. 
In February, Prime Minister David Cameron warned that the Calais Jungle could be moved to Kent if British officers were forced back over the border. 
Officially the Le Touquet treaty, which was signed in 2003, is a bilateral agreement between London and Paris which remains valid even if Britain leaves the EU. 
But unofficially, government sources in Paris told The Independent it was "unlikely" to be able to continue its present treaty arrangements with a "non-EU state".
A senior source said in February: "The treaty is bilateral but was concluded by two EU states.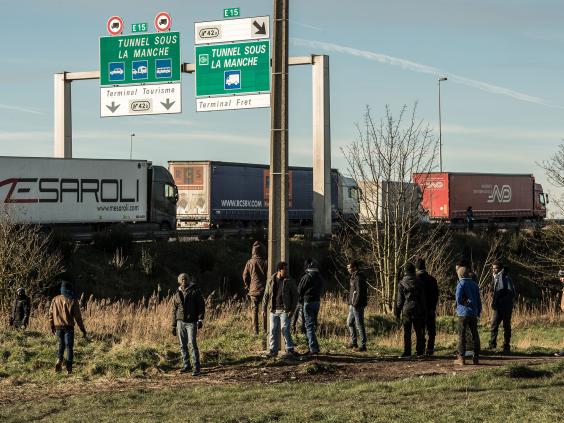 "If Britain was to leave, it might be called into question legally and would become difficult to defend politically. I think that it would be unlikely to survive in its present form."
Since last summer, thousands of refugees fleeing war and Isis in Syria and Iraq have made the perilous journey across the Mediterranean and over land borders to get to Europe. 
At its height there were around 6,000 people living in the makeshift camps - or "jungle" - outside Calais and Dunkirk as they desperately tried to stow away in trucks and climb onto trains to reach Britain. 
Earlier this week a Sudanese man was jailed for nine months after being prosecuted under a Victorian law for walking the 31 miles through the Channel tunnel. 
EU referendum - in pictures
EU referendum - in pictures
1/18

A woman in a wheelchair with British and European Union flags shows her support for the United Kingdom to remain in the European Union on the day of the EU Referendum in Gibraltar

Getty Images

2/18

A polling station being used in the EU referendum at Batley Town Hall in the constituency Labour MP Jo Cox

PA

3/18

People arrive to vote in the EU Referendum at the Library where British MP Jo Cox was shot and fatally wounded last week in Birstall

EPA

4/18

A man arrives to vote at a polling station for the Referendum on the European Union in north London

REUTERS

5/18

Voters queue to enter a polling station at Trinity Church in Golders Green in London

Getty Images

6/18

British Prime Minister David Cameron and his wife Samantha Cameron leave after voting in the EU Referendum at Central Methodist Hall, Westminster

Getty Images

7/18

Labour Party leader Jeremy Corbyn cast his vote at a polling station at Pakeman Primary School in Islington

Getty Images

8/18

Chelsea pensioners arrive at a polling station near to the Royal Chelsea Hospital

PA

9/18

A woman wearing an "I'm In" t-shirt, promoting the official "Remain" campaign, leaves a polling station in London

AFP/Getty Images

10/18

People queuing outside a polling station on Amott Road in London

PA

11/18

Scotland's First Minister and Leader of the Scottish National Party (SNP), Nicola Sturgeon and her husband Peter Murrell, react as leave after casting their votes at a polling station at Broomhouse Community Hall in east Glasgow

AFP/Getty Images

12/18

A man wearing a European themed cycling jersey leaves after voting at a polling station for the Referendum on the European Union in north London

REUTERS

13/18

Ukip leader Nigel Farage arrives to cast his vote at Cudham Church of England Primary School in Biggin Hill, Kent

PA

14/18

Justice Secretary and prominent 'Vote Leave' campaigner Michael Gove poses with his wife Sarah Vine after voting in the European Union referendum at their local polling station in Kensington

Getty Images

15/18

Nuns leave a polling station after voting in the EU Referendum in London

EPA

16/18

People arrive to cast their ballots in the EU Referendum in Gibraltar. The United Kingdom and its dependant territories are going to the polls to decide whether or not the the United Kingdom will remain in the European Union

Getty Images

17/18

A man driving a van covered in stickers urging people to vote for the United Kingdom to remain in the European Union drives outside a polling station on the day of the EU Referendum in Gibraltar

Getty Images

18/18

A sign on a gable wall in Belfast's, Loyalist Tigers Bay urging voters to leave the EU using scripture from Revelation 18:4, as voters head to the polls across the UK in a historic referendum on whether the UK should remain a member of the European Union or leave

PA
Abdul Rahman Haroun was granted refugee status after becoming the first migrant believed to have completed the walk in August last year.
It is currently unclear what will happen to the UK's borders as Prime Minister David Cameron has not yet invoked  Article 50 of The Treaty on European Union - which begins the two years of negotiations to allow Britain to leave. 
Britain is currently not a part of the Schengen area, which has no border controls.
The unofficial Leave campaign, Leave.EU, campaigned heavily on the prospect of dramatically cutting immigration and claimed the UK would be able to negotiate a free trade deal without granting freedom of movement.
The campaign was heavily criticised last week for unveiling a poster showing a long queue of refugees with the slogan "Breaking Point" - but leader Nigel Farage refused to apologise for it.