There will be no cross-party British approach to Brexit while Theresa May refuses to be "honest" about the devastating impact of leaving the EU without a deal, The Independent has learnt.
Labour will not agree a Brexit consensus with the Conservatives until the Prime Minister ditches her "no deal is better than a bad deal" rhetoric and agrees bulletproof guarantees for workers' rights and environmental protections.
In the wake of their poor election performance, top Conservatives have called for a cross-party approach to withdrawal negotiations. But in a sign of deepening Tory splits, Brexit-backing cabinet ministers warn it will not mean any softening of Ms May's tough stance.
In an exclusive interview with The Independent, Labour's Barry Gardiner branded media reports that talks between his party and the Tories are already taking place as "a joke", adding "it's just not happening".
The shadow Business and shadow Trade Secretary said: "If the Government knows what it's doing, and wants to put it before Parliament, then Parliament will take a view.
"The idea that they can coral opposition into rubber stamping whatever bad deal they come up with is a joke."
Claiming that the Conservatives are not being straight with people about the potential impacts of leaving with no deal, he said: "There is not going to be a consensus, unless there is honesty."
How Brexit affected Britain's favourite foods from Weetabix to Marmite
How Brexit affected Britain's favourite foods from Weetabix to Marmite
1/8 Weetabix

Chief executive of Weetabix Giles Turrell has warned that the price of one of the nation's favourite breakfast are likely to go up this year by low-single digits in percentage terms.

Reuters

2/8 Nescafé

The cost of a 100g jar of Nescafé Original at Sainsbury's has gone up 40p from £2.75 to £3.15 – a 14 per cent rise—since the Brexit vote.

PA

3/8 Freddo

When contacted by The Independent this month, a Mondelez spokesperson declined to discuss specific brands but confirmed that there would be "selective" price increases across its range despite the American multi-national confectionery giant reporting profits of $548m (£450m) in its last three-month financial period. Mondelez, which bought Cadbury in 2010, said rising commodity costs combined with the slump in the value of the pound had made its products more expensive to make.

Cadbury

4/8 Mr Kipling cakes

Premier Foods, the maker of Mr Kipling and Bisto gravy, said that it was considering price rises on a case-by-case basis

Reuters

5/8 Walkers Crisps

Walkers, owned by US giant PepsiCo, said "the weakened value of the pound" is affecting the import cost of some of its materials. A Walkers spokesman told the Press Association that a 32g standard bag was set to increase from 50p to 55p, and the larger grab bag from 75p to 80p.

Getty

6/8 Marmite

Tesco removed Marmite and other Unilever household brand from its website last October, after the manufacturer tried to raise its prices by about 10 per cent owing to sterling's slump. Tesco and Unilever resolved their argument, but the price of Marmite has increased in UK supermarkets with the grocer reporting a 250g jar of Marmite will now cost Morrisons' customers £2.64 - an increase of 12.5 per cent.

Rex

7/8 Toblerone

Toblerone came under fire in November after it increased the space between the distinctive triangles of its bars. Mondelez International, the company which makes the product, said the change was made due to price rises in recent months.

Pixabay

8/8 Maltesers

Maltesers, billed as the "lighter way to enjoy chocolate", have also shrunk in size. Mars, which owns the brand, has reduced its pouch weight by 15 per cent. Mars said rising costs mean it had to make the unenviable decision between increasing its prices or reducing the weight of its Malteser packs.

iStockphoto
On Tuesday ex-foreign secretary Sir William Hague called for a cross-party commission to come to a Brexit consensus, while Scottish Tory leader Ruth Davidson has also said other parties should be involved.
While Mr Gardiner said Labour wants a successful Brexit, he went on: "When Governments are in a fix they say 'let's have a royal commission' or 'we need to consult other parties about this'.
"What that means is 'shit, we don't know what to do, so let's rope others into this so they can share the blame'.
"The point is this – Labour wants Brexit to be a success. The Government, in terms of what it keeps on saying about 'no deal' and in terms of regulation and alignment, is heading for bad deal."
Some Conservative MPs like George Freeman and Anna Soubry have called for a new approach to the customs union and single market.
But Brexit-backer Michael Gove – newly returned to the frontbench – has made clear there will be no softening of Ms May's core Brexit demands, despite saying there should be a more "open" discussion.
Brexit Secretary David Davis has also refused to abandon the idea that Britain will walk away without a deal.
Mr Gardiner said that until a visible shift in the Conservative position on 'no deal' occurs, a cross-party consensus is untenable.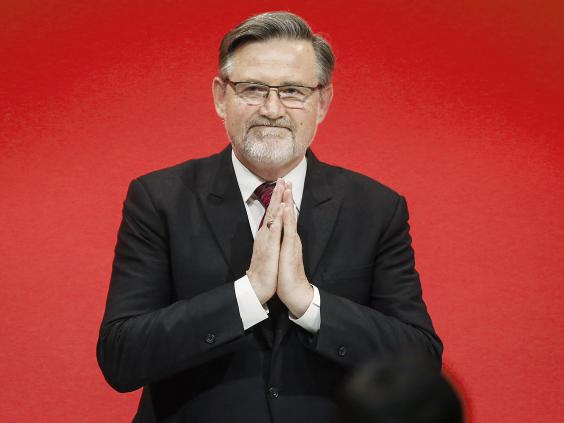 He explained: "The thing that is really important to nail, is that there is somehow a trump card up Theresa May's sleeve that she can sling on the table – that 'if you don't give us a deal, we will walk away on WTO rules' – that is a nonsense.
"The Article 50 process says that if, after two years, you don't have a deal, then you are ejected onto WTO rules. It's not a trump card to play. It's a cliff edge over which you are pushed."     
He argued the UK being forced to trade with the EU on WTO rules would be "devastating" for the economy, would mean queues at ports and tariffs on goods.
He pointed out that the outcome had also been roundly rejected by business groups like the CBI and FSB.
The shadow cabinet minister, one of the most prominent voices of Labour's election campaign, went on: "The Government needs to be honest. What it is doing at the moment is swimming in a morass.…at the moment we need clarity and honesty from the Government.
"They are providing neither."
Turning to another area where Ms May's position negates a consensus, he said the Conservatives' de-regulatory agenda for leaving the EU is "really frightening".
He highlighted plans for the Great Repeal Bill, which will see all current rights and protections currently enshrined in EU law, absorbed into British law on Brexit day.
The Government has promised no rights currently afforded workers, or protections for the environment, would be weakened in the process. But Mr Gardiner said ministers would need to enshrine them all in primary legislation.
He said: "When they talk about their Great Repeal Bill, absorbing these rights into UK law, there is also a lack of honesty in what they are saying.
"Because there are many thousands of regulations being brought across. The Government will not put them all in primary legislation, but that means these rights and protections are only safe as long as a secretary of state doesn't change their mind on them.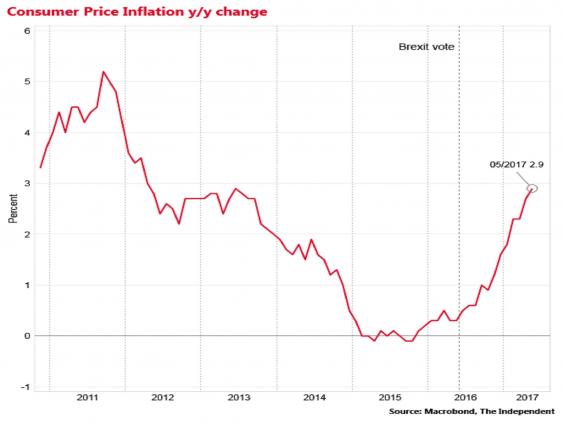 "People cannot have confidence they will be as strong. Many current cabinet ministers have expressed for years a desire to get rid of many of these environmental and social protections."
With the UK Government still in flux, inflation jumped unexpectedly to 2.9 per cent in May, its highest level in nearly four years, as the slump in the pound in the wake of last year's Brexit vote continues to feed through into price increases.
City of London analysts had expected the annual rate of price increases to remain steady at 2.7 per cent.
Meanwhile, the EU's Brexit negotiator Michel Barnier told Ms May to get on with appointing a negotiating team for talks that are supposed to take place next week.
The European Parliament's chief negotiator Guy Verhofstadt claimed the election represented a refusal of hard Brexit.
He told the Tory party: "For years now already, your internal catfight, that started under Cameron, has taken the EU hostage and has been hampering your as our economy.
"It is blocking us from further reforming and modernizing the Union. Frankly, we have seen enough of it."
Mr Verhofstadt added: "I am impatiently waiting for the negotiating position of the UK government that I hope will be more in line with the will and the interests of the British citizens."
Reuse content