Theresa May's plan to trigger Article 50 without consulting Parliament is "the biggest attack on democracy the UK has ever known", a court will be told in the legal case against Brexit, The Independent can reveal.
Lawyers will argue the referendum was marred and undermined by "exaggerated concerns" and "outright falsehoods" by Leave campaigners that left many voters uninformed about what they were actually voting for.
Legal documents seen by The Independent detail the court testimonies from anti-Brexit campaigners that will be argued in the High Court in London ahead of the legal bid beginning on 13 October. The People's Challenge group is a crowdfunded campaign taking the Government to court in a bid to force the Prime Minister to get parliamentary approval before triggering Article 50. Ms May recently revealed she plans to do so by the end of March 2017.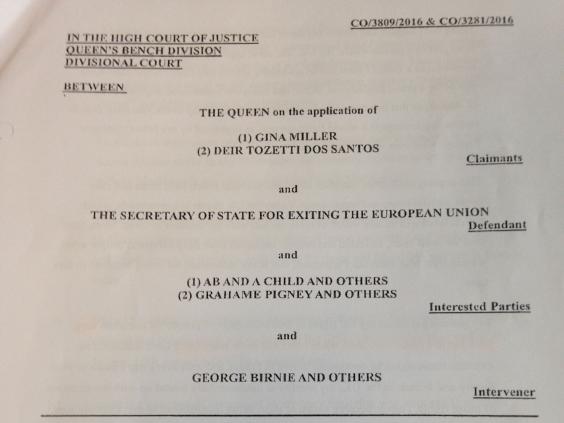 The group, represented by lawyer John Halford of the law firm Bindmans, is composed of "concerned individuals" and includes British citizens living abroad, a Northern Irish person, a Gibraltar person and the British son of Bangladeshi immigrants. Witness statements submitted by the group to the High Court outline the arguments on which their case is based ahead of the hearing.
They are calling for Parliament to approve if or when to trigger Article 50, a legal mechanism provided by the Lisbon Treaty initiating a two year withdrawal period for the UK to leave the EU. 
One witness statement to be read to the court says: "It seemed to me that the most decisive factors in the campaign were exaggerated concerns about immigration and outright falsehoods ... Even some UK citizens holidaying in the rest of the EU are unaware of the rights and regulations that make doing so so easy. 
"Whether used, cherished or not, they are fundamentally important and practical part of the rights and benefits of being a UK and European citizen. People did not have information about the Government's plans as regards what would happen to these rights and freedoms before voting in the 2016 UK referendum." The testimony is signed by Grahame Pigney, a 62-year-old British man who has been living in France since 1998. Describing his identity in the statement, he says: "I consider myself English, Scottish (my maternal grandmother was a Ross and I frequently wear the kilt), British and European."
His 22-year-old son Robert Pigney, who has lived in France with his parents since he was three years old, argues in his witness submission to the court: "I was aghast when I found out the Prime Minister planned to invoke Article 50 without consulting Parliament, less still allowing it to make decisions in a proper legislative process. I had thought it unthinkable that a Prime Minister with no election mandate and no Parliamentary mandate would make such a momentous decision.
"The very act of bypassing Parliament [is] dangerously undemocratic at best ... Peoples' jobs and livelihoods are at stake. Peoples' security is at stake. The very integrity of the UK is at stake. To exclude Parliament from decision-making process on how to respond to the referendum would, I believe, be the greatest attack on democracy the UK has ever known. It cannot be lawful in a Parliamentary democracy."
A submission to be read in court from Christopher Formaggia, a 49-year-old former RAF man living in Monmouthshire in Wales, says he is "horrified" by plans for the Prime Minister to trigger Article 50 without consulting Parliament, calling the move "a profound abuse of executive power". He also argues the EU referendum "seemed to be wholly motivated by a desire to resolve internal division in the Conservative Party".
Representations are also made from Gibraltar and Northern Ireland arguing that Brexit would have a detrimental impact on the regions, which both voted to remain in the EU. Representing Gibraltar, 50-year-old Paul Cartwright, will argue: "Gibraltar's relationship with Spain is difficult enough. Freedom of movement is what makes it tolerable. Many people like me rely on being able to travel freely through the border for work or businesses, including those supplying goods and services. Families also live on both sides of the border. For example, [my wife] Marie has dual nationality but she relies on the frontier being easy to travel through every day because her father is very sick."
Fergal McFerran, a well-known activist in Northern Ireland and president of the Northern Irish student union body, will also make the case that Brexit could be harmful to Northern Ireland, which voted to stay in the EU by a margin of 56 per cent. As it shares a land border with the Republic of Ireland, concerns have been raised as to how freedom of movement could be affected by withdrawal from the EU and whether this could have an adverse impact on the Northern Irish peace process. 
His statement to the court will read: "I am 24 years old, reside in Belfast, Northern Ireland ... I am acutely conscious of, and deeply troubled by, the fact that invoking Article 50 using the royal prerogative would be neither transparent nor accountable to Parliament and would eliminate all meaningful involvement of the Northern Ireland Executive and Assembly.
"If and how the UK leaves the EU will immediately raise questions over whether the border will have to be 'hardened', how that might be done and what its effects on freedom and, in turn, the Common Travel Area between the UK and the Republic of Ireland, might be. It is almost impossible to envisage change that will not lead to the compromising of rights and the need to revisit the Good Friday Agreement."
The High Court will hear the group's arguments in a case beginning on 13 October, expected to conclude on 18 October.
Brexit Concerns
Brexit Concerns
1/26 Brexit will put British patients at 'back of the queue' for new drugs

Brexit will put British patients at the "back of the queue" for vital new drugs, the Government has been warned – forcing them to wait up to two years longer A medicines regulator has raised the alarm over a likely decision to pull out of the European Medicines Agency (EMA), as well as the EU itself. ealth Secretary Jeremy Hunt dropped the bombshell , when he said he expected the UK would quit the EMA – because it is subject to rulings by the European Court of Justice.

Getty Images

2/26 London to lose status as 'gateway to Europe' for banks

One of Germany's top banking regulators has warned that London could lose its status as "gateway to Europe" for the banking sector after Britain quits the European trading bloc. Andreas Dombret, who is an executive board member for the Bundesbank—Germany's central bank—told a private meeting of German businesses and banks earlier this week in Frankfurt that even if banking rules were "equivalent" between the UK and the rest of the EU, that was still "miles away from [Britain having] access to the single market", the BBC reports.

Jason Hawkes

3/26 Exodus

The number of financial sector professionals in Britain and continental Europe looking for jobs in Ireland rocketed in the months after the UK voted to leave the European Union

Shutterstock

4/26 Brexit is making FTSE 100 executives richer

Pay packages of many FTSE 100 chief executive officers are partly tied to how well share prices are doing rather than the CEO's performance -- and some stocks are soaring. ritish equities got a boost since the June vote because the likes of Rio Tinto, Smiths Group and WPP generate most sales abroad and earn a fortune when they convert these revenues back into the weakened pound. Sterling's fall also made UK stocks more affordable for overseas investors.

Rex

5/26 Theresa May: UK to leave single market

Theresa May has said the UK "cannot possibly" remain within the European single market, as staying in it would mean "not leaving the EU at all".

Getty

6/26

Lead campaigner Gina Miller and her team outside the High Court

Getty

7/26

Raymond McCord holds up his newly issued Irish passport alongside his British passport outside the High Court in Belfast following a judges dismissal of the UK's first legal challenges to Brexit

PA wire

8/26

SDLP leader Colum Eastwood leaving the High Court in Belfast following a judges dismissal of the UK's first legal challenges to Brexit

PA wire

9/26

Migrants with luggage walk past a graffiti on a wall as they leave the 'Jungle' migrant camp, as part of a major three-day operation planned to clear the camp in Calais

Getty

10/26

Migrants leave messages on their tents in the Jungle migrant camp

Getty

11/26

The Adventist Development and Relief Agency (Adra) which distributes approximately 700 meals daily in the northern Paris camp states that it is noticing a spike in new migrant arrivals this week, potentially linked the the Calais 'jungle' camp closure - with around 1000 meals distributed today

EPA

12/26

Migrant workers pick apples at Stocks Farm in Suckley, Britain

Reuters

13/26

Many farmers across the country are voicing concerns that Brexit could be a dangerous step into the unknown for the farming industry

Getty

14/26

Bank of England governor Mark Carney who said the long-term outlook for the UK economy is positive, but growth was slowing in the wake of the Brexit vote

PA

15/26

The Dow Jones industrial average closed down over 600 points on the news with markets around the globe pluninging

Getty

16/26

Immigration officers deal with each member of the public seeking entry into the United Kingdom but on average, 10 a day are refused entry at this London airport and between 2008 and 2009, 33,100 people were detained at the airport for mainly passport irregularities

Getty

17/26

A number of global investment giants have threatened to move their European operations out of London if Brexit proves to have a negative impact on their businesses

Getty

18/26

Following the possibility of a Brexit the UK would be released from its renewable energy targets under the EU Renewable Energy Directive and from EU state aid restrictions, potentially giving the government more freedom both in the design and phasing out of renewable energy support regimes

Getty

19/26

A woman looking at a chart showing the drop in the pound (Sterling) against the US Dollar in London after Britain voted to leave the EU

Getty

20/26

Young protesters outside the Houses of Parliament in Westminster, to protest against the United Kingdom's decision to leave the EU following the referendum

Getty

21/26

Applications from Northern Ireland citizens for Irish Passports has soared to a record high after the UK Voted in favour of Leaving the EU

Getty

22/26

NFU Vice President Minette Batters with Secretary of State, Andrea Leadsome at the National Farmers Union (NFU) took machinery, produce, farmers and staff to Westminster to encourage Members of Parliament to back British farming, post Brexit

Getty

23/26

The latest reports released by the UK Cabinet Office warn that expats would lose a range of specific rights to live, to work and to access pensions, healthcare and public services. The same reports added that UK citizens abroad would not be able to assume that these rights will be guaranteed in the future

Getty

24/26

A British resident living in Spain asks questions during an informative Brexit talk by the "Brexpats in Spain" group, about Spanish legal issues to become Spanish citizens, at the town hall in Benalmadena, Spain

Reuters

25/26

The collapse of Great Britain appears to have been greatly exaggerated given the late summer crowds visiting city museums, hotels, and other important tourist attractions

Getty

26/26

The U.K. should maintain European Union regulations covering everything from working hours to chemicals until after the government sets out its plans for Brexit, said British manufacturers anxious to avoid a policy vacuum and safeguard access to their biggest export market

Getty
Last week, the group secured their first major victory in the case when the Government's legal team was ordered by a judge to disclose their arguments for triggering Article 50 without consulting Parliament.
As a majority of MPs supported remaining in the EU, some anti-Brexit campaigners argue that a parliamentary vote could vote down triggering Article 50 meaning that Brexit does not occur. Others have argued that it would mean MPs are able to soften Brexit by ensuring terms are better for British citizens.
A separate legal challenge is being taken in Belfast by the father of a man murdered by loyalist paramilitaries during the Troubles conflict and a cross-community alliance of local politicians. They argue Brexit could damage the peace process and have called for Stormont to be consulted and approve plans to leave.
Leave supporters have said attempts to stop Article 50 from being triggered are unfair and disregard the will of the people as 52 per cent of voters opted to leave the EU. Prominent Conservative politician and Leave campaigner Iain Duncan Smith has urged Ms May to trigger Article 50 "as soon as possible" to stop the referendum becoming a "neverendum".
Reuse content