Germany's Foreign Minister has cast doubt on Theresa May's insistence that both a Brexit divorce deal and new free trade agreement with the EU can be completed by 2019.
In an exclusive interview with The Independent, Sigmar Gabriel said new trade relations would be "a laborious endeavour", suggesting the UK may have to settle for simply getting "as far as we can" in the two years allowed for talks.
Mr Gabriel, also Angela Merkel's Vice Chancellor, then said Ms May must give "certainty" that the UK will settle its Brexit divorce bill before talks begin on any future trade deal between Britain and Europe.
As Mr Gabriel prepares to meet Foreign Secretary Boris Johnson, he also dealt a further blow to the Prime Minister's attempts to tie security to trade talks, saying the fight against terrorism is a "necessity" and not a "political choice".
He also underlined "concerns" about the climate faced by foreigners in the UK amid heightened concerns over hate crime, in particular following a serious assault that left an asylum seeker with a fractured skull.
Mr Gabriel arrives in Britain on his first official visit as Foreign Minister in a bid to shore up "special, close and friendly" relations that he says exist with Britain ahead of Brexit talks, but he made clear that the "coherence and unity" of the remaining 27 EU states will come first in negotiations.
He spoke to The Independent less than a week after Ms May sent her letter to European Council President Donald Tusk triggering Article 50 and launching a two-year countdown to Britain's departure from the EU.
Both in the letter and previous speeches, Ms May has said she wants both a withdrawal deal and future trade terms "agreed in the time period set out" under the article of the Lisbon Treaty.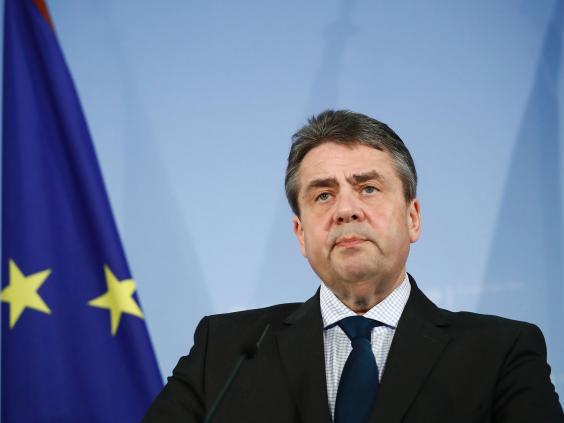 But asked whether it was possible, Mr Gabriel questioned the feasibility of what has now become a key premise of Ms May's approach to Brexit.
"We are as keen as the UK is to complete both agreements as soon as possible," he said.
"First, we have to get things right on the orderly withdrawal, then we will want to talk as soon as possible about our future relationship and get as far as we can within the next two years.
"However, I don't want to speculate on time frames at a time when negotiations have not even started yet. Both sides must recognise that an agreement on a wide-ranging partnership will be quite a laborious endeavour."
Ms May was also clear in her letter that she wants both the divorce talks and those related to a future trade agreement to occur in parallel, something that would allow them to be completed quicker.
But Chancellor Merkel was among the first European politicians to pour cold water on the plan.
Mr Tusk followed suit when he set out the EU's draft negotiating position, stating that "sufficient progress" would have to be made on withdrawal talks before trade talks could begin.
Asked what "sufficient progress" would mean to Germany, he said: "We want to minimise...uncertainties as soon as possible. This is why I believe the UK and the EU should strive to secure an orderly withdrawal as their first order of business. It's also why we share the position that has been laid out by President Tusk in the guidelines."
He then added: "We'll also have to work together towards achieving certainty that the UK will honour its financial obligations towards the EU."
Some have put the bill the UK could face - to settle existing commitments to EU programmes and costs - as high as €60bn, though lower estimates come in at half as much.
Ms May faces a battle on the continent to clear the issue and begin trade talks, while also under intense pressure from the Tory right to pay as little as possible.
Her Article 50 letter appeared to suggest she would use the UK's valued intelligence and security cooperation in the fight against crime and terror as leverage to force her point in Brussels, sparking dismay from Europe's politicians.
Only after calls from Downing St did they take the Government's "word" that Ms May had not meant to threaten withdrawing cooperation.
Mr Gabriel said of the furore: "If you look at the security threats we are facing today, from terrorism to organised crime to cyber attacks, you'll see terrorist and criminal acts are increasingly transnational.
"These people don't care about borders, and they surely won't wait for us to figure out a way to work together on security matters after Brexit.
"The nature of these threats makes security cooperation more of a necessity than a matter of political choice. No citizen in the EU or the UK would accept a negative impact on security due to a reduced level of cooperation after Brexit. That's why I believe it's in our shared interest to maintain close security cooperation."
Mr Gabriel highlighted guaranteeing the rights of both EU and UK citizens who have built up a life abroad, as another priority.
But the Foreign Minister went on to raise concerns about the general climate faced by foreigners in Brexit Britain.
He spoke as police question individuals in relation to the severe beating of an asylum seeker in South London and in addition to comments made by French Ambassador Sylvie Bermann on how her country's citizens faced abuse following the EU referendum.
He said: "We often hear from foreigners who reside in the UK and who are very concerned about Brexit and its consequences, not only for their rights but also for the general climate towards foreigners. This concerns me.
"I am very fond of the strong bonds of friendship which have developed over the last 70 years between the people of the UK and Germany. It would be very sad to see these bonds weakened or broken."
He emphasised that it would be essential to "continue fostering our friendship and people-to-people contacts between the UK and the continent, adding: "Brexit is a fact and there will always be friendship between our people."
Brexit Concerns
Brexit Concerns
1/26 Brexit will put British patients at 'back of the queue' for new drugs

Brexit will put British patients at the "back of the queue" for vital new drugs, the Government has been warned – forcing them to wait up to two years longer A medicines regulator has raised the alarm over a likely decision to pull out of the European Medicines Agency (EMA), as well as the EU itself. ealth Secretary Jeremy Hunt dropped the bombshell , when he said he expected the UK would quit the EMA – because it is subject to rulings by the European Court of Justice.

Getty Images

2/26 London to lose status as 'gateway to Europe' for banks

One of Germany's top banking regulators has warned that London could lose its status as "gateway to Europe" for the banking sector after Britain quits the European trading bloc. Andreas Dombret, who is an executive board member for the Bundesbank—Germany's central bank—told a private meeting of German businesses and banks earlier this week in Frankfurt that even if banking rules were "equivalent" between the UK and the rest of the EU, that was still "miles away from [Britain having] access to the single market", the BBC reports.

Jason Hawkes

3/26 Exodus

The number of financial sector professionals in Britain and continental Europe looking for jobs in Ireland rocketed in the months after the UK voted to leave the European Union

Shutterstock

4/26 Brexit is making FTSE 100 executives richer

Pay packages of many FTSE 100 chief executive officers are partly tied to how well share prices are doing rather than the CEO's performance -- and some stocks are soaring. ritish equities got a boost since the June vote because the likes of Rio Tinto, Smiths Group and WPP generate most sales abroad and earn a fortune when they convert these revenues back into the weakened pound. Sterling's fall also made UK stocks more affordable for overseas investors.

Rex

5/26 Theresa May: UK to leave single market

Theresa May has said the UK "cannot possibly" remain within the European single market, as staying in it would mean "not leaving the EU at all".

Getty

6/26

Lead campaigner Gina Miller and her team outside the High Court

Getty

7/26

Raymond McCord holds up his newly issued Irish passport alongside his British passport outside the High Court in Belfast following a judges dismissal of the UK's first legal challenges to Brexit

PA wire

8/26

SDLP leader Colum Eastwood leaving the High Court in Belfast following a judges dismissal of the UK's first legal challenges to Brexit

PA wire

9/26

Migrants with luggage walk past a graffiti on a wall as they leave the 'Jungle' migrant camp, as part of a major three-day operation planned to clear the camp in Calais

Getty

10/26

Migrants leave messages on their tents in the Jungle migrant camp

Getty

11/26

The Adventist Development and Relief Agency (Adra) which distributes approximately 700 meals daily in the northern Paris camp states that it is noticing a spike in new migrant arrivals this week, potentially linked the the Calais 'jungle' camp closure - with around 1000 meals distributed today

EPA

12/26

Migrant workers pick apples at Stocks Farm in Suckley, Britain

Reuters

13/26

Many farmers across the country are voicing concerns that Brexit could be a dangerous step into the unknown for the farming industry

Getty

14/26

Bank of England governor Mark Carney who said the long-term outlook for the UK economy is positive, but growth was slowing in the wake of the Brexit vote

PA

15/26

The Dow Jones industrial average closed down over 600 points on the news with markets around the globe pluninging

Getty

16/26

Immigration officers deal with each member of the public seeking entry into the United Kingdom but on average, 10 a day are refused entry at this London airport and between 2008 and 2009, 33,100 people were detained at the airport for mainly passport irregularities

Getty

17/26

A number of global investment giants have threatened to move their European operations out of London if Brexit proves to have a negative impact on their businesses

Getty

18/26

Following the possibility of a Brexit the UK would be released from its renewable energy targets under the EU Renewable Energy Directive and from EU state aid restrictions, potentially giving the government more freedom both in the design and phasing out of renewable energy support regimes

Getty

19/26

A woman looking at a chart showing the drop in the pound (Sterling) against the US Dollar in London after Britain voted to leave the EU

Getty

20/26

Young protesters outside the Houses of Parliament in Westminster, to protest against the United Kingdom's decision to leave the EU following the referendum

Getty

21/26

Applications from Northern Ireland citizens for Irish Passports has soared to a record high after the UK Voted in favour of Leaving the EU

Getty

22/26

NFU Vice President Minette Batters with Secretary of State, Andrea Leadsome at the National Farmers Union (NFU) took machinery, produce, farmers and staff to Westminster to encourage Members of Parliament to back British farming, post Brexit

Getty

23/26

The latest reports released by the UK Cabinet Office warn that expats would lose a range of specific rights to live, to work and to access pensions, healthcare and public services. The same reports added that UK citizens abroad would not be able to assume that these rights will be guaranteed in the future

Getty

24/26

A British resident living in Spain asks questions during an informative Brexit talk by the "Brexpats in Spain" group, about Spanish legal issues to become Spanish citizens, at the town hall in Benalmadena, Spain

Reuters

25/26

The collapse of Great Britain appears to have been greatly exaggerated given the late summer crowds visiting city museums, hotels, and other important tourist attractions

Getty

26/26

The U.K. should maintain European Union regulations covering everything from working hours to chemicals until after the government sets out its plans for Brexit, said British manufacturers anxious to avoid a policy vacuum and safeguard access to their biggest export market

Getty
Mr Gabriel, who belongs to the centre left SPD that rivals Ms Merkel's CDU despite being in coalition, said  pending German elections would have little impact on the country's Brexit stance.
The SPD's Martin Schulz, ex-president of the European Parliament, will launch a challenge against Ms Merkel in September, but Mr Gabriel said: "The idea of European integration has been one of the strongest continuities in the history of German political thinking since World War II.
"Every German government from Konrad Adenauer to Willy Brandt, from Gerhard Schröder to Angela Merkel, has known - Germany's future lies in the European Union. This explains why there is a solid consensus on Brexit."
A spokesman for Boris Johnson said: "The foreign secretary will tell the minister face to face that we want a deep and special partnership and want to work closely with our EU partners to get the best deal for both sides.
"He will make clear that this should not be like a divorce and we should enter discussions in a positive way. He will also reassure him that we will not use defence and security as a bargaining chip in negotiations but also that Gibraltar is also not a chip for bargaining."
Reuse content