Theresa May will finally try to kill criticism that her Brexit vision is too vague by setting out a list of her "negotiating priorities" for EU withdrawal talks.
Downing Street sources said today's long-anticipated speech from the Prime Minister will shed new light on the critical question of Britain's single market membership and the EU customs union.
But critics in her own party who have attacked Ms May's ambiguous approach to date piled on the pressure by warning of "big problems" if she fails to give real detail of her approach ahead of an expected Commons vote on launching Brexit talks.
The major speech also comes as an exclusive BMG Research poll for The Independent revealed more people believe Ms May is handling Brexit preparations badly than well.
Ms May's enigmatic speeches and interviews on Brexit up to now have been met with constant claims that she has no real Brexit plan, but in the speech at Lancaster House she has promised to set out "12 negotiating priorities and the four key principles driving them".
She will say: "We have 12 objectives that amount to one big goal: A new, positive and constructive partnership between Britain and the European Union.
"And as we negotiate that partnership, we will be driven by some simple principles. We will provide as much certainty and clarity as we can at every stage. And we will take this opportunity to make Britain stronger, to make Britain fairer, and to build a more global Britain too."
To date the Prime Minister has rejected interpretations of her words that suggest she is taking the UK towards a hard Brexit, with the UK leaving the single market and customs union, by claiming she does not even recognise the term. But extracts of her speech will further fuel speculation over the matter.
She will say: "We seek a new and equal partnership – between an independent, self-governing, global Britain and our friends and allies in the EU.
"Not partial membership of the European Union, associate membership of the European Union, or anything that leaves us half in, half out. We do not seek to adopt a model already enjoyed by other countries. We do not seek to hold on to bits of membership as we leave.
"The United Kingdom is leaving the European Union. My job is to get the right deal for Britain as we do."
A No 10 insider said the speech would bring more clarity to questions over the single market and customs union, but some MPs were not convinced.
Over the next two weeks the Supreme Court is set to rule whether Ms May must give Parliament a vote on triggering Article 50, something even ministers expect it to do.
MPs have been promised details of her approach to Brexit to inform the vote. But many were expecting a separate document in addition to Ms May's speech, which they suspect will be nebulous.
With No 10 sources suggesting Ms May's speech will be all they get, one senior Tory backbencher told The Independent: "If Downing Street think that this speech is going to be the plan that will be voted on by the House of Commons they will have big problems with that.
"A bunch of us will take a very dim view of that and the Labour party is expected to as well. They promised a plan, a speech is not a plan."
Another Tory MP demanded more clarity over the Prime Minister's approach to the single market, adding: "If it's this idea that we leave and arrange preferential access for certain sectors, then which?
"If it's cars or pharmaceuticals, then what about other industries? What about aerospace, for which parts of their products are manufactured all over Europe? The customs union is important to them too. That's what we mean by certainty."
Conservative MP Neil Carmichael, a leading supporter of the Open Britain campaign, said: "The Prime Minister's commitment to trading as freely as possible with the EU is welcome, but the best possible trading arrangement with the EU is full participation in the single market.
"No other arrangement is comparable, and so if the Government abandons membership of the single market, they will start the negotiations opting for second best."
Brexit Concerns
Brexit Concerns
1/26 Brexit will put British patients at 'back of the queue' for new drugs

Brexit will put British patients at the "back of the queue" for vital new drugs, the Government has been warned – forcing them to wait up to two years longer A medicines regulator has raised the alarm over a likely decision to pull out of the European Medicines Agency (EMA), as well as the EU itself. ealth Secretary Jeremy Hunt dropped the bombshell , when he said he expected the UK would quit the EMA – because it is subject to rulings by the European Court of Justice.

Getty Images

2/26 London to lose status as 'gateway to Europe' for banks

One of Germany's top banking regulators has warned that London could lose its status as "gateway to Europe" for the banking sector after Britain quits the European trading bloc. Andreas Dombret, who is an executive board member for the Bundesbank—Germany's central bank—told a private meeting of German businesses and banks earlier this week in Frankfurt that even if banking rules were "equivalent" between the UK and the rest of the EU, that was still "miles away from [Britain having] access to the single market", the BBC reports.

Jason Hawkes

3/26 Exodus

The number of financial sector professionals in Britain and continental Europe looking for jobs in Ireland rocketed in the months after the UK voted to leave the European Union

Shutterstock

4/26 Brexit is making FTSE 100 executives richer

Pay packages of many FTSE 100 chief executive officers are partly tied to how well share prices are doing rather than the CEO's performance -- and some stocks are soaring. ritish equities got a boost since the June vote because the likes of Rio Tinto, Smiths Group and WPP generate most sales abroad and earn a fortune when they convert these revenues back into the weakened pound. Sterling's fall also made UK stocks more affordable for overseas investors.

Rex

5/26 Theresa May: UK to leave single market

Theresa May has said the UK "cannot possibly" remain within the European single market, as staying in it would mean "not leaving the EU at all".

Getty

6/26

Lead campaigner Gina Miller and her team outside the High Court

Getty

7/26

Raymond McCord holds up his newly issued Irish passport alongside his British passport outside the High Court in Belfast following a judges dismissal of the UK's first legal challenges to Brexit

PA wire

8/26

SDLP leader Colum Eastwood leaving the High Court in Belfast following a judges dismissal of the UK's first legal challenges to Brexit

PA wire

9/26

Migrants with luggage walk past a graffiti on a wall as they leave the 'Jungle' migrant camp, as part of a major three-day operation planned to clear the camp in Calais

Getty

10/26

Migrants leave messages on their tents in the Jungle migrant camp

Getty

11/26

The Adventist Development and Relief Agency (Adra) which distributes approximately 700 meals daily in the northern Paris camp states that it is noticing a spike in new migrant arrivals this week, potentially linked the the Calais 'jungle' camp closure - with around 1000 meals distributed today

EPA

12/26

Migrant workers pick apples at Stocks Farm in Suckley, Britain

Reuters

13/26

Many farmers across the country are voicing concerns that Brexit could be a dangerous step into the unknown for the farming industry

Getty

14/26

Bank of England governor Mark Carney who said the long-term outlook for the UK economy is positive, but growth was slowing in the wake of the Brexit vote

PA

15/26

The Dow Jones industrial average closed down over 600 points on the news with markets around the globe pluninging

Getty

16/26

Immigration officers deal with each member of the public seeking entry into the United Kingdom but on average, 10 a day are refused entry at this London airport and between 2008 and 2009, 33,100 people were detained at the airport for mainly passport irregularities

Getty

17/26

A number of global investment giants have threatened to move their European operations out of London if Brexit proves to have a negative impact on their businesses

Getty

18/26

Following the possibility of a Brexit the UK would be released from its renewable energy targets under the EU Renewable Energy Directive and from EU state aid restrictions, potentially giving the government more freedom both in the design and phasing out of renewable energy support regimes

Getty

19/26

A woman looking at a chart showing the drop in the pound (Sterling) against the US Dollar in London after Britain voted to leave the EU

Getty

20/26

Young protesters outside the Houses of Parliament in Westminster, to protest against the United Kingdom's decision to leave the EU following the referendum

Getty

21/26

Applications from Northern Ireland citizens for Irish Passports has soared to a record high after the UK Voted in favour of Leaving the EU

Getty

22/26

NFU Vice President Minette Batters with Secretary of State, Andrea Leadsome at the National Farmers Union (NFU) took machinery, produce, farmers and staff to Westminster to encourage Members of Parliament to back British farming, post Brexit

Getty

23/26

The latest reports released by the UK Cabinet Office warn that expats would lose a range of specific rights to live, to work and to access pensions, healthcare and public services. The same reports added that UK citizens abroad would not be able to assume that these rights will be guaranteed in the future

Getty

24/26

A British resident living in Spain asks questions during an informative Brexit talk by the "Brexpats in Spain" group, about Spanish legal issues to become Spanish citizens, at the town hall in Benalmadena, Spain

Reuters

25/26

The collapse of Great Britain appears to have been greatly exaggerated given the late summer crowds visiting city museums, hotels, and other important tourist attractions

Getty

26/26

The U.K. should maintain European Union regulations covering everything from working hours to chemicals until after the government sets out its plans for Brexit, said British manufacturers anxious to avoid a policy vacuum and safeguard access to their biggest export market

Getty
Tory peer Patience Wheatcroft, who has led calls for Parliament to have more say on Brexit, said: "I'm not expecting a great deal of detail beyond 'control of our borders' and 'we will be looking for the best possible terms of trade within the single market'.
"There will no doubt be quite a lot about what good news it is that President-elect Trump is keen to see us doing a lot of business with the US, but that doesn't amount to a great deal. I would like to hear we won't be triggering Article 50 until after the French and German elections, because what's the point until you know who will be on the other side of the table? I hope, but don't expect, that she will promise a vote in Parliament on the terms of the deal she gets."
An exclusive poll for The Independent by BMG Research found that when people were asked, "In your opinion, is Theresa May doing a good job, or bad job, preparing the UK for Brexit?", just 25 per cent said she is doing a "good" or "very good" job. 
Meanwhile almost a third, 30 per cent said she is doing a "bad" or "very bad" job, 27 per cent said she is doing average and 18 per cent said they did not know.
Last night a YouGov poll also showed more people supported some form of soft Brexit, 47 per cent, than the hard Brexit approach apparently being pursued by the Prime Minister, which had the support of 30 per cent of those surveyed.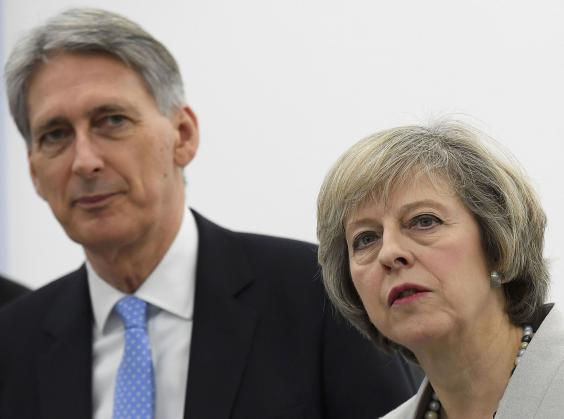 Ms May's speech also comes after Chancellor Philip Hammond suggested in an interview that Britain could transform its economic model into that of a corporate tax haven if the EU fails to provide it with an agreement on market access after Brexit.
Labour's shadow Brexit secretary Sir Keir  Starmer told The Independent: "Tomorrow the Prime Minister has the chance to finally provide some clarity over her Brexit strategy and reassure the country.
"Having spoken to businesses, trade unions and communities across the UK it is clear what they need to hear; that the Prime Minister will put jobs and the economy first, ensure companies are able to trade without tariffs or additional impediments, that there will be no watering down of key employment or environmental rights; and that we will form a new cooperative relationship with the EU. That is an ambitious approach to Brexit but we should expect nothing less.
"The Prime Minister also needs to recognise that a one-off speech is not the same as a plan for Brexit. The House of Commons voted overwhelmingly for a Brexit plan to be published before Article 50 is triggered and Labour will hold the Government to it."
Liberal Democrat leader Tim Farron claimed the kind of Brexit Ms May is exploring would be "destructive".
He said: "Hard Brexit and the consequences will be felt by millions of people through higher prices, greater instability and rising fuel costs.
"Theresa May can say everyone must come together, but when she delivers a message like this no one will believe her."