An arms company that sold missiles to the Gaddafi regime in Libya is a "role model" for the sort of business Britain will be engaged in after Brexit, the Defence Secretary has said.
Sir Michael Fallon said MBDA is "strengthening the reputation of this country" with its work and that it is "a role model for the kind of partnerships we'll be seeking" once the UK has left the EU. 
In 2007 MBDA signed a contract to provide £200 million worth of missiles and military communications equipment to Colonel Gaddafi's regime in Libya. The dictator was deposed in 2011 during a brutal civil war during which he was accused of bombing his own citizens.
The firm also makes the Brimstone and Storm Shadow missiles and sells them to the Saudi Arabian air force, which is bombing civilians in Yemen. The UN estimates that Saudi-led forces have caused the vast majority of civilian deaths in the country's bloody conflict, with reports of schools, hospitals and food factories being bombed. It is estimated that one third of Yemen's 24 million people are at risk of starvation.
Anti-arms trade activists slammed the Defence Secretary for courting the arms company, accusing him of glorying a firm that "profits from war and arms tyrants".
Sir Michael said MBDA had built "a great reputation manufacturing missiles that keep us safe" as he unveiled a £539 million MoD contract for the firm to supply Britain with three new missile systems. He said the contract was worth 130 jobs in Britain.
"As you know we are leaving the European Union but in leaving the European Union we are going to become an even more global country, reaching out to our friends and allies across the world," he told assembled staff members at the firm's headquarters in Stevenage.
"If you want to know what that means in practice look at yourselves, look at your company here. A partnership that already combines British, French, German, Italian skills in one company, forming the only European group that is capable of creating these kinds of missile systems that meet the multiple demands of all the different domains: land, sea, and air.
"You are a role model here for the kind of partnerships we'll be seeking in future: for our defence, for our manufacturing, and for our country."
When asked by The Independent whether he considered the sale of arms to the Gaddafi regime to be "role model" behaviour, Sir Michael said: "You know our arms export criteria are some of the strictest we have in the world and we take very good care to look at every single licence application to make sure they conform to the criteria."
Asked whether the British Government was making the same mistake it had made in 2007 by signing off arms sales to Saudi Arabia, he replied: "Saudi Arabia has the right to defend itself. It's being attacked by Houthi missiles over its southern border and is also attempting to restore the legitimate government of Yemen. 
"Every export application that we have for Saudi Arabia gets scrutinised against our normal criteria. There's a court case pending at the moment and we'll wait for the result of that."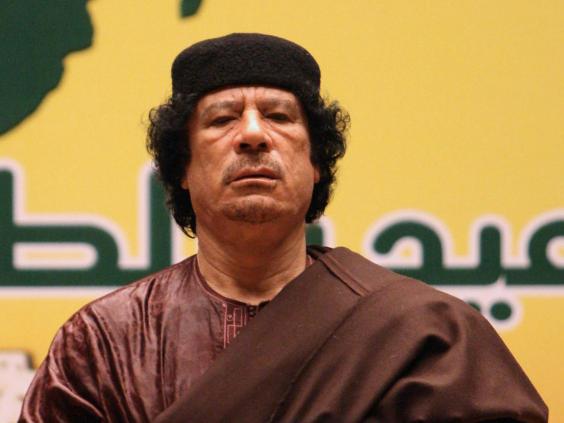 Sir Michael also backed BAE, which part owns MDBA, to sell more arms to the Saudi Arabian government. The firm is seeking a significant new contract with the autocratic petro-state. 
"Are we supporting them? Absolutely. It's something ministers have been pressing with the Saudi government for a number of years now," he said.
Britain is the second biggest arms exporter in the world, according to UK Trade and Investment. The Independent revealed last year that Britain has sold weapons to 22 of the 30 countries on its own human rights watchlist since 2010.
The Government is currently defending a High Court challenge by campaigners who say that it is breaking its own arms exporting licence criteria by continuing to sign off the sale of arms to Saudi Arabia.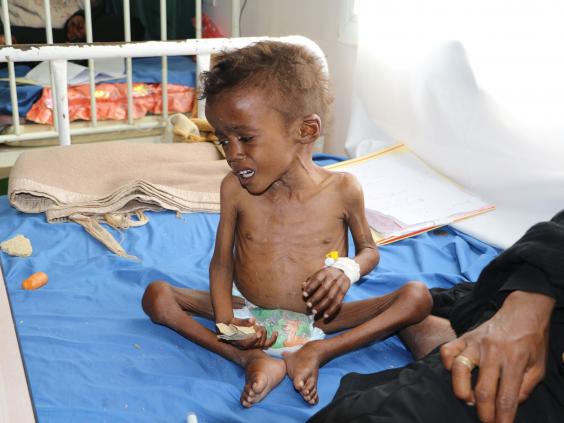 Documents revealed in court show the head of the Government's own Export Control Organisation recommended arms sales be stopped, but this advice was not adopted by ministers. The court is currently considering its verdict. Saudi Arabia is intervening in Yemen on the side of the internationally recognised Yemeni government and fighting against Houthi rebels.
Andrew Smith of Campaign Against the Arms Trade said: "If Fallon believes MBDA is a role-model then it says very worrying things about how he sees the UK's post-Brexit future
"MBDA is a company that profits from war and arms tyrants, it is among the last companies Fallon should be encouraging others to replicate. 
10 examples of Saudi Arabia's human rights abuses
10 examples of Saudi Arabia's human rights abuses
1/10

In October 2014, three lawyers, Dr Abdulrahman al-Subaihi, Bander al-Nogaithan and Abdulrahman al-Rumaih , were sentenced to up to eight years in prison for using Twitter to criticize the Ministry of Justice.

AFP/Getty Images

2/10

In March 2015, Yemen's Sunni President Abd-Rabbu Mansour Hadi was forced into exile after a Shia-led insurgency. A Saudi Arabia-led coalition has responded with air strikes in order to reinstate Mr Hadi. It has since been accused of committing war crimes in the country.

Getty Images

3/10

Women who supported the Women2Drive campaign, launched in 2011 to challenge the ban on women driving vehicles, faced harassment and intimidation by the authorities. The government warned that women drivers would face arrest.

Getty Images

4/10

Members of the Kingdom's Shia minority, most of whom live in the oil-rich Eastern Province, continue to face discrimination that limits their access to government services and employment. Activists have received death sentences or long prison terms for their alleged participation in protests in 2011 and 2012.

Getty Images

5/10

All public gatherings are prohibited under an order issued by the Interior Ministry in 2011. Those defy the ban face arrest, prosecution and imprisonment on charges such as "inciting people against the authorities".

Getty Images

6/10

In March 2014, the Interior Ministry stated that authorities had deported over 370,000 foreign migrants and that 18,000 others were in detention. Thousands of workers were returned to Somalia and other states where they were at risk of human rights abuses, with large numbers also returned to Yemen, in order to open more jobs to Saudi Arabians. Many migrants reported that prior to their deportation they had been packed into overcrowded makeshift detention facilities where they received little food and water and were abused by guards.

Getty Images

7/10

The Saudi Arabian authorities continue to deny access to independent human rights organisations like Amnesty International, and they have been known to take punitive action, including through the courts, against activists and family members of victims who contact Amnesty.

Getty Images

8/10

Raif Badawi was sentenced to 1000 lashes and 10 years in prison for using his liberal blog to criticise Saudi Arabia's clerics. He has already received 50 lashes, which have reportedly left him in poor health.

Carsten Koall/Getty Images

9/10

Dawood al-Marhoon was arrested aged 17 for participating in an anti-government protest. After refusing to spy on his fellow protestors, he was tortured and forced to sign a blank document that would later contain his 'confession'. At Dawood's trial, the prosecution requested death by crucifixion while refusing him a lawyer.

Getty Images

10/10

Ali Mohammed al-Nimr was arrested in 2012 aged either 16 or 17 for participating in protests during the Arab spring. His sentence includes beheading and crucifixion. The international community has spoken out against the punishment and has called on Saudi Arabia to stop. He is the nephew of a prominent government dissident.

Getty
"If the UK is to play a positive role on the world stage then arms companies like MBDA need to be condemned, not celebrated and glorified by Government ministers."
Liberal Democrat Foreign Affairs spokesperson Tom Brake accused Sir Michael's party of "turning the UK into the arms dealer of choice for the world's most repressive regimes".
"If this is Theresa May's vision of a global Britain, it is one which millions of people across the country are disgusted by and want nothing to do with," he said.
Dave Armstrong, managing director of MBDA UK, said: "MBDA is delighted by the continued trust placed in us by the Ministry of Defence and the British military.
"The contracts announced today for Meteor, CAMM, and Sea Viper will help protect all three UK armed services, providing them with new cutting-edge capabilities and ensuring their current system remain relevant for the future.
"They will also help to secure hundreds of highly-skilled people at MBDA UK and in the UK supply chain, maintaining the UK's manufacturing base and providing us with a platform for exports."
Reuse content