It is "democratically unacceptable" that Scotland will be taken out of the EU against its will, Nicola Sturgeon has said, and a second independence referendum is "highly likely".
The First Minister said that the Scottish Government would commence preparations for another independence vote after Scotland bucked the UK trend by voting 62 per cent to 38 per cent for Remain.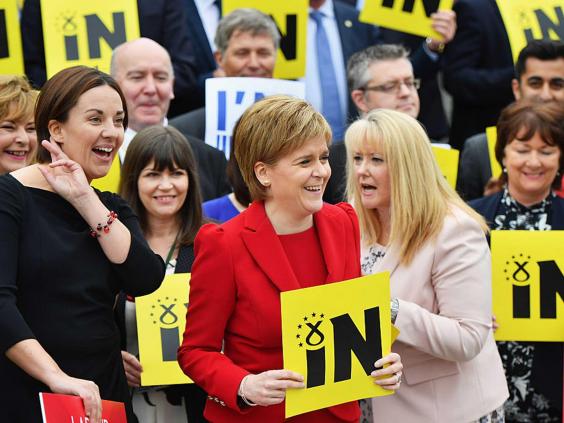 At a news conference in Edinburgh, Ms Sturgeon said that the SNP's manifesto commitment to a second independent referendum in the event of a major change to the UK's circumstances meant it was "a statement of the obvious" that a such a vote was now on the table. 
Scotland rejected independence in a 2014 referendum by a margin of 55 to 45. 
The SNP leader also called for Scotland to be fully involved in the renegotiation of Britain's relationship with the EU, and said she had spoken to London mayor Sadiq Khan who will also be seeking a seat at the negotiating table. 
London, like Scotland, voted firmly for Remain. 
Ms Sturgeon said: "I have made it clear to the prime minister this morning that the Scottish government must be fully and directly involved in any and all decisions about the next steps that the UK government intends to take.
"We will also be seeking direct discussions with the EU institutions and its member states including the earliest possible meeting with the President of the European Commission.
6 ways Britain leaving the EU will affect you
6 ways Britain leaving the EU will affect you
1/6 More expensive foreign holidays

The first practical effect of a vote to Leave is that the pound will be worth less abroad, meaning foreign holidays will cost us more

nito100

2/6 No immediate change in immigration status

The Prime Minister will have to address other immediate concerns. He is likely to reassure nationals of other EU countries living in the UK that their status is unchanged. That is what the Leave campaign has said, so, even after the Brexit negotiations are complete, those who are already in the UK would be allowed to stay

Getty

3/6 Higher inflation

A lower pound means that imports would become more expensive. This is likely to mean the return of inflation – a phenomenon with which many of us are unfamiliar because prices have been stable for so long, rising at no more than about 2 per cent a year. The effect may probably not be particularly noticeable in the first few months. At first price rises would be confined to imported goods – food and clothes being the most obvious – but inflation has a tendency to spread and to gain its own momentum

AFP/Getty Images

4/6 Interest rates might rise

The trouble with inflation is that the Bank of England has a legal obligation to keep it as close to 2 per cent a year as possible. If a fall in the pound threatens to push prices up faster than this, the Bank will raise interest rates. This acts against inflation in three ways. First, it makes the pound more attractive, because deposits in pounds will earn higher interest. Second, it reduces demand by putting up the cost of borrowing, and especially by taking larger mortgage payments out of the economy. Third, it makes it more expensive for businesses to borrow to expand output

Getty

5/6 Did somebody say recession?

Mr Carney, the Treasury and a range of international economists have warned about this. Many Leave voters appear not to have believed them, or to think that they are exaggerating small, long-term effects. But there is no doubt that the Leave vote is a negative shock to the economy. This is because it changes expectations about the economy's future performance. Even though Britain is not actually be leaving the EU for at least two years, companies and investors will start to move money out of Britain, or to scale back plans for expansion, because they are less confident about what would happen after 2018

AFP/Getty Images

6/6 And we wouldn't even get our money back

All this will be happening while the Prime Minister, whoever he or she is, is negotiating the terms of our future access to the EU single market. In the meantime, our trade with the EU would be unaffected, except that companies elsewhere in the EU may be less interested in buying from us or selling to us, expecting tariff barriers to go up in two years' time. Whoever the Chancellor is, he or she may feel the need to bring in a new Budget

Getty Images
"I also be communicated over the weekend with each EU member state to make clear that Scotland has voted to stay in the EU and I intend to discussion all options for doing so.
"I have also spoken this morning with [London] mayor Sadiq Khan and he is clear that he shares this objective for London, so there is clear common cause between us."
Asked whether there was any alternative to a referendum, Ms Sturgeon said:  "I think an independence referendum is now highly likely but I also think it is important that we take time to consider all steps and have the discussions, not least to assess the response of the European Union to the vote that Scotland expressed yesterday."
Reuse content