The UK could suffer a fall in GDP of 4.5% by 2030 if it leaves the EU customs union. 
Cabinet ministers were given stark warnings from multiple sources of the effect of adopting a Norway-style model, in a paper that was circulated at a meeting of Theresa May's Brexit cabinet committee, according to the Guardian. 
Studies by the Treasury, think tank NIESR and London School of Economics' Centre for Economic Performance, made pre-Brexit predictions of the impact of the UK remaining in the single market but leaving the customs union. 
The paper warned that the UK would need to grow trade with its 10 largest partners outside the EU by 37% by 2030 in order to mitigate any negative impact on trade. 
Professor Thomas Sampson at London School of Economics corroborated the warnings, arguing that leaving the customs union would be bad for the economy. 
"Leaving the EU customs union would hurt the British economy and a fall in GDP per capita of 4.5% by 2030 is a sensible estimate of the potential impact. We cannot know for certain how large the costs will be," he told The Independent. 
"At the Centre for Economic Performance at LSE we estimate the effect of leaving the customs union and trading with the EU under World Trade Organisation rules would be equivalent to a fall in living standards of between 2.6% and 9.5% due to reduced trade with the EU."
Professor Sampson advocated a "soft Brexit", warning the consequences of leaving the customs union would result in a fall in wages and would force the government to make cuts. 
"This would mean a fall in average real wages and would lead to lower tax receipts forcing the government to cut public spending," he said. 
"Pursuing a soft Brexit and staying in the Customs Union and the Single Market would be a better option for the British economy."
Ministers were also warned that some ports, including Dover and Holyhead, could find themselves completely log-jammed if custom checks on trade vehicles were implemented. 
Jonathan Roberts, head of communications at the UK Chamber of Shipping, said the dissolution of custom checks in 1992 spurred a huge spike in trade between the UK and the EU.
"When custom checks were abolished in 1992, it basically meant you could trade as easily with Munich as you could with Manchester, we saw a big spike in trade between the UK and the EU," he told The Independent. 
"Whenever you make trade more easy, the volume of trade will inevitably go up."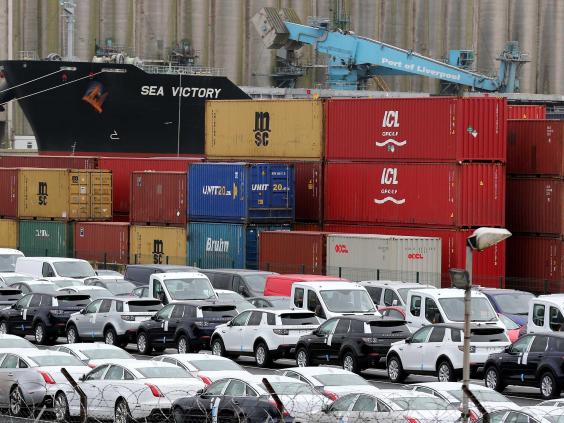 However, he warned UK port and motorway infrastructure had not been designed to accommodate custom controls, which could cause significant backlogs.  
"If there was any kind of reintroduction of customs reporting you would have a backlog, a major traffic problem in and around the ports because there is nowhere for lorries to go while the paperwork is being sorted, so theoretically traffic jams could become commonplace, like the ones we saw earlier in the year that stretched miles long," he said. 
"Making trade more difficult, you could assume there would be a drop in the volume of trade. That would bad for the UK, but crucially for the EU as well. This is the kind of mechanical detail that is never going to be discussed in a referendum debate but that ultimately we need to think of."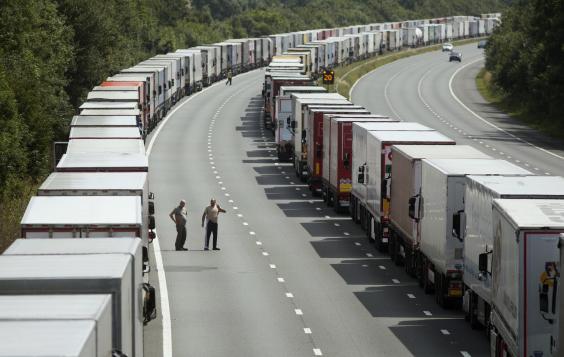 Mr Roberts argued that there was no incentive for Europe to implement strict custom controls due to the amount it imports to the UK. 
"The UK has a trade deficit with the EU so it is not in the EU's interest to see trade become more difficult with the introduction of checks, I think it's quite unlikely there will be a significant reintroduction because it is in no one's interest for that to happen," he said. 
"I assume the UK will come to an agreement with some very light touch custom reporting. The EU sells us far more than we send to them so it's not in their interest to make trade more difficult, so you can make a reasonable stab that neither side wants to harm their trade relationships."
What experts have said about Brexit
What experts have said about Brexit
1/11 Chancellor of the Exchequer Philip Hammond

The Chancellor claims London can still be a world financial hub despite Brexit "One of Britain's great strengths is the ability to offer and aggregate all of the services the global financial services industry needs" "This has not changed as a result of the EU referendum and I will do everything I can to ensure the City of London retains its position as the world's leading international financial centre."

Reuters

2/11 Yanis Varoufakis

Greece's former finance minister compared the UK relations with the EU bloc with a well-known song by the Eagles: "You can check out any time you like, as the Hotel California song says, but you can't really leave. The proof is Theresa May has not even dared to trigger Article 50. It's like Harrison Ford going into Indiana Jones' castle and the path behind him fragmenting. You can get in, but getting out is not at all clear"

Getty Images

3/11 Michael O'Leary

Ryanair boss says UK will be 'screwed' by EU in Brexit trade deals: "I have no faith in the politicians in London going on about how 'the world will want to trade with us'. The world will want to screw you – that's what happens in trade talks," he said. "They have no interest in giving the UK a deal on trade"

Getty

4/11 Tim Martin

JD Wetherspoon's chairman has said claims that the UK would see serious economic consequences from a Brexit vote were "lurid" and wrong: "We were told it would be Armageddon from the OECD, from the IMF, David Cameron, the chancellor and President Obama who were predicting locusts in the fields and tidal waves in the North Sea"

PA

5/11 Mark Carney

Governor of Bank of England is 'serene' about Bank of England's Brexit stance: "I am absolutely serene about the … judgments made both by the MPC and the FPC"

Reuters

6/11 Christine Lagarde

IMF chief urges quick Brexit to reduce economic uncertainty: "We want to see clarity sooner rather than later because we think that a lack of clarity feeds uncertainty, which itself undermines investment appetites and decision making"

Getty Images

7/11 Inga Beale

Lloyd's chief executive says Brexit is a major issue: "Clearly the UK's referendum on its EU membership is a major issue for us to deal with and we are now focusing our attention on having in place the plans that will ensure Lloyd's continues trading across Europe"

EPA

8/11 Colm Kelleher

President of US bank Morgan Stanley says City of London 'will suffer' as result of the EU referendum: "I do believe, and I said prior to the referendum, that the City of London will suffer as result of Brexit. The issue is how much"

9/11 Richard Branson

Virgin founder believes we've lost a THIRD of our value because of Brexit and cancelled a deal worth 3,000 jobs: We're not any worse than anybody else, but I suspect we've lost a third of our value which is dreadful for people in the workplace.' He continued: "We were about to do a very big deal, we cancelled that deal, that would have involved 3,000 jobs, and that's happening all over the country"

Getty Images

10/11 Barack Obama

US President believes Britain was wrong to vote to leave the EU: "It is absolutely true that I believed pre-Brexit vote and continue to believe post-Brexit vote that the world benefited enormously from the United Kingdom's participation in the EU. We are fully supportive of a process that is as little disruptive as possible so that people around the world can continue to benefit from economic growth"

Getty Images

11/11 Kristin Forbes

American economist and an external member of the Monetary Policy Committee of the Bank of England argues that the economy had been "less stormy than many expected" following the shock referendum result: "For now…the economy is experiencing some chop, but no tsunami. The adverse winds could quickly pick up – and merit a stronger policy response. But recently they have shifted to a more favourable direction"

Getty
However, Brexit secretary David Davis and international trade secretary Liam Fox allegedly claimed the paper was "pessimistic". 
Mr Fox allegedly told colleagues that non-EU countries had assured him the UK would be able to continue trading on the same conditions until new agreements had been drawn up, according to The Guardian. 
Downing street declined to comment on the paper and confirmed their stance that thay would not comment on ongoing Brexit negotiations.
A UK Government lawyer said on Tuesday it is "very likely" MPs will be able to vote on the final Brexit agreement between the UK and the EU. 
James Eadie QC spoke in the High Court as part of the final day of a hearing to decide whether the Prime Minister can trigger Article 50 without parliamentary approval.
Downing Street has since confirmed that he was representing the Government's position.
Reuse content