Britain must be "prepared for the worst" over the prospect of Greece leaving the euro, George Osborne has warned after the latest talks between eurozone finance ministers broke down.
The Chancellor said Treasury officials would complete contingency plans to protect the UK economy from the effects of a 'Grexit', which could also lead to Greece leaving the European Union.
The debt-ridden country must reach an agreement with the International Monetary Fund by the end of June or face defaulting on a £1.1 billion loan repayment. Greece's creditors – the European Commission, IMF and the ECB, are unwilling to release further bailout funds until it agrees to public sector reforms.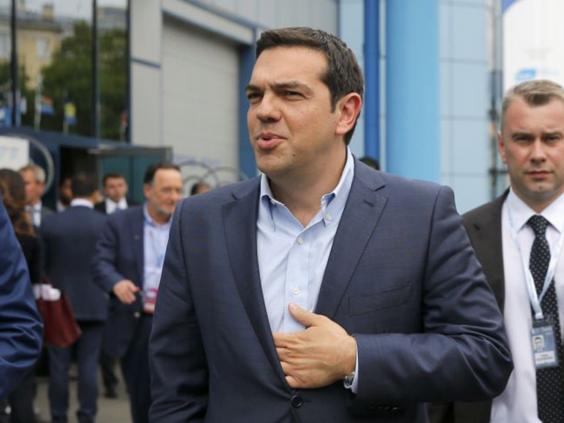 Speaking as he arrived at a meeting of EU-wide finance ministers, Mr Osborne said: "We've entered the 11th hour of this Greek crisis and we urge the Greek government to do a deal before it's too late. We hope for the best, but we now must be prepared for the worst.
"In the United Kingdom we've taken the measures to increase our economic security so we can deal with risks like this from abroad and clearly we must go on and complete that plan."
Today's talks come after last night's make-or-break meeting of eurozone finance ministers in Luxembourg ended without agreement amid reports in Greece of £1.4bn being withdrawn from bank accounts by frightened savers in the past three days.
However the Greek Prime Minister, Alexis Tsipras, pointed to the emergency meeting of leaders from Eurozone nations called for Monday as a sign that a solution to his country's debt crisis could be reached.
"The leaders' summit on Monday is a positive development on the road toward a deal. All those who are betting on crisis and terror scenarios will be proven wrong.
"There will be a solution based on respecting EU rules and democracy which would allow Greece to return to growth in the euro."
His comments come as he visits St Petersburg Russia, where he will meet President Vladimir Putin at an economic forum. News of the meeting has fuelled speculation of an Atehns-Moscow alliance.
However it is being seen by critics as an audacious attempt by Mr Tsipras to pressure its creditors into watering down austerity demands as the country teeters on the edge of default and bankruptcy.
Greece elections 2015: In pictures
Greece elections 2015: In pictures
1/25 Greece elections 2015

A supporter of Alexis Tsipras, leader of Syriza left-wing party, holds the Greek and French flag during a rally outside Athens University Headquarters in Athens

2/25 Greece elections 2015

Supporters of Alexis Tsipras, leader of Syriza left-wing party, cheer during a rally outside Athens University Headquarters in Athens

3/25 Greece elections 2015

Alexis Tsipras, leader of Syriza left-wing party, speaks during a rally outside Athens University Headquarters in Athens

4/25 Greece elections 2015

Supporters of Alexis Tsipras, leader of Syriza left-wing party, cheer during a rally outside Athens University Headquarters in Athens

5/25 Greece elections 2015

Alexis Tsipras, opposition leader and head of radical leftist Syriza party, greets supporters after the initial election results for the Greece general elections in Athens

6/25 Greece elections 2015

Supporters of Germany's left-wing Die Linke party, hold placards as they show their support to Alexis Tsipras, leader of Syriza left-wing party after his speech to supporters in central Athens

7/25 Greece elections 2015

A woman waves a Greek flag during a speech by the leader of Syriza left-wing party Alexis Tsipras outside Athens University Headquarters

8/25 Greece elections 2015

Anti austerity Syriza party supporters celebrate as leader Alexis Tsipras speaks folllowing victory in the election in Athens

9/25 Greece elections 2015

Greece's Conservative Prime Minister Antonis Samaras waves to his supporters as he arrivess at Zappeio Conference Hall in Athens

10/25 Greece elections 2015

Supporters of New Democracy wave Greek flags during Antonis Samaras pre-election speech

AP

11/25 Greece elections 2015

A voter casts his ballot in front of a map of Greece at a polling station in a school in Athens

12/25 Greece elections 2015

A woman casts her ballot at a polling station in a school in a suburb of Athens near Athens

13/25 Greece elections 2015

Supporters of the opposition radical leftist Syriza party cheer at exit poll results which indicate that Syriza have a clear lead in in Athens

14/25 Greece elections 2015

Anti-austerity Syriza supporters celebrate after the first exit polls, as they gather at the Syriza election kiosk in Athens

15/25 Greece elections 2015

Media crew set up in the balconies of a hotel overlooking the Greek Parliament building in Athens

16/25 Greece elections 2015

Political party papers are organised at a polling station in a school in Athens

17/25 Greece elections 2015

The Greek flag flies on top of the Greek parliament in Athens, as the nation goes to the polls. Greece votes in a crucial general election that could bring the anti-austerity Syriza party to power and lead to a re-negotiation of the country's international bailout

18/25 Greece elections 2015

Alexis Tsipras is welcomed as he arrives for a pre-election campaign speech

AP

19/25 Greece elections 2015

Prime Minister and leader of the conservative New Democracy party Antonis Samara delivers a pre-election speech

Getty Images

20/25 Greece elections 2015

The Leader of Pasok (Panhellenic Socialist Movement) Evangelos Venizelos speaks during a parliament meeting in December 2014

AP

21/25 Greece elections 2015

Alexis Tsipras, head of the Syriza left-wing main opposition party, on the campaign trail

AP

22/25 Greece elections 2015

Election posters for the communist party adorn a derelict shop in Athens

Getty Images

23/25 Greece elections 2015

Ballet dancers, performing for a film in Athens, dance in front of the Parliament building ahead of the general election

Getty Images

24/25 Greece elections 2015

Workers put up polling station signs at a school in Athens

EPA

25/25 Greece elections 2015

Supporters cheer as head of the conservative New Democracy party Antonis Samara arrives at the Taekwondo Indoor Stadium in Athens to give a pre-election address

Getty Images
Reuse content